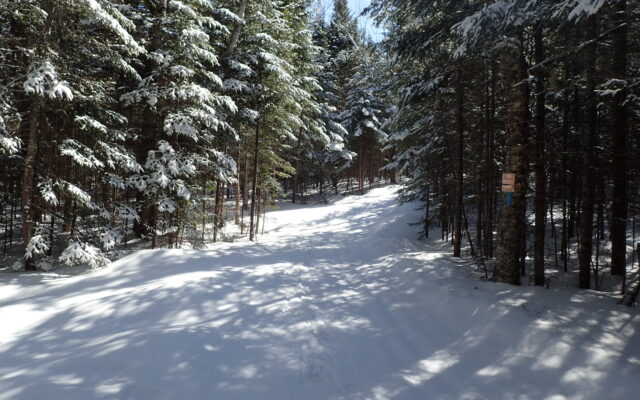 PO-nickersontrails-7-21
Photo courtesy of Forest Society of Maine READY FOR SKIING -- A groomed ski trail at Nickerson Tree Farm in Greenville.
Nickerson Tree Farm open for nordic skiers
GREENVILLE — After a slow start to winter, February has brought enough snow for trail grooming and track-setting on the trails behind the visitors' center. Roughly three miles of trails are open to the public for Nordic skiing. The trails are jointly managed by the Forest Society of Maine and the wonderful volunteers at Natural Resource Education Center-Moosehead. The trails will be groomed and tracked, twice per week, as long as conditions allow.
The Nickerson Tree Farm/NREC trail network can be accessed from two directions. From the visitors' center parking lot, one trail runs north past NREC's new warming hut, down the hill, and into the field. A second trail begins just south of the parking lot, in the mature pine grove. A map and description of much of the trail network is available online, at Maine Trail Finder (mainetrailfinder.com/trails/trail/nickerson-tree-farm). The Forest Society of Maine is working to install directional signage on the trails, in 2021.
The network of trails behind the visitors' center are appropriate for skiers of all levels. Beginning skiers can find their balance on moderate trails, in the field, while more advanced skiers will appreciate the more challenging, longer trails in the southern part of the network. Visitors to the property are asked to use caution on hills and curves, and to be respectful of other users and their safety.
The Forest Society of Maine would like to remind visitors who are on foot, or on snowshoes, to please travel off-trail, or to the side of the Nordic tracks. A lot of time, money, and energy go into making a tracked trail! Just one pair of boots or snowshoes can quickly demolish hours' worth of grooming.
For the safety of visitors, as well as to preserve the trails' surface, Forest Society of Maine does not permit fat bikes on their trails, at this time.
The Forest Society of Maine is a non-profit land trust that works to conserve forestlands for their ecological, economic, recreational and cultural values. More information is available at fsmaine.org.