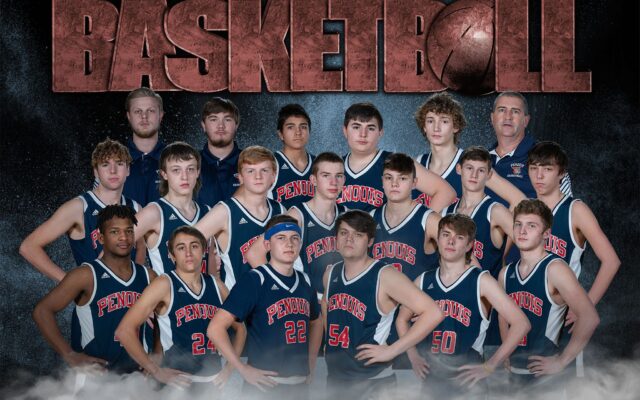 HS boys basketball 2021_n
The Penquis Valley boys basketball team: Front, left to right: Alvin Robshaw, Will Waterhouse, Zakary Mills, Trevor Saunders, Matt Tuttle, Corbin Cyr; middle row, left to right: Mikal Sickler, Nate Lovejoy, Billy Sanborn, Damion Drake, LJ Shaw, Andrew Lagasse, Zak Gahagan; back, left to right: junior varsity coach Sam Brown, assistant coach Camron Bailey, Dylan McKenzie, Tyler Grant, Max Wells, head coach Jason Mills. Courtesy of Eric Ogden Photography
Penquis boys basketball team learning how to win
By Ernie Clark, Bangor Daily News Staff
The boys basketball season at Penquis Valley High School in Milo got off to an abrupt start.
Almost immediately after the program came off a 1 1/2-week break from preseason practices due to COVID-19 issues in the school district, the Patriots opened their 12-game schedule against defending Class C North champion Dexter and Piscataquis of Guilford.
Two losses resulted, but since then Penquis' season has become more routine — or at least as routine as it can get amid the coronavirus pandemic.
"Since we've been back, they've had renewed energy," Penquis head coach Jason Mills said. "I think they understand it can be taken away at any moment so they cherish every second they're in the gym practicing or playing a game against someone."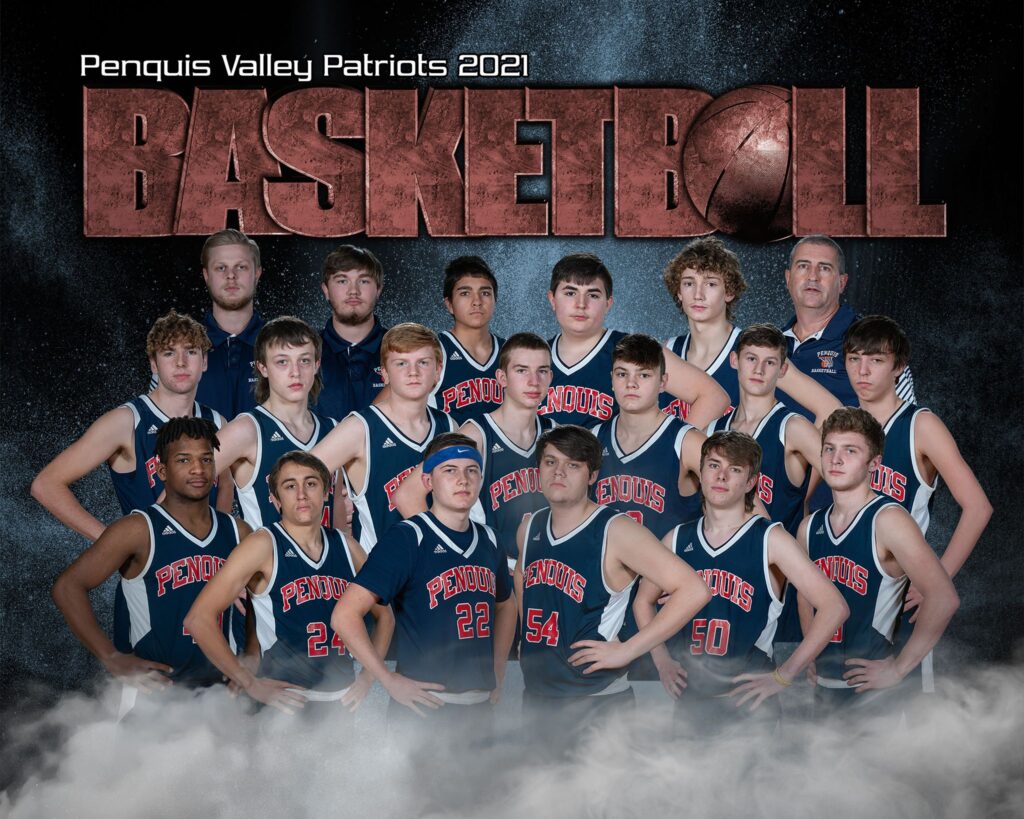 Penquis began the second half of its regular season riding a four-game winning streak to build its record to 4-2.
"This is a really good group of kids," Mills said. "They show up and work hard every day. We're still fairly young but I thought if we had a regular season we could have been in the mix for a tournament spot."
Penquis is led by senior forward and team captain Zak Mills. Mills, the coach's son, is a top defender for the Patriots.
"Zak's main job is on the defensive end, and the rest of the kids feed off his energy defensively," coach Mills said.
That defensive energy was particularly evident a week ago when the Patriots yielded just 34.5 points per game during back-to-back wins over Greenville and Piscataquis.
"We're not very tall but we've got some athleticism and have really started to get back after it defensively, trying to get back to that old Penquis style of basketball where we're going to make you work," Mills said. "We apply a lot of pressure and, make or miss, they've been getting into it and scrambling all over the place.
"Every team we play is bigger than us so we're just trying to speed the game up, get up and down the floor and create as much havoc as we can on defense."
Other top players for the Patriots include senior guard Will Waterhouse, junior guards Alvin Robshaw and Corbin Cyr, and sophomore forward L.J. Shaw, who along with Zak Mills pace what has been a balanced Penquis offense.
During a 45-37 victory over Piscataquis on Feb. 9, for instance, Waterhouse, Mills and Robshaw scored at least nine points apiece.
Also contributing are senior center Trevor Saunders, senior forward Matt Tuttle, junior forward Mikal Sickler, sophomore forwards Andrew Lagasse and Billy Sanborn, sophomore guards Nate Lovejoy and Zak Gahagan, freshman forwards Damion Drake, Tyler Grant and Max Wells, and freshman guard Dylan McKenzie.
"A successful season for us is we get to play our 12 games and we get into the pod playoffs," Mills said. "Last year we were 3-15 but of our 15 losses we had 10 that were by nine points or less. Last year we were in games, this year we're trying to learn how to win games."
Penquis competes in the regionalized Penquis pod, which also includes Central of Corinth, Dexter, Greenville and Piscataquis.
The Patriots play each of those teams twice along with single games against four schools from the Penobscot pod that includes Bangor Christian, Lee Academy, Mattanawcook Academy of Lincoln, Penobscot Valley of Howland, Schenck of East Millinocket and Stearns of Millinocket.
If conditions allow, Penquis and the rest of its pod will compete in a postseason tournament in early March.
"It's not the Cross Center," Jason Mills said in reference to the traditional Northern Maine tournament in Bangor that was canceled this year, "but it's something to play for."