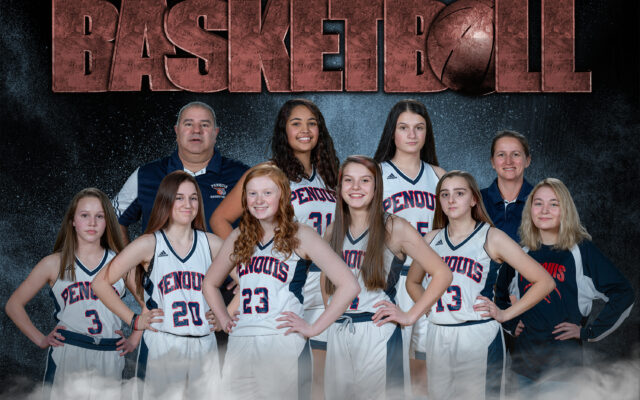 HS Girls BB Team Template
The 2020-21 Penquis Valley girls basketball team: Front, from left to right: Abbie Conlogue, Aileen Strout, Angela Bryden, Rachel Broussard, Brianna Sanborn and Ida Grace Lundin; Back: head coach Jay Murano, Imaan Ali, Addison Conklin and assistant coach Jess Atkinson. (Eric Ogden Photography)
Shorthanded Penquis Valley girls basketball team builds for the future
By Ernie Clark, Bangor Daily News Staff
MILO — High school basketball around the state has experienced a drop in participation this winter because of issues related to the COVID-19 pandemic.
That might have to do with the uncertainty of the already delayed season, the cancellation of Maine's 2021 state tournament, players not wanting to risk exposing older relatives to the coronavirus or not wanting to wear facemasks in order to participate, or other reasons involving compliance with local or state restrictions.
The girls basketball team at Penquis Valley of Milo has only eight players as it proceeds through its abbreviated 12-game regular season this winter after losing three starters from last year's team.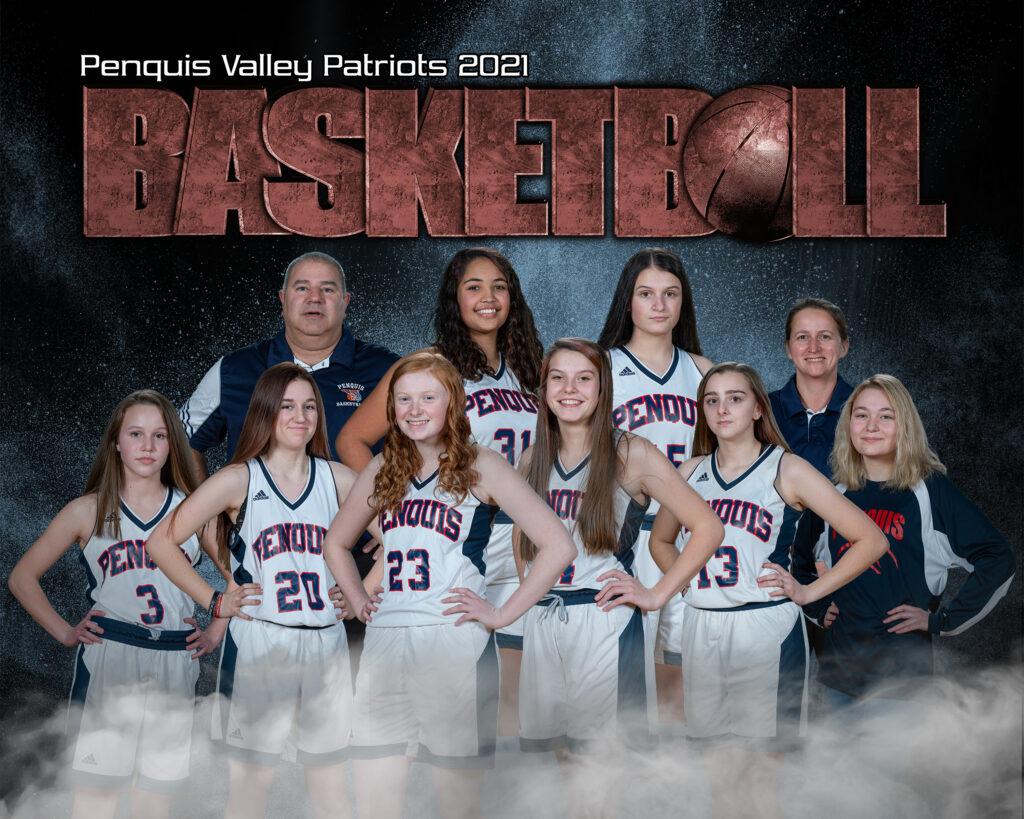 "We're trying to get all of the girls equal playing time, keeping in mind that we still want to win," head coach Jay Murano said. "Obviously we're in a building phase and I'm trying to get all the underclassmen as much playing time and experience as I can for when we do have another season next year, if that's going to be the case, so they won't be coming out playing like freshmen."
The Patriots have just one senior in center Brianna Sanborn as well as a single junior in forward Angela Bryden.
The team features a five-member sophomore class that includes guards Abbie Conlogue and Ida-Grace Lundin and forwards Rachel Broussard, Aileen Strout and Imaan Ali.
Freshman guard Addison Conklin completes the roster.
The Patriots are trying to make the best of not having enough players at the school for full five-on-five workouts, even with Murano filling in at times.
"It makes it very difficult to practice because you want to have game-like situations with both offense and defense and with seven or eight players you really can't do that," he said.
Penquis competes in a regionalized pod with fellow Class C North entries Central of Corinth, Dexter and Piscataquis of Guilford along with defending Class D state champion Greenville.
The Patriots play two games each against those teams as well as single games against four schools from the Penobscot pod that includes Bangor Christian, Lee Academy, Mattanawcook Academy of Lincoln, Penobscot Valley of Howland, Schenck of East Millinocket and Stearns of Millinocket.
"The sad thing is in our pod we probably would have come out No. 2 because obviously Dexter is super strong this year … but we were hoping to have a good season this year," said Murano, whose team hopes to play in a postseason pod tournament in early March if conditions allow.
Murano's plans for the last offseason were stalled by the arrival of COVID-19, but he hopes a potential return to more normal conditions on the health front will lead to a more normal offseason later this year.
"During the offseason I wanted to get the girls in the weight room but with COVID coming around we weren't able to do that last year," he said. "Hopefully if things get better in the next few months we'll be able to take the girls to camp and have a summer program where we'll have something to build off."