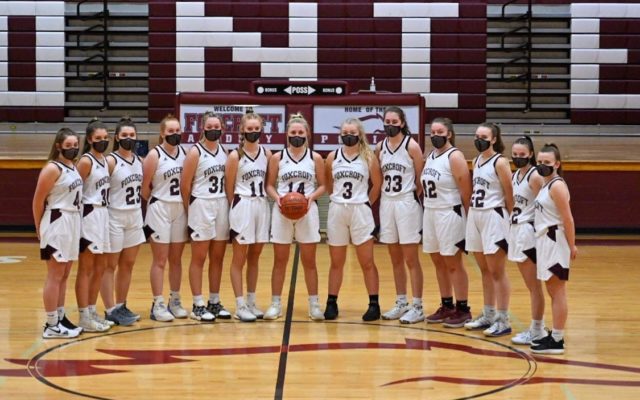 FA Girls BBall 2021
The 2020-21 Foxcroft Academy girls basketball team, from left to right: Sam Ossenfort, Annie Raynes, Justice Batchelder, Lauren Martin, Destiny Weymouth, Meghan Spooner, Ainsley Ade, Kiya Cook, Abby Knapp, Kaitlyn Lord, Rebekah Demers, Kam Commeau, and Emily Harmon-Weeks. Absent: head coach John Cornett, varsity assistant coach Rob Stevens and junior varsity coach Taylor Cornett. (Toby Nelson/Foxcroft Academy)
New coach, young roster seek unity with Foxcroft girls basketball program
By Ernie Clark, Bangor Daily News Staff
A new head coach and a roster full of young players are making for a getting-to-know you season during the COVID-19 pandemic for the Foxcroft Academy girls basketball team.
John Cornett has taken over as head coach from Blake Smith, who stepped down during the offseason.
"The one thing that I love to focus on is playing defense and playing it physical," Cornett said. "It's a big challenge to get them to play physical and not be afraid to get a hand or arm on them, but from what I've seen in our first two games and a lot of the games I've watched, the refs do a pretty good job of letting them play and they're consistent in letting them play. I've been really pleased with how it's going."
Cornett is fielding a 14-player roster with only one senior in guard Ainsley Ade.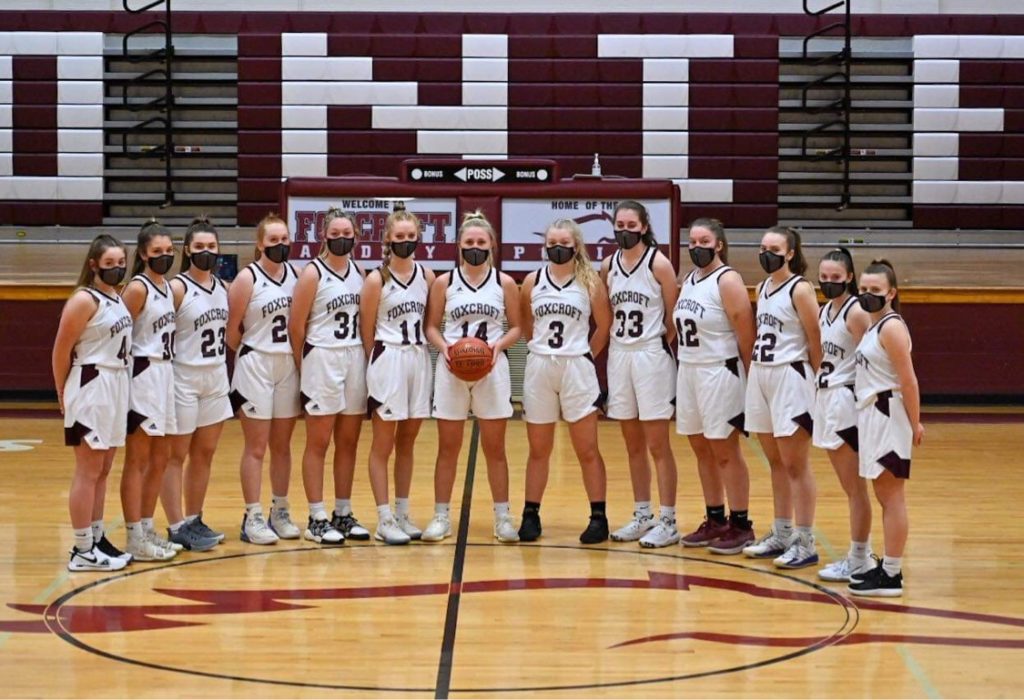 "Ainsley has done a great job of accepting her role as a leader," said Cornett, who spent his high school years at Foxcroft Academy and John Bapst of Bangor and most recently was a head coach for football and girls soccer in Georgia before returning to Maine with his family two years ago.
"I put a lot of responsibility on my seniors to step up and be the one that takes charge and she's done a phenomenal job at that."
Ade heads up a roster that also consists of six juniors, five sophomores and two freshmen. Cornett believes one of the team's strengths is its depth.
"We've got a young team, but I feel like in every game I can rotate at least 10 players," he said. "We've got a good, young group."
That group includes junior guard Kiya Cook, who averaged 19.5 points per game as Foxcroft split its first two contests of the winter, and classmate Meghan Spooner, a defensive presence in the frontcourt.
Other top returning players include sophomore guard Annie Raynes, who averaged 10 points per game last winter when Foxcroft qualified for the Class B North preliminary round before being ousted by fifth-seeded Houlton.
Two junior guards, Kam Commeau and Emily Harmon-Weeks, give Foxcroft speed and quickness on the perimeter, while 5-10 sophomore Abby Knapp, 5-9 sophomore Destiny Weymouth and 5-7 junior Kaitlyn Lord will work up front.
"We've got a nice, deep bench and I feel like all of them could play the same number of minutes if I concentrated on that," Cornett said.
Five other players, junior forwards Rebekah Demers and Justice Batchelder, sophomore forward Lauren Martin and freshman guards Halle Page and Sam Ossenfort, will split time between the varsity and junior varsity squads.
After having to shut down for 10 days just before the start of the season due to COVID-19 concerns at the school, the Ponies got off to a 1-1 start with a loss to Class A Brewer and a victory over Class B rival Maine Central Institute of Pittsfield.
"At this point I don't think it's about wins and losses just because I don't think anybody has had as many practices as they'd like," Cornett said. "There's tons of differences, so I don't think we'll measure it in wins and losses. I think it's more about these girls finding out who I am and finding out what I want and me learning about them, and hopefully we'll get to 100 percent unity before the end of the season."