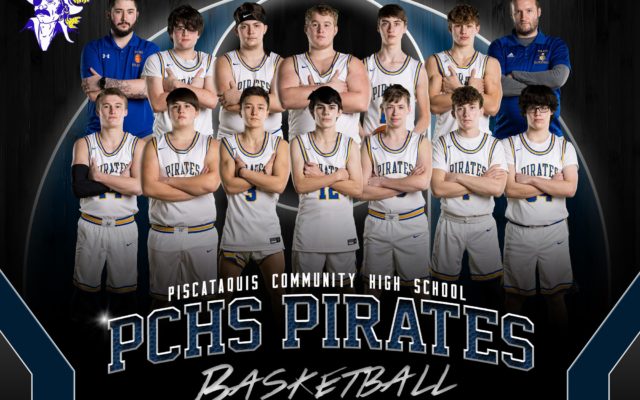 PCHSboys21
Courtesy of Monty Rand Photography Piscataquis Community High School boys basketball team members in no particular order are: Chris Easler, Dawson Simpson, Isaiah Conary, Gabe Soctomah, Kobe Gilbert, Ben Higgins, Buddy Hutchins, Matt Robinson, Sean Leland, Scott Chadbourne, Matt Chadbourne, Jacob Beckwith and Alex Lyon. Head coach is Alden Gregory.
Dynamic Gilbert the catalyst for Piscataquis boys basketball team
By Larry Mahoney, Bangor Daily News Staff
GUILFORD — Between graduation losses and opt-outs, Piscataquis Community High School of Guilford boys basketball coach Alden Gregory didn't have any lofty goals for this season.
The Pirates returned only one starter off last year's 8-10 team that finished 15th in the Class C North Heal Points and missed the playoffs.
But that returning starter is the dynamic Kobe Gilbert, whose brother Bryce was a 1,000-point scorer in high school and now plays for the University of Maine at Fort Kent.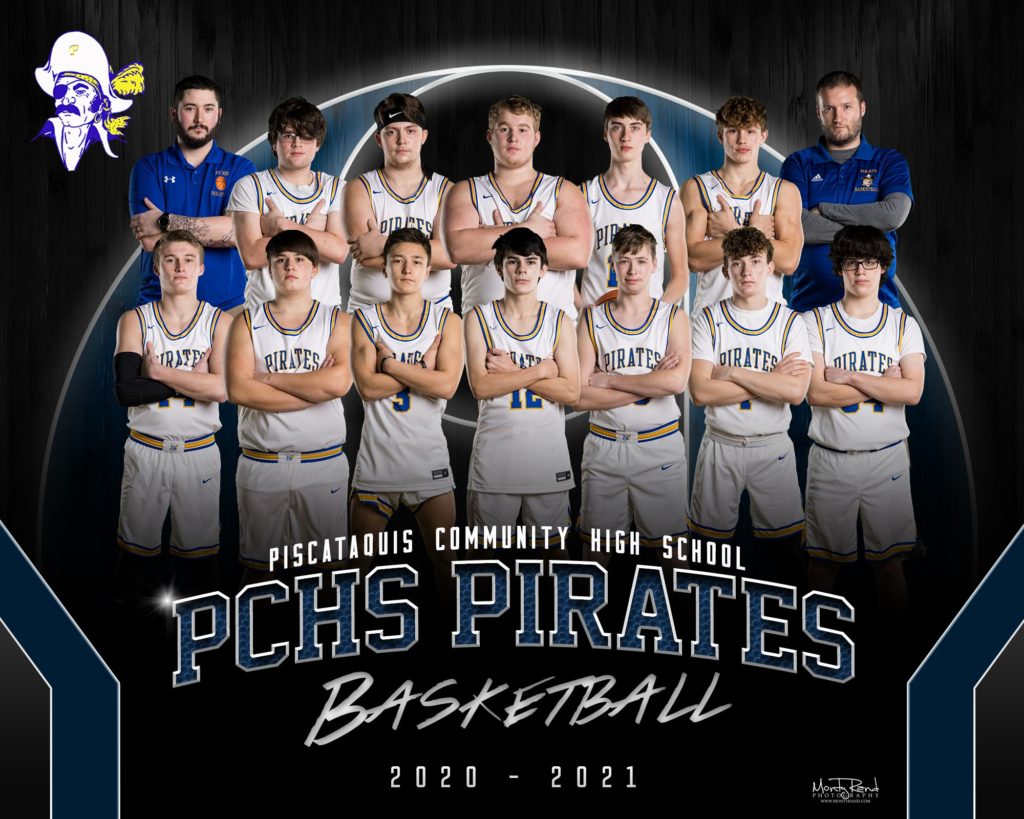 Gregory said the team has exceeded expectations so far.
PCHS split its first six games and one of those losses came against Central High of Corinth on a buzzer-beating 3-pointer. The Pirates, despite their inexperience, have been a pleasant surprise.
"I didn't have high expectations but I've been pretty happy with them," said Gregory, who is in his fourth season as the head coach.
He said his team has been competitive in virtually every game. Having a difference-maker like Gilbert certainly helps.
The senior guard is averaging 33 points per game despite facing double- and triple-teams on a nightly basis along with a wide variety of defenses.
"He is one of of the most athletic kids I've ever coached," Gregory said of the All-Penobscot Valley Conference guard. "He is amazing to watch. He is so strong. He is a great shooter who will also take the ball to the paint. He is a point guard who also leads us in rebounds. He also has a lot of steals."
Gilbert is a double-digit rebounder despite being just 5-foot-10.
Chris Easler is a senior forward considered an exceptional rebounder by Gregory, who added that he does a lot of little things well.
"In his last game, he got his first double-double [10 or more points and rebounds]," Gregory said.
Easler is one of three players who can consistently provide scoring for the Pirates along with freshman Scott Chadbourne and senior Matt Robinson.
"They each give us 7-8 points a game," Gregory said. "Scott is the future of this program. He is a real good 3-point shooter. He is a lifetime basketball player. He loves basketball."
Robinson is a multipurpose guard who also averages three to four steals per game and is always getting his hands on the ball in passing lanes or in rebounding action. He is willing to do all the little things necessary to win games.
"Matt has really come into his own," Gregory said.
Junior guard Matt Chadbourne, Scott's brother, is another versatile player who can handle different roles and is a solid defender.
Junior Buddy Hutchins is a 6-1 forward who is an effective player in the paint. He usually draws the defensive assignment against the opponent's top inside scorer.
The Pirates have been bolstered by the return of 6-1 senior forward Isaiah Conary, who decided not to play initially but had a change of heart and rejoined the team. It will take him some time to get back into game shape.
"He's really athletic, he can shoot and he's super fast. He's also a good rebounder," Gregory said.
The Pirates have some depth in senior newcomer Sean Leland, juniors Alex Lyon and Jacob Beckwith, sophomores Dawson Simpson and Gabe Soctomah and freshman Ben Higgins.
PCHS is playing the maximum 12-game schedule permitted by the Maine Principals Association under the coronavirus-hampered season. There won't be MPA regional tournaments or state championship games but teams will be able to compete in playoffs against teams within their own area.
"Our first goal is to make the playoffs," Gregory said. "We could lose to anyone but with a player like [Gilbert], we are capable of upsetting anyone, too.
"We also want to make sure we prepare for next season," he added.