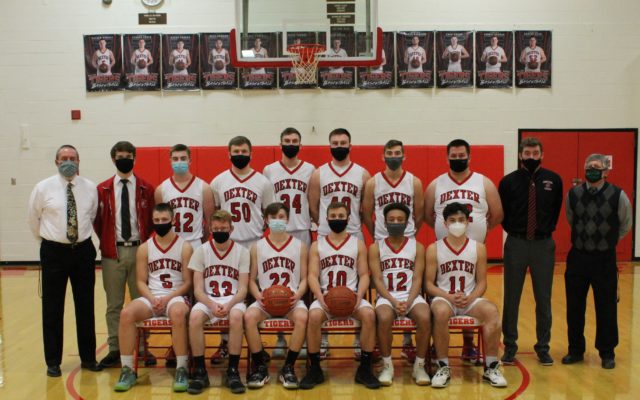 IMG_3436
Dexter Regional High School boys basketball team members are: (front, from left) Kayden Kimball, Colin Speed, Bryce Connor, Parker Ponte, Seth Robbins and Avery Gagnon; (back, from left) head coach Peter Murray, manager Miles Gadwah, Owen Brown, Robbie Dorman, Will Kusnierz, Brett Kusnierz, Jacob Campbell, Hunter Dean, assistant coach Jacob Campbell and assistant coach Mike Martin. (Contributed by Dexter Regional High School)
Dexter boys basketball team maintains perspective during pandemic-marred season
By Larry Mahoney, Bangor Daily News Staff
DEXTER — Peter Murray knows this could have been another special year for his Dexter High Regional School boys basketball team. The Tigers last season won their first Class C North championship since 2005 and suffered their only loss to Winthrop in the state championship game.
But the COVID-19 pandemic canceled the regional tournaments and state championship games, so Dexter must settle for a 12-game regular season and a postseason tournament against area teams.
Murray put the situation in perspective.
"A month and a half ago, we didn't know if we were going to have an opportunity to play any games," said Murray, who is in his 28th season guiding the fortunes of the Tigers.
"There is no way of avoiding the disappointment of not being able to play in the tournament. Playing in the Cross Center [in Bangor] is something kids dream about and missing that opportunity is something they will talk about for the rest of their lives.
"But with the nature of this pandemic, people's lives are at risk. So we're going to look at the positive side of things. We're able to play," he said. "We want to give our seniors the best experience we can."
Dexter returns four starters off last year's 21-1 team that won its three regional tournament games by a total of eight points.
The Tigers won their first six games this season.
Dexter hasn't lost a regular-season home game in more than two years, according to Murray.
The list of returnees is headed up by the Kusnierz brothers, Will and Brett, along with senior point guard Parker Ponte, senior center Robbie Dorman and junior guard Avery Gagnon.
Will Kusnierz, a 6-foot-3 sophomore forward, led the team in scoring in all five of its games and scored at least 20 in four of them.
"He is our most improved player. He has been dominant. He is one of those kids who can play all five positions. He can even bring the ball down the court," Murray said. "He has grown into his body. He already has two dunks."
Older brother Brett, who also is 6-3, is the team's 3-point specialist who can also post up. He has guard skills and is considered a point forward by Murray because he is also an exceptional passer.
Brett Kusnierz was an All-Class C North tourney selection last season.
In addition to being a playmaker at point guard, Ponte is a top-notch defender who is often matched up against the opponent's top scoring threat.
"He can also hit timely 3-pointers," Murray said. "He is a good all-around player who is extremely athletic."
Ponte hit the most clutch 3-pointer of the 2019-20 season when his controversial shot beat Central Aroostook of Mars Hill 50-48 in the Class C North championship game. The debate was whether he got the shot off in time to beat the final buzzer.
The 6-2 Dorman is the team's top rebounder and he has also exhibited a scoring touch inside.
The 5-10 Gagnon is an athletic guard who can shoot and 6-1 senior forward Jacob Campbell is a solid all-around forward capable of producing points and rebounds.
Junior Seth Robbins supplies the Tigers with a dependable back-up point guard.
Depth is provided by seniors center Hunter Dean, senior guard Colin Speed, junior forward Owen Brown and sophomore guards Bryce Connor and Kayden Kimball.