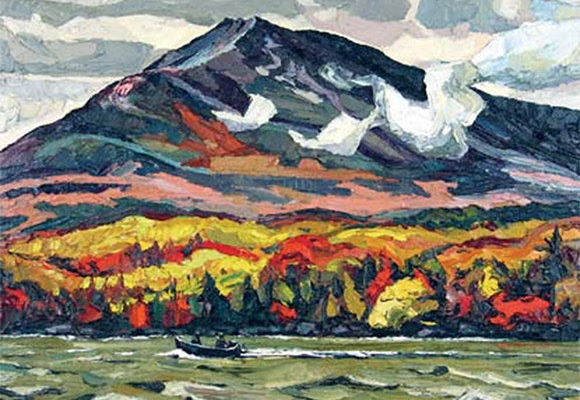 PO-waterwayartist-24-20
Photo courtesy of Michael Vermette VISITING ARTIST -- Michael Vermette has been chosen as he Allagash Wilderness Waterway Visiting Artist for 2020. Pictured is his piece Homeward Bound Katahdin Lake.
Applicants sought for Allagash Wilderness Waterway Visiting Artist Program
Applications may be submitted for the Allagash Wilderness Waterway 2021 Visiting Artist Program. The deadline is Feb. 28.
The Allagash Wilderness Waterway has fueled the imagination of native Americans, rusticators and artisans for centuries. When Henry David Thoreau made his journey to Pillsbury Island on Eagle Lake in the mid-1800s, he was inspired to write about his adventure in "The Maine Woods." Since then, many visitors have attempted to capture the Allagash headwater lakes and lower river's beauty and solitude through stories, drawings, photography and music.
To honor this history, the AWW is continuing its Visiting Artist Program. The program's goal is to immerse an artist in the exceptional AWW wilderness to interpret and share their experience through their art.
The selected artist will receive a rustic cabin lodging on the Waterway for two weeks during the month of August; an orientation to the Waterway by AWW rangers; and the opportunity to invite one guest to join them free of charge. Please note that no stipend is provided.
The one-room cabin provided is located at Lock Dam on the northern end of Chamberlain Lake. It is approximately 10 miles from the boat launch at the southern end of Chamberlain Lake and 60 miles from the nearest town, Millinocket. It does not have electricity. It has hand-pumped running water, a woodstove, gas appliances (cookstove and refrigerator) and solar-powered lights.
Learn more about this program by watching the conversation with Michael Vermette on YouTube to hear about his experience on the AWW as the First Visiting Artist. Also visit the AWW webpage at www.maine.gov/allagash for additional information and the online application.