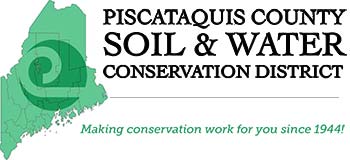 Join the PCSWCD for snowshoe event at the Law Farm
DOVER-FOXCROFT — The Piscataquis County Soil and Water Conservation District is excited to kick-off our fourth annual Families in the Outdoors series with a "Snowshoeing Adventure" at the Law Farm. The goal of the Families in the Outdoors series is to provide fun, active and interesting opportunities for families to enjoy the outdoors, together. Our Snowshoeing Adventure will take place on Friday, Feb. 19 (weather date is Feb. 20) from 1-3 p.m. at the Law Farm. This program is designed for youth ages 5-plus, parents, grandparents, friends … whoever wants to do a little snowshoeing and get outdoors.
Our Snowshoeing Adventure is always a great time. It is designed to offer something for the beginner and the snowshoeing expert, so all are welcome. We work with Master Maine Guide Alexandra Conover Bennett and wildlife biologist Sarah Spencer to add another layer of fun and learning to our snowshoe outing. Conover Bennett will go over types of snowshoes, history and techniques for beginners, while Spencer will lead us all as we search for and identify Maine wildlife tracks in the snow.
The PCSWCD looks forward to seeing you out at the Law Farm for this fantastic event. Spaces are limited and you must pre-register to join us. There is a small fee per person, which helps support our educational offerings. PCSWCD follows state and CDC guidelines and participants will be required to mask and practice physical distancing during this event. 
To register, please visit our website at www.piscataquisswcd.org, our Facebook page at www.facebook.com/www.piscataquisswcd.org, give us a call at 207-564-2321 ext. 3 or send along an email to info@piscataquisswcd.org.