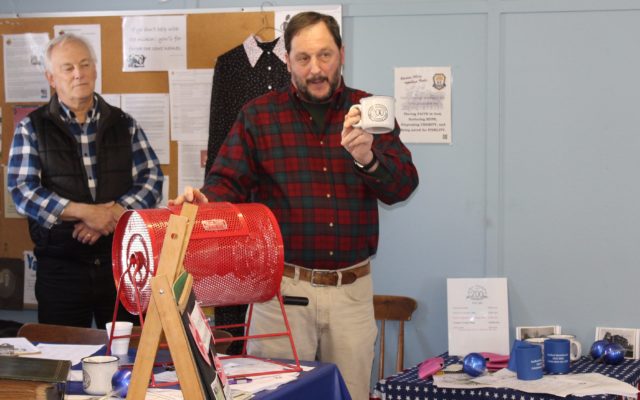 PO-bicentennial-7-16
Observer file photo/Stuart Hedstrom COMMUNITY SERVICE HONOR -- Then Guilford Town Manager Tom Goulette, with resident Brian Woodworth looking on, displays a camper ceramic mug as part of the Bicentennial Birthday Bash on Feb. 14, 2016, at the Valley Grange to kick off a year of festivities celebrating the community's 200th birthday. Now retired, Goulette was presented with the 2020 Warren "Pete" Myrick Award for his numerous community service efforts during the Jan. 11 PCEDC annual meeting held over Zoom.
Goulette presented with Myrick Award
GUILFORD — The former Guilford town manager who continues to be active in his community in retirement is the 2020 recipient of the Warren "Pete" Myrick Award from the Piscataquis County Economic Development Council. Tom Goulette was presented with the honor during the PCEDC annual meeting held over Zoom on Jan. 11.
Goulette was chosen for his many impactful contributions to the region. He has been a municipal servant, educator, mentor, civic leader, community organizer, dedicated volunteer and economic development proponent over many decades and continues in his retirement. Goulette served as town manager in Guilford for 18 years before retiring in the spring of 2019.
The Myrick Award recognizes a Piscataquis County resident, business or organization that exemplifies Myrick's concern for and commitment to education, economic development and/or civic leadership in the region. Myrick, a Guilford resident who died in 2002, was a longtime educator in SAD 4 and one of the founders of the council, serving as president in 2001.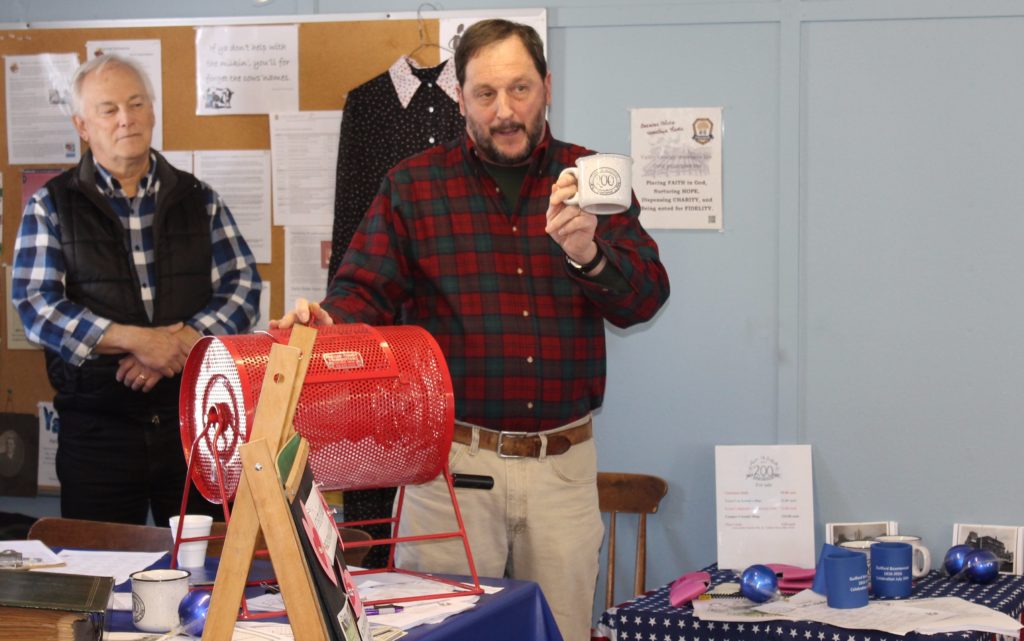 The award is not given to recognize anyone solely for job performance, but seeks to acknowledge those who go above and beyond in donating their time to community service. Criteria considered includes the overall impact of the candidate's accomplishments, the duration of the candidate's engagement in community service activities and the breadth of involvement in the community.
PCEDC Board President Denise Buzzelli began the presentation by mentioning Goulette and his family were gathered with her in the Piscataquis Chamber of Commerce office in Dover-Foxcroft and saying, "I really appreciate the award winner and I would love to have a big party for him."
Rep. Paul Stearns, R-Guilford, who also attended the Zoom call from the Chamber office, said he had a Legislative Sentiment for Goulette from himself and Sen. Paul Davis, R-Sangerville.
"I know there will be a lot of comments and specifics regarding Tom's public service and the reasons for him getting the Myrick Award but I remember way back around 1978 I met Tom and shortly after joined the Kiwanis and his public service was very evident then," Stearns said. "I remember he was the driver, I was Santa Claus and he was the elf. At Christmas time, we would go out and about to various families and I certainly miss those times. We certainly miss those joyous times. We were probably the most joyous Santa and Elves to ever do that."
Following congratulatory videos from U.S. Sen Angus King, I-Maine, and Susan Collins, R-Maine, Buzzelli said, "I have known Tom for almost eight years and I can honestly say you would be hard-pressed to find a more passionate person when it comes to community. We would be here for days if I attempted to list every endeavor he has pursued to make his local community stronger."
Buzzelli then read the nomination from Angela Arno, who nominated Goulette along with Guilford Town Manager Johanna Turner. "Tom is so much more to this community than former town manager, 18 years in that role. He gives generously and selflessly of his time and energy and remains committed to our community. He's a fireman, a family man, a Mason, a cowboy, sometimes a bit of a clown, a player in his church band, a farmer, has a soft spot for animals, he's a teacher, a Kiwanian, a preacher and he will stop and turn on a dime to help someone in need without a second thought. Tom is a man who participates in and initiates efforts to feed, clothe and brighten the day of those less fortunate. I think Tom is busier with his community volunteering now than he was prior to his retirement," she read.
Goulette then said he is very fortunate to have his trust in God and his family. "I am humbled and honored," he said.
The honoree recalled having the award namesake as his high school history teacher and JV basketball coach. Goulette said the Myrick Award has had many worthy recipients, "but it's not about me or them, it's about Pete."
"His contributions were many, his legacy rich and far reaching and he's missed," Goulette said. He said shortly after Myrick's death he had the privilege to write the dedication to Myrick in the Guilford annual report.
Goulette said Myrick had a passion for education and the belief in encouraging everyone to do their best. He said he tried to apply these lessons when Myrick hired him out of college in the early 1970s to teach adult education. Goulette also said Myrick showed him how to to be a lifelong learner and he applied this influence during his insurance career by seeking out various industry professional certifications
Myrick was also passionate about economic development, Goulette said. "I do wish Pete could be here to see some of the changes that have been developed," he said. "We can all help each other by collaborating rather than being selfish and going alone, a rising tide raises all boats."
"It does seem strange to get this award for doing your job," Goulette admitted. "A lot of what's been said is outgrowth of my job."
"Awards, achievements and titles, what's important is how much compassion and generosity we develop in our lives," he said. "It's not about what we've written on business cards or on resumes or even our obituaries, it's character that determines what we have become and how we are recognized. Pete was a good man and I am more than pleased to receive this honor that's named for him."
Previous Myrick Award recipients are Owen Pratt, retired Dover-Foxcroft town manager (2003); Merlene Sanborn, director of the Penquis Higher Education Center (2004); Roger Merchant, Piscataquis County Cooperative Extension Service (2005); Edwin Treworgy, retired educator, long-term member of the SAD 41 school board and member of the Three Rivers Kiwanis in Milo/Brownville (2006); Tracy Michaud Stutzman, executive director of the Maine Crafts Association (2007); Sherry French, office manager for WDME Radio (2008); Rhonda Taylor of Maine Highlands Federal Credit Union (2009) John Simko, former town manager of Greenville and former president of PCEDC (2010); Thelma Regan, executive director of Piscataquis Valley Adult Education Cooperative (2011); Bob and Barbara Moore, owners Bob's Sugarhouse (2012); Dennis Green, former select board member Brownville (2013); Richard "Dick" Brown, CEO Charlotte White Center (2014); Eddie Lewis, volunteerism and community and the Dover-Foxcroft Kiwanis Club (2015); Rep. Norman E. Higgins, I-Dover-Foxcroft (2016); Sue Mackey Andrews, Solutions Consulting Group, LLC, Dover-Foxcroft (2017); Nancy and Tom Harrigan of Milo (2018); and Tom Lizotte, retired Piscataquis County manager and PCEDC board member (2019).