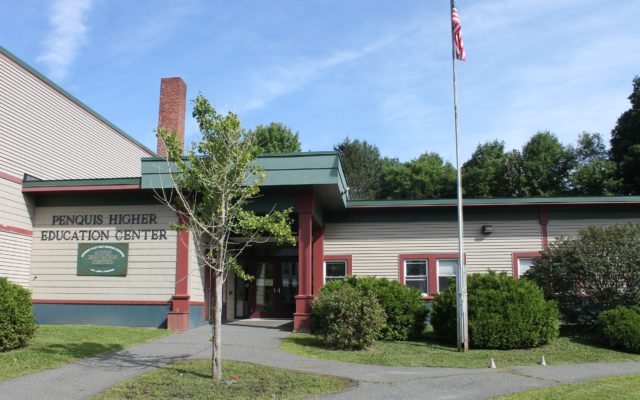 PO-pvaec-36-19
Observer photo/Stuart Hedstrom PENQUIS HIGHER EDUCATION CENTER -- Area residents looking for various academic and career programs can do so through the Piscataquis Valley Adult Education Cooperative, while also having the opportunity to take college courses through Eastern Maine Community College and the University of Maine-Augusta in the same building as the PVAEC main office at the Penquis Higher Education Center in Dover-Foxcroft. Those looking for PVAEC enrichment courses can do so in Dover-Foxcroft and other locations across the region.
SAD 46 extends adult ed contract
DEXTER — SAD 46 will continue to participate in the Piscatauqis Valley Adult Education Cooperative for academic and enrichment programs through at least the end of the 2023-24 academic year.
The school board authorized Superintendent Kevin Jordan to extend the agreement with the PVAEC for an additional year through June 30, 2024, during a Jan. 6 meeting at the Ridge View Community School.
The PVAEC was formed more than a decade and a half ago as the area school districts combined their resources to provide a better adult education program for the region.
"It really has been fantastic for us," Jordan said. "It costs about a third of what it cost to run our own program with hundreds of more offerings."
In the current SAD 46 budget, the district's proportional share of the near total 2021 PVAEC budget of $411,500 is $66,185. PVAEC expenses are shared across SAD 46, RSU 68 in Dover-Foxcroft, SAD 4 in Guilford and the Milo-based SAD 41.
SAD 46 officials heard via Zoom from PVAEC Director Carolyn Haskell, who took over for long-time Director Thelma Regan at the start of the 2020-21 academic year. "There's a lot of exciting things going on," Haskell said.
She said that from July 1 to the end of December there were 35 students in the SAD 46 area served by the PVAEC, with 23 of them in the 16-20 age group.
Pandemic-related CARES funds have been used for new tables, chairs and computers at the Dexter learning center at Millworks, Haskell said.
"I think Dexter should have a lot more enrichment courses," she said. "It's a really nice site and there should be more going on there."
Jordan asked Haskell how her first half year had gone. "I love it, it really is my dream job," the director responded.
"I have a wonderful staff that I work with — they are amazing," Haskell said.
She said she lives in Waldo County and has enjoyed getting to know the Penquis region. "It is amazing to be in a community where the services we provide are so valued," she said.
In other business, the school board heard from administrators.
Dexter Regional High School Principal Stephen Bell said winter sports practices are ongoing. "We're coming out of that skills and drills phase," he said. "If you walk in it's going to look like a practice," with the Tiger basketball and cheer teams able to fully get ready for competition.
Bell said the first basketball games are scheduled for Friday, Jan. 15. "There will be no spectators, at any school. That's not just a Dexter Regional High School thing," he said, mentioning the games will be streamed.
Should the Maine Department of Education color designation for Penobscot County change from green to yellow, then athletics would be paused until the status goes back to green. The state releases its color designations on Fridays.
Jordan was asked about the impact of Penobscot County being changed from green to yellow. He said the difference would "essentially not be much because we are still in a hybrid model" with health and safety measures in place for students when they are in the building.
"The biggest thing it would do is shut down all after-school activities," the superintendent said.
"Penobscot County is still green at this point, but it's an advisory color at this point," Jordan said, meaning the region is trending toward yellow.
Tri-County Technical Center Director Brian Leavitt said the center is working with the University of Maine-Fort Kent to create a nursing program, with a planned start in the fall of 2022. Currently TCTC has a CNA offering and under the nursing program students would earn their CNA in year one and then an associates degree in nursing in the second year.