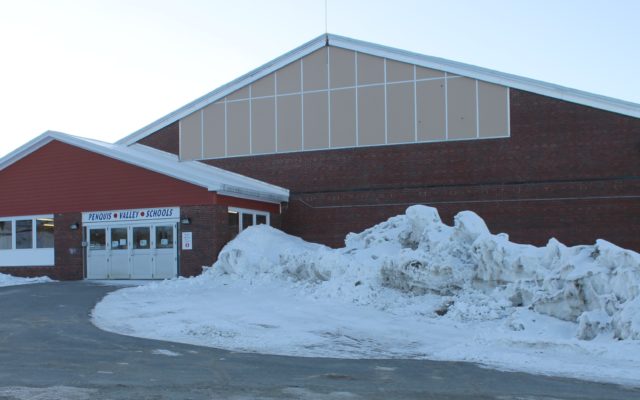 PO-penquisvalley-11-19
The Penquis Valley School in Milo
SAD 41 students to return to in-person classes next week
MILO — The plan to have SAD 41 students return to the classroom — those enrolled in full-time remote learning will continue to be educated this way — on Monday, Jan. 11, is set to go on as planned after all students took part in a week of remote learning after the holiday break.
During a school board meeting held over Zoom on Jan. 5, district officials opted to stay with the plan, rather than have another week of remote learning, which was a possibility had there been a post-holiday uptick in COVID-19 cases in the region.
SAD 41 District Nurse Bethany Heal reported that total case numbers have remained low in district communities, including 13 cases in Milo since the start of the pandemic nearly 10 months ago. She said depending on the database there have been a combined six to 19 cases in Brownville and LaGrange during the same timeframe.
"Personally, as far as the community goes, I think we are safe to go back next week," Heal said.
"I would support that we proceed with caution as Beth is indicating," Superintendent Michael Wright said. "I think we have a process now to deal with the issues that arise and if we need to close a classroom we will do that."
"I do think it was a good plan for us to be remote this week," he said. "Everyone was a lot safer after having two weeks off."
"I agree, especially with two employees positive, it gives you a little more wiggle room," board member Chris Hamlin said.
Wright said a district employee had tested positive on Tuesday and the evening of the board meeting another employee received a positive test.
In other business, Penquis Valley School Athletic Director Jason Mills, who also coaches the high school boys basketball team, gave an update on winter sports.
"We are in week five of winter sports, the first four weeks were skills, drills and conditioning," he said. Mills said now the high school and middle school basketball teams can scrimmage in full and the cheer squads can go through routines.
Mills said athletes have done well following the safety procedures such as regularly sanitizing their hands, entering and exiting through different doors and having temperature checks. He said practices are staggered to allow for the gym and equipment to be cleaned in between sessions.
The basketball schedule will be announced to the public soon. Mills said the high school teams will play Dexter, Greenville, Piscataquis Community, Central, Lee, Schenck, Stearns and Mattanawcook. The middle school lineup includes Central, SeDoMoCha, PCMS and Greenville (girls only).
"The kids have been really good about masks, masks stay up," Mills said, admitting it seems weird to be coaching and seeing all the players practicing with the face garments on. This winter masks are required for practices and games, for players, coaches, officials and everyone else in attendance.
Fans will not be allowed to attend games in person, but the contests at all levels will be streamed from the Walter "Eddie" Oakes Gymnasium. Mills said the National Federation of State High School Associations offers monthly subscriptions, allowing viewers to watch Penquis games and those of other schools across Maine and the nation.
"Thanks Jason for putting our kids first and getting them out there," Hamlin said.
"Hopefully things stay safe and we can continue," Mills said.
Basketball rule adjustments amid COVID-19 include a coin flip to determine who gets the ball first rather than a jump ball, referees will be six feet away when giving players the basketball for in-bounds plays and foul shots, all timeouts will be 60 seconds to allow for mask breaks and hand sanitizing, players will sit six feet apart on the bench and nearby bleacher space and teams will not use the locker room as they show up to play in uniform.
For cheering there will be some limits on what can be included in a routine and the teams will not be performing at basketball games. Cheering squads will tape their competition routines to have these be judged off site.
In his report Wright said shortly before the board meeting he and others took part in a Zoom call concerning the plan for a proposed regional comprehensive high school. He said about four years ago, SAD 41 joined with SAD 46 of Dexter, the Guilford-based SAD 4, the Greenville and Jackman schools and Tri-County Technical Center in Dexter on an application.
The application, which is non-binding for the participants, was ranked third on the state scoring list behind a pair of Aroostook County projects.
"Since then we learned in the fall the Houlton one has fallen through," Wright said. This moved the area application up to second and now there are questions about the status of the top-ranked application from the Fort Kent and Madawaska areas in northern Aroostook County.
"Basically the state is offering around $100 million to build a regional high school, 9 to grade 16 if you will," Wright said, explaining the 16 indicates courses for college credit will be offered. He said the next meeting is scheduled for Monday evening between representatives of all involved school districts.
"I believe the crux of the issue is where you put it," Wright said, saying this was a key issue for the Aroostook County applications. He said a possible location for the local project is still to be determined, but there would be public meetings and possible SAD 41 referendums to see if residents would like to move forward with the project.
"We can send 30 or so students every other day to (the Tri-County Technical Center) but you certainly don't want to send every student every day," Wright said. He said a formal presentation on the proposed regional high school is set for the next SAD 41 meeting on Tuesday, Feb. 2.
Under the Integrated, Consolidated [grade] 9-16 Educational Facility Pilot Project a regional comprehensive high school, or possibly two or even three schools, would be funded by the state with approximately ​$200 million set aside for the project(s). The facilities are intended to serve as a model for the rest of Maine by encouraging neighboring school districts with declining enrollments to work together to combine resources and reduce costs.
A school would offer a variety of academic programs from high school to college — through the University of Maine and Maine Community College systems — and training and certifications in various industries via a number of business partnerships. Similar education models are used in other states.
"Now after the new year it won't be long before we start talking about the budget for next year," Wright said, as in the next few months the board subcommittees will start work on the finances for 2021-22.