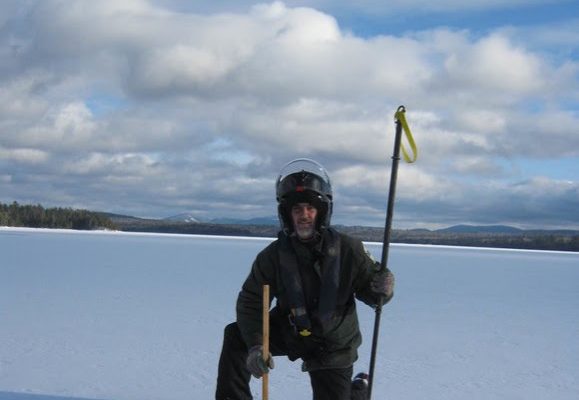 unnamed FEATURED
Allagash Wilderness Waterway Ranger Treavor O'Leary checks the ice on Telos Lake. Courtesy Maine Department of Agriculture, Conservation and Forestry
Allagash Wilderness Waterway rangers urge extreme caution
Rangers advise ice fishermen to stay near the shore if they are heading out to fish this weekend
T6 R11 WELS – Maine Department of Agriculture Conservation and Forestry (DACF) Allagash Wilderness Waterway (AWW) Rangers advise ice fishermen to stay near the shore if they are heading out to fish this weekend. AWW rangers are reporting open water at the southern end of Chamberlain Lake and thin ice in the middle of the larger headwater lakes; Round Pond has two to three inches of ice and very little ice on Telos Lake; Eagle and Churchill Lakes have about four inches of ice along the shoreline; and Rob Flewelling, the operator of Nugent's Camps midway along Chamberlain Lake, is reporting ice thickness at four inches in front of the sporting camps.
AWW Superintendent Matthew LaRoche stated that Chamberlain Lake skimmed over for the first time on Dec. 15, "The rain we received on Christmas Day deteriorated what little ice we had, and there is no ice in the thoroughfares and near tributaries streams. The smaller bodies of water and coves have better ice, but it is absolutely not safe to cross Chamberlain or Eagle Lake."
Current ice conditions will be posted on the AWW Conditions and Alerts page on www.maine.gov/allagash.
AWW visitors should stop at the Chamberlain Bridge Ranger Station for up to date information on ice conditions or call the waterway dispatch service in Ashland (207-435-7963). Anyone with sporting camp reservations is advised to check with camp operators before heading out on the ice.
Rangers urge people to check the ice as they go out and not assume the ice is safe if you see a snowmobile track going out across the lake.
The AWW superintendent warned all visitors to stay away from thoroughfares and avoid tributary streams when traveling on the ice.
ATV use is temporarily allowed on snowmobile trails that access the waterway and on the ice until mother nature provides adequate snow for snowmobiling.
Those heading out to fish this weekend should tell someone where they are going and take someone with them.
"An inch of ice isn't very much, and that thickness may vary from location to location. The ice is just not safe enough to cross Chamberlain or Eagle Lake lakes yet," said LaRoche.
The AWW provides a winter campground at Chamberlain Bridge; public drinking water, vault toilets and snow plowing. A trail is marked from the Chamberlain Bridge parking lot to the south end of Chamberlain Lake and to Round Pond/Telos lakes. For more information about the AWW, go to www.maine.gov/allagash.