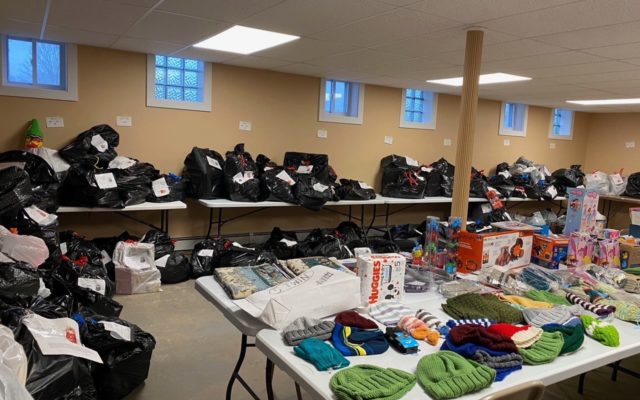 Record number of children served by Dover-Foxcroft Kiwanis Christmas Project
DOVER-FOXCROFT — Hugs all around (virtually, of course) to so many people and organizations that helped in making the holidays brighter for kids and families in the area. Supported by the Dover-Foxcroft Congregational Church, the Kiwanis Community Christmas Project saw the entire community working together to "pay it forward."
The project started early in September when toys were donated from the United Bikers of Maine. Then more people showed up with toys, books, dozens of hand-knitted hats and mittens, and beautiful quilts and blankets of all sizes. The 5th Masonic District Association, which includes the Abner Wade Lodge in Sangerville, also provided some wonderful hand-made wooden doll cradles and toy trucks.
We were very busy in late October when we started receiving applications from a record number of struggling families. Then in November we began matching each child with people who were willing to shop for that child's specific needs. By Thanksgiving, "adopters" had started to shop. The Foxcroft Academy Key Club was busy raising money and shopping for many of the children. Businesses, civic organizations, families and individuals, donated thousands of dollars to make sure each child would get what they needed.
A huge thank you goes to the Masons who also provided a full turkey dinner for each one of the families who came to pick up the gifts for their children.
All told, a big, sincere thank you is owed to what we think is well over 250 people throughout the community and beyond. It is they who made it possible for a record number of 200 children from 91 families to be served. The big, often heavy, bags they received were stuffed full with coats, boots and other specific items requested for each child, plus some of those other donated fun gifts mentioned above.
The whole project concluded on Dec. 12 with the distribution of the gifts and turkey dinners to the families who came and went all morning long through the Congregational Church parking lot.
In short, so many joined together in the spirit of the season by giving to those less fortunate in our community. It's been such a tough year for all of us, which makes it especially heartwarming to see an entire community come together for such a wonderful cause. Thank you and God bless all who helped for your continued and generous support of the children in our area!