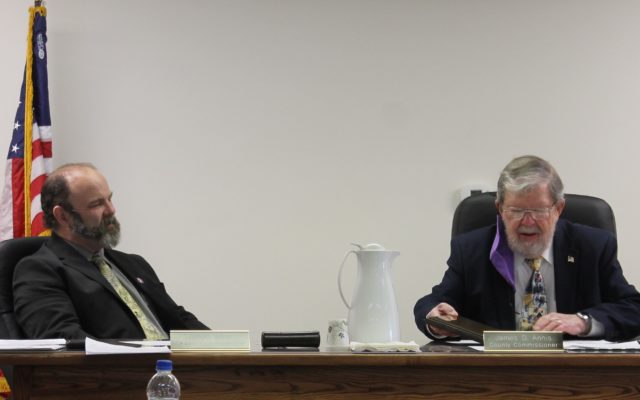 PO-commissionersannis-52-20
Observer photo/Stuart Hedstrom SALUTE TO COMMISSIONER ANNIS -- Outgoing Piscataquis County District 2 Commissioner Jim Annis, right, reads a plaque presented to him by Commissioners Chairman Jim White during a Dec. 15 meeting in Dover-Foxcroft. The meeting was Annis' last after eight years as commissioner. He served the county after having been a Dover-Foxcroft selectman and state representative in Augusta.
Commissioners formally oppose new earned paid leave act
DOVER-FOXCROFT — The Piscataquis County Commissioners voted on Dec. 15 to oppose the first law in the nation that would allow employees to use mandated paid leave for any reason. The new Maine law, An Act Authorizing Earned Paid Leave, will go into effect Jan. 1, and applies to all businesses and organizations employing 10 or more, including government agencies. The county officials passed a motion to oppose the law as it stands and not to change county policies at the present time.
County Manager Michael Williams said the act was passed by the Maine Legislature in May 2019 but the Department of Labor did not set the guidelines until this past September. He said the week prior he reviewed the act with the county department heads.
"For full-time people it's not a big change," Williams said. He said the change comes with part-time employees as they earn an hour of paid time off for every 40 hours worked. He gave the example that someone who cleans 20 hours a week would accumulate a paid hour off every other week, and said employees who work less frequently would earn an hour once they reach the 40-hour mark.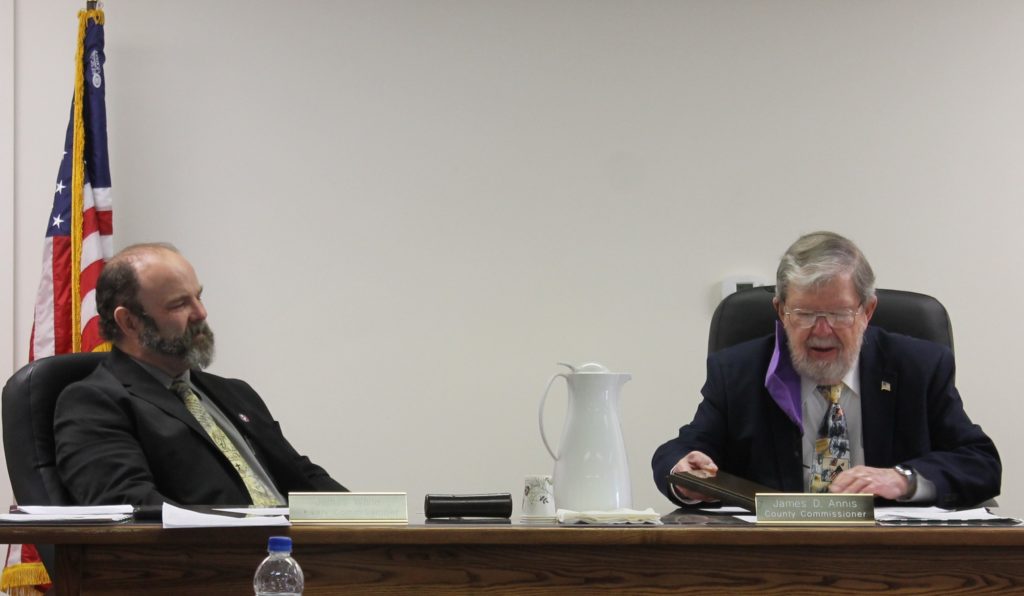 "Whenever they hit that 40th hour they get one hour credit," the county manager said. "Our full-time people will be covered as they have for years."
He said in the past employees would take either a day or half day off at a time, rather than an hour. Williams said with the exception of emergencies, employees still need to schedule their time off with proper notice regardless of the duration.
The commissioners expressed concern with the law being imposed on businesses and state agencies and potential costs for paid time off for part-time employees. "It's a solution to a problem that doesn't exist," Commissioners Chairman Jim White said.
"This affects every business in the state, not just the counties," Commissioner Wayne Erkkinen said.
Commissioner-elect Andy Torbett suggested the county challenge the law.
White then made a motion to oppose the law as it stands and not to change county policies, and the motion was passed by White, Erkkinen and Commissioner Jim Annis.
In other business, the commissioners heard from Piscataquis County Emergency Management Agency Director Tom Capraro as he had several items in his report.
Capraro said about two weeks earlier the region experienced flooding after heavy rains and later that week an ice storm caused power outages, with some residents being without electricity for five days. He was asked about the reasons for more power outages than in the past.
"My personal feeling is I think it's a lack of brush being cut and having help only when it's needed," Capraro said. He said at times if roads are blocked by fallen trees CMP will request the county take care of this, but Capraro said in these instances he can make a call and the travelway is cleared in a short amount of time.
He said starting the next week, the first employees at Northern Light Mayo Regional Hospital would be receiving their initial coronavirus vaccines. The EMA director is working on a plan for law enforcement personnel to have their receive vaccines. When asked, Capraro said the vaccines are not mandatory for police officers
Later in the week Capraro and others from the county were set to have a kick-off meeting with Communications Design Consulting Group of Barrington, New Hampshire, for the feasibility study on a public safety radio system.
"We are going to do an initial tour of the dispatch center and more than likely we will do a tour of Guilford," Capraro said. He said after the holidays would be interviews and site reviews.
Last month the commissioners accepted a $27,000 bid by Communications Design Consulting Group for a radio study to find solutions to long-running communications problems for fire and police departments in and around Piscataquis County.
Objectives include meeting with Capraro, Piscataquis County Sheriff's Office Chief Deputy Todd Lyford and Dispatch Sgt. Gary Grant and emergency personnel from around Piscataquis County to review the communications systems and look at current and potential sites.
The study would identify upgrade costs, future recurring costs and the feasibility of a simulcast system. Another area to be looked at is potentially moving the sheriff's dispatch center out of the jail and into the new department building in downtown Guilford.