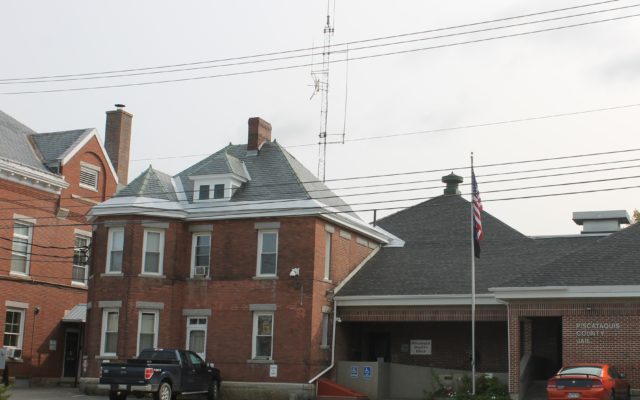 PO-countytower-38-20
Observer photo/Stuart Hedstrom BETTER COMMUNICATION -- Piscataquis County officials have sent out a request for proposals for a public safety radio system study to solve long-running communications problems for the region's fire and police departments.
County budgets will increase 6.5 percent
DOVER-FOXCROFT — Both the Piscataquis County and Unorganized Territory budgets will be up by 6.5 percent for the respective upcoming years, as the county commissioners approved the two spending plans during a Dec. 1 meeting.
The 2021 county budget, which is based on a calendar year, totals $5,150,016 for an increase of $317,583 from 2020. The UT budget for 2021-22 is $1,923,481, a $118,811 increase.
In a budget memo, County Manager Michael Williams said the county budget increase includes a pay scale adjustment for employees of the Piscataquis County Sheriff's Office and a 3 percent increase for all non-union county employees in 2021. The sheriff's patrol division comes in at a little more than $1.19 million, a $56,537 (4.9 percent) increase, which includes the pay scale change and benefits.
The sheriff's telecommunications division has an $834,132 budget, up by $130,506 for dispatch center operations. Williams explained that most of this increase is due to $25,000 in capital for a future move out of the jail in Dover-Foxcroft to the new patrol and investigations building in Guilford, $37,800 for a radio study, $8,000 for a responding system for fire, EMS and police and about $58,000 for pay and benefits.
For the jail budget the maximum 4 percent allowed by law under the state tax cap has been included, increasing this figure by $41,058 to $1,067,512.
The memo said the majority of the UT budget increase of $118,811 is due to $60,000 in capital for paving, $23,146 for winter plowing, $15,700 in fire protection and $8,500 has been added for an E-911 addressing project.
"I want to thank not only the budget committee who did a phenomenal job — we had some new members and they did a great job — but I also want to thank my department heads throughout the county who helped put this budget together," Williams said.
"The budget committee and the auditor agreed to work on a plan, and the commissioners agreed, to bring those two budgets in line," Commissioner Chairman Jim White said about the 2021 and 2021-22 spending plans. He said the process would take several years to complete.
In other business, the commissioners tabled an agenda item on a review and approval of a county resolution concerning the Moose Mountain Ski Resort Area.
White said he recommended this item be placed on the agenda for the second January meeting "because we have some legal questions we have sent out to the county's attorney."
"When it is time we should get input from all these people," White said about those involved in a project to revitalize the ski facility on Big Moose Mountain outside of Greenville to make the location a year-round destination.
Piscataquis County Emergency Management Agency Director Tom Capraro reported that on his way in during the morning he received a call about the Back Abbot Road being flooded following heavy rains the night before. He said the travelway was soon closed and a few other roads in the region were also barricaded off to traffic due to the high water.
"We had a few power outages but really it wasn't that bad," Capraro said, with other parts of the state harder hit by the storm.
He also reported that Communications Design Consulting Group of Barrington, New Hampshire, had sent in a draft contract for a feasibility study on a public safety radio system. "I'm going to get back to them today," the EMA director said.
Last month the commissioners accepted a $27,000 bid by Communications Design Consulting Group for a radio study to find solutions to long-running communications problems for fire and police departments in and around Piscataquis County.
Objectives include meeting with Capraro, Piscataquis County Sheriff's Office Chief Deputy Todd Lyford and Dispatch Sgt. Gary Grant and emergency personnel from around Piscataquis County to review the communications systems and look at current and potential sites.
The study would identify upgrade costs, future recurring costs and the feasibility of a simulcast system. Another area to be looked at is potentially moving the sheriff's dispatch center out of the jail and into the new department building in downtown Guilford.