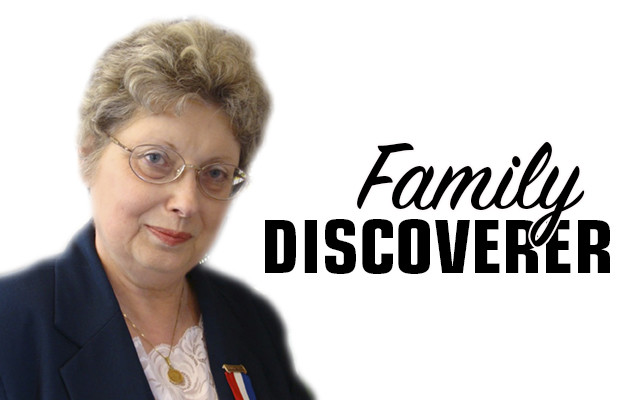 Nancy Battick.jpg
Nancy Battick (of Dover-Foxcroft, president of the Daughters of Union Veterans.) (BDN Photo by Diana Bowley)
Sharing ancestors
By Nancy Battick
If you're new to genealogy you may expect to find uncomplicated paths to your ancestors with new grandparents in each generation. As you research further back in time you'll almost certainly find your ancestral trees cross, intermarry, and so on and on.
That isn't unusual. In fact, it's common. If you think about it, if every one of us had four or more new ancestors each generation, the earth would have had to host millions more humans then we know existed. Finding duplicate lines from the same ancestor seems to be the fate of all humans, as DNA is now proving.
For example, I'm a descendant of John Mason Sr., of Connecticut through his daughter Priscilla, who married James Fitch, and through another son, Samuel, who married Judith Smith. The two lines start in the 1640s and meet again with Judith Fitch in 1704.
Other lines are far more complicated. I'm descended from two Howland brothers, Henry and Arthur. I descend from Arthur through his granddaughter Martha. The three lines began in the 1600s and finally merged when my grandparents married in 1905.
The Knowles family of Cape Cod is an incredible tangle of relationships, so tangled I forced myself to enter the entire known Knowles family tree into my software in order to attempt to straighten out the lines. What I uncovered was that the Knowles family members frequently married other Knowles descendants to a shocking degree. I once recorded a marriage where the couple were related to each other in four different degrees of cousinship and the bride was the widow of yet another Knowles cousin. Members of the family also chose marriage partners from certain other Cape Cod families who turned out to be Knowles descendants.
This sort of thing can happen in relatively isolated areas with a limited choice of marriage partners.
The idea of interbreeding on this scale can be scary. We immediately think of certain genetic diseases, but all of us share multiple lines. DNA is proving we all originated from the same two people from the same area. People who believe in the creation story in the Bible won't find this at all unusual. People who have a scientific bent can find proof of the human family tree in the discoveries scientists are making in both physical evidence and DNA.
You probably have heard the stories of how European royal families are related to each other through generations of royal marriages and the problems that arose. For the most part, these stories are true. But you don't have to be royal. I once was talking to a genealogist friend and he mentioned an ancestor, who was also one of mine. We started comparing and I think we gave up after discovering we shared over 10 different ancestors. We had no idea of any of this and I never bothered to plot out all the degrees of cousinship we share.
So don't be surprised when your own family tree turns up multiple lines back to one or more ancestors.  
Nancy Battick is a Dover-Foxcroft native who has researched genealogy for over 30 years. She is past president of the Maine Genealogical Society, author of several genealogical articles and co-transcribed the Vital Records of Dover-Foxcroft. Nancy holds an MA in History from UMaine and lives in Dover-Foxcroft with her husband, Jack, another avid genealogist. You can contact Nancy at nbattick@roadrunner.com.