PO-DFcongo-47-20
Photo courtesy of Dover-Foxcroft Congregational Church D-F CONGO. CHURCH -- The Dover-Foxcroft Congregational Church at 824 West Main Street.
Dover-Foxcroft Congregational Church continues to serve the community
DOVER-FOXCROFT — The Dover-Foxcroft Congregational Church, with its high steeple and town clock, has stood at the heart of Dover Foxcroft since 1851. Its sprawling and well-maintained building is a center for many community activities, and home to a worshipping congregation of the United Church of Christ. The Church in recent years played a role in creating a Monday night free community dinner program, the Dover-Foxcroft Area Food Cupboard, a medical equipment lending closet and a local heating assistance program.
In 2018, the congregation declared itself "Open and Affirming" or ONA, joining thousands of churches across the country in being intentional about welcoming all people as full members of the church, and meaning it. That includes LGBT+ people, affirming them just as they are, "beloved children of God, entitled to be who they are, just like others." The Rev. Stephen Hastings, pastor of the Church, said, "There is this anti-gay stream of history in Christianity. And it's still there. But it seems more truthful to hear the Bible as an ONA statement for LGBT+ folk and all folk. In this church, we start there. Come in and sit down."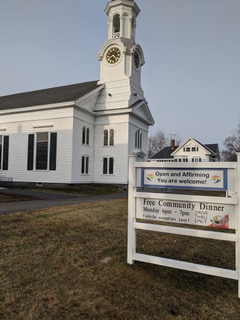 One of the first challenges the Church faced after declaring itself ONA was agreeing on what kind of visible statement to make in front of the Church. After lengthy discussion, the membership settled on a separate and colorful sign that says "Open and Affirming. You are welcome." Rev. Hastings said, "We hope for a time when all of organizations and people would agree with that."
Like many churches during the coronavirus pandemic, the Dover-Foxcroft Congregational Church stopped in-person worship services for health and safety reasons. Instead, they offer worship online every week through their website at https://www.dfcongo.org/. During the holiday season they will continue with regular Sunday morning online worship, and add some special online services: a Service of Comfort and Support for the Holidays on Dec. 2 at 7 p.m.; and a Service of Lessons and Carols on Christmas Eve at 7 p.m.
Rev. Hastings said, "I like that sign on the Maine Turnpike – common sense for the common good – and common sense right now means we really can't have people back in the sanctuary yet. That makes it tough for the holidays, but we will do our best to share that peace and goodwill spirit of the season on a screen for people, whether it's a smartphone, a pad, or a big TV." And, as their sign says, "You are welcome."