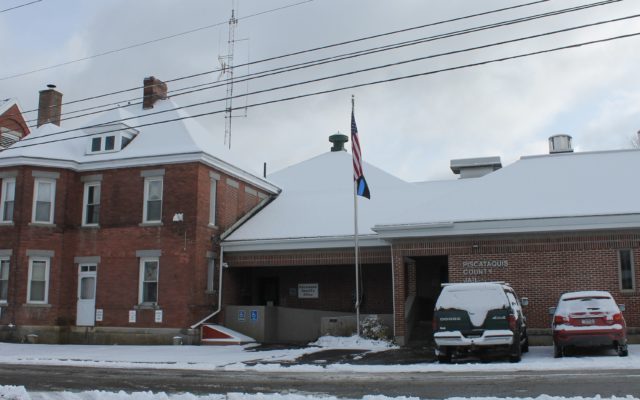 PO-commissionersradio-45-20
Observer photo/Stuart Hedstrom IMPROVED COMMUNICATION -- Piscataquis County officials will review three bids on a public safety radio system study to solve long-running communications problems for the region's fire and police departments.
County selects bid for radio study
DOVER-FOXCROFT — Solutions to long-running communications problems for fire and police departments in and around Piscataquis County should now be found with the awarding of a feasibility study bid on a public safety radio system.
The Piscataquis County Commissioners accepted a $27,000 bid by Communications Design Consulting Group of Barrington, New Hampshire, during a Nov. 17 meeting.
"As you know we went and put requests for proposals out for consultations for our communications system and we got three back," Piscataquis County Emergency Management Agency Director Tom Capraro said.
The trio of bids were opened during the Nov. 3 meeting and were $16,000 by Whitten's 2-Way Service of Brewer — the letter said $6,000 of the costs would be for a review of the Moose Mountain site outside of Greenville; $37,729 by Federal Engineering of Fairfax, Virginia; and $27,000 by Communications Design Consulting Group of Barrington, New Hampshire. No decision was made until a committee made up of emergency representatives from across the region could meet to review the bids.
Capraro said the committee met twice over the last near two weeks. He said Whitten's 2-Way Service has worked with the county before and submitted the low bid but "the committee felt we needed a fresh set of eyes." Therefore the recommendation was the $27,000 bid from Communications Design Consulting Group.
"The reason we did this was because they have done Penobscot County and they have done a lot of work in Maine and northern New England, they are familiar with the terrain and the weather," Capraro said.
He said Communications Design Consulting Group listed hourly rates in the bid package. "They like to meet different entities and rely a lot on drone operations," the EMA director said about other aspects of the firm.
Drones can gather "exact measurements and distance when you can't send up a person," Capraro said.
"We talked about it and would like to go with this company," he said.
"Dollar for dollar, it was what we're getting for the buck," Dover-Foxcroft Fire Chief Joe Guyotte said.
"So we will draw up the paperwork and get a letter of acceptance out to them and also the letters of rejection," Capraro said.
Communications Design Consulting Group will now work on resolving issues such as getting around the hilly terrain and upgrading or replacing antiquated equipment. Exactly how the problems will be remedied will be determined by the feasibility study.
Objectives include meeting with Capraro, Piscataquis County Sheriff's Office Chief Deputy Todd Lyford and Dispatch Sgt. Gary Grant and emergency personnel from around Piscataquis County to review the communications systems and look at current and potential sites.
The study would identify upgrade costs, future recurring costs and the feasibility of a simulcast system. Another area to be looked at is potentially moving the sheriff's dispatch center out of the jail and into the new department building in downtown Guilford.
County Manager Michael Williams said $37,800 is included in the budget to cover the high feasibility study bid. "Maybe we keep that in there in case there was a run over," he said, as Capraro and committee members agreed.
Capraro said additional monies could cover licensing or other needed items while Communications Design Consulting Group is working.
"I'm good with that. We want to do it once and be done with it," Commissioners Chair Jim White said.
The 2021 county and 2021-22 Unorganized Territory budgets will be presented during a public hearing at 6:30 p.m. on Monday, Nov. 30, in the commissioners' chambers at the Peaks House at 163 East Main Street. The commissioners may then approve the budgets during the first December meeting the morning of Tuesday, Dec. 1.