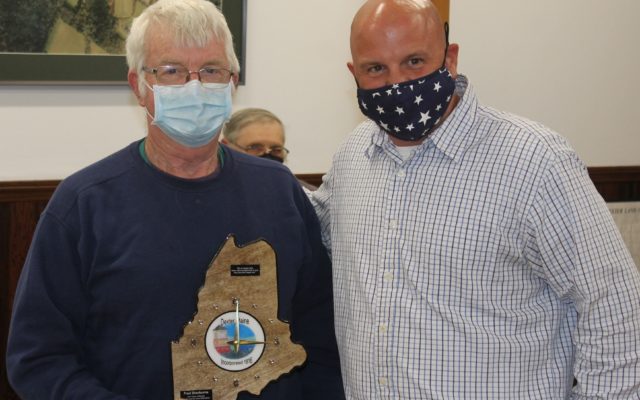 PO-dextersherburne-46-20
Observer photo/Stuart Hedstrom A THANK YOU FROM THE TOWN -- Outdoing Dexter Town Councilor Fred Sherburne, left, was presented with a plaque by Town Manager Trampas King at the start of a Nov. 12 meeting. Sherburne has served on the council for the last six years and has been on the council off and on since the 1980s.
70 percent of Dexter voters cast ballots
DEXTER — Like many communities around the state and nation, Dexter had a very high turnout for Election Day on Nov. 3 with residents voting on their choice for president, U.S. Senate, and the Maine 2nd Congressional District representative, as well as making decisions on the local questions.
A total of 1,865 ballots were cast between absentee and in-person voting at Carter-Dulac VFW Post No. 4298 for a turnout of 70 percent.
During a Nov. 12 town council meeting, councilors certified the numbers from Nov. 3. The council was told that Dexter had 2,537 registered voters before the polls opened and on Election Day 132 residents registered at the polls. A total of 796 absentee ballots were cast to account for nearly 43 percent of the 1,865 total ballots.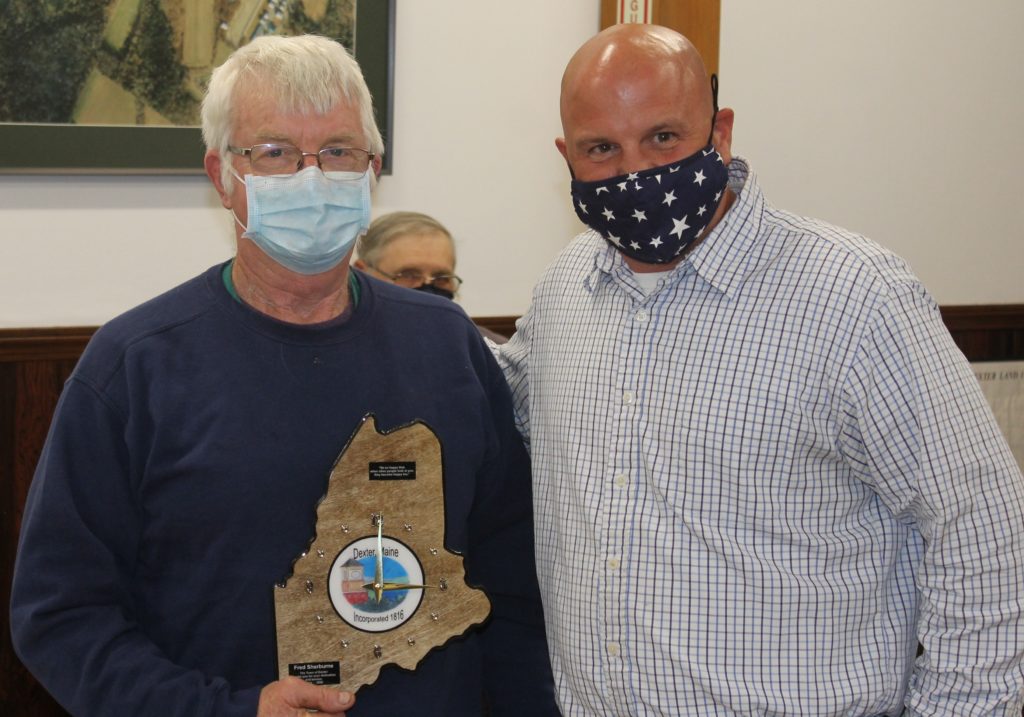 "What a phenomenal number of same-day registrations," Council Chairpersom Marcia Delaware said. She said the voting numbers likely broke records for the town of Dexter.
In the presidential race, President Donald Trump won Dexter with 1,160 votes while President-elect Joseph Biden received 617. U.S. Sen. Susan Collins led Dexter with 1,281 votes in this race, while Democratic challenger Sara Gideon's total was 458. For Congress, Republican challenger Dale Crafts edged U.S. Rep. Jared Golden 1,062-766.
In his report, Town Manager Trampas King thanked the VFW for letting the town use its facilities, which include a separate entrance and exit for social distancing purposes. He also thanked everyone who worked on Election Day.
In other business, the council voted to put an item on opening stretches of six town roads to ATV traffic on the December meeting agenda. The public will be able to weigh in on the proposal to allow ATVs on the Owlsboro Road, Pleasant Ridge Road, Shepard Road, #10 Road, Bugbee Road and Crockett Road from the #10 Road to the North Dexter Road.
"They wanted to open up roads from the railroad bed to [the Lakeshore Restaurant] and the lake," King said about requests made.
"If we are opening roads, we need clear signs saying this is the way to go and no, this is not the way to go," Councilor Andrew Bermudez said. He said that he saw ATVs on Main Street over the summer, and what likely happens is some will follow others after they see the initial ATVs heading down a particular travelway.
"These roads here are all back roads, they are not in town and most of them are dirt roads," King said about the six being proposed to be opened for ATVs.
Councilors also continued discussions about uses for the Reddy Building at 51 High St., which once was Plummer Memorial Hospital. King said he has had several meetings with owner Dr. Challa Reddy, who is retired after about two decades in practice at the facility, and Dr. Reddy wants to do something with his property after having hoped to have given it to Northern Light Health.
"It's been empty for probably three months now," King said. "He really wants to donate it to the town because he knows the town will keep it up and not let it go to shambles.
"If he still wants to give it to us, what do we do with it? That's the question."
One possibility mentioned involves resident Frank Spizuoco, owner of Millworks llc on Church Street. Spizuoco has walked through the Reddy Building and has an interest in the property, and a lease arrangement/real estate sale could be set up in the future should the town assume ownership.
Operational costs are about $40,000 annually with the property having about $4,000 in property taxes each year.
"We can't just turn our back to it — that's the worst option," Bermudez said. He said a sale to Spizuoco would be the best option, followed by town ownership. Other councilors agreed.
"I just think the taxpayers will be in this for a huge amount of money if we take it," Councilor Steve Gudroe said.
Spizuoco said programming at the Tri-County Technical Center in Dexter is growing, using space at the building on the Dexter Regional High School campus as well as at Millworks. He said the Reddy Building could be used to house future Center growth.
"If the price is right you wouldn't have a problem selling it," Spizuoco said. "If I was the town I wouldn't be afraid of selling it."