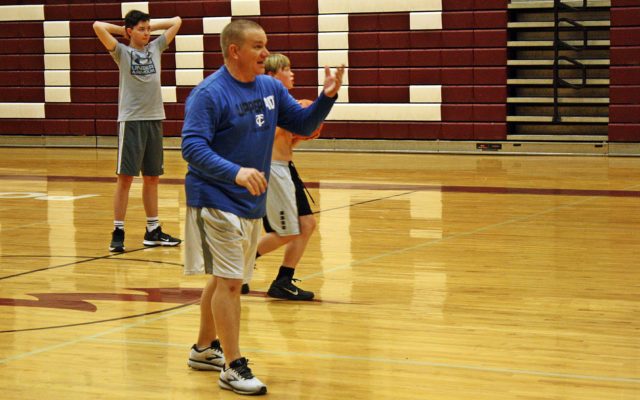 Coach
Contributed file photo NEW GIRLS COACH -- John Cornett has been hired as head coach of the Foxcroft Academy girls basketball team.
Cornett hired as Foxcroft girls basketball coach
DOVER-FOXCROFT — Foxcroft Academy is pleased to announce the hiring of John Cornett as girls varsity basketball head coach. Cornett takes over for long-time coach Blake Smith '87, who stepped down from the position earlier this fall.
"I'm excited that this opportunity came up for the winter season, and I'm looking forward to getting to know these girls on the court," Cornett said. "I had a great experience this fall in my first season as boys soccer coach, and I think I can take some of that success from the field to the court this winter."
Currently a math teacher and boys soccer coach at Foxcroft Academy, Cornett has an extensive coaching background. Before coming back to the school, he spent 20 years as a teacher and coach at various high schools in Florida and Georgia, coaching football, soccer, basketball and track and field.
"We are fortunate to have a candidate in-house that has the credentials and the know-how that coach Cornett brings to the table," said Jaclyn Tourtelotte, Foxcroft Academy athletic director. "We are also grateful for coach Smith's dedication and contributions to the program. He left his mark on the team, and we can't thank him enough."
"I would also like to thank coach Smith, as he did a tremendous job throughout his years leading the team, and I want to welcome coach Cornett to his new position," said Arnold Shorey, head of school. We are fortunate to have coach Cornett available to accept this opportunity."
The Pony girls are coming off a playoff season during the 2019-20 school year, finishing 6-12 in the regular season before falling to No. 5 Houlton in the Class B North play-in round.
The MPA recently communicated with schools to advise them on the upcoming winter season. The preseason is set to start in mid-December, while the regular season will not begin until Jan. 11, 2021. This announcement is all subject to change due to COVID-19 regulations and restrictions.
"Just like I told my soccer kids this fall, I don't know what our record will be at the end of the season, but I know we will play with a level of selflessness, and the kids will get my best effort every day," Cornett said. "I'm just looking forward to getting to work, and we will see what happens next."