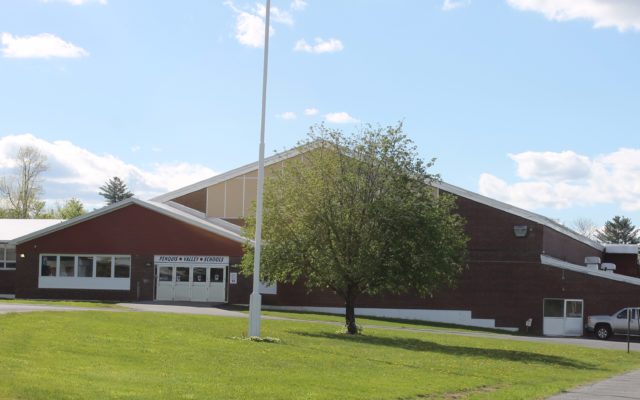 Penquis Valley School
The Penquis Valley School in Milo
SAD 41 preparing for winter sports
MILO — Guidelines are still being developed and the directors are set to make a formal decision at the Wednesday, Dec. 1 meeting, but planning is underway for modified basketball and cheering seasons at the Penquis Valley School. Members of the SAD 41 school board learned more during a Nov. 10 meeting held at the school and over Zoom.
"Like fall sports, winter sports have gone through a period of oversight and scrutiny by the MPA and other agencies," Superintendent Michael Wright said. He said should the MPA and state give the go ahead, individual school districts can make a decision to have a winter sports season or not.
Penquis Valley Athletic Director Jason Mills, who also coaches the high school boys basketball team, said the MPA has changed the planned starting date for winter athletics from the usual mid-November to Monday, Dec. 7. The day will be "just skills and conditioning for one week in the gym," Mills said. He said a week later on Monday, Dec. 14 teams can begin practicing and scrimmaging in full.
Per the current plan, teams can start competing against other schools starting on Jan. 11. Mills said squads will face others from the same geographic area as was done in the fall when Penquis was in a pod featuring schools from northern Penobscot County including Lee Academy, Mattanawcook Academy of Lincoln, Schenck High School of East Millinocket and Stearns High School of Millinocket.
"All athletes will be required to wear a mask in practices and games and competitions," Mills said. He said the same will be true for coaches, officials and others in the gym, a change from the fall season but athletes have a month to get used to the protective wear before competition begins.
The athletic director said another change for the winter concerns the state's color designation. He said if a region goes from green to yellow then athletics will be halted completely. "That is not an option this winter," Mills said.
No fans will be permitted for the 2020-21 season, but Mills said a new camera has been installed in the gym and the plan is to stream all varsity, junior varsity and middle school games.
"When you have the December meeting I will have the more sport-specific guidelines for basketball and cheering," Mills said, saying he will forward information to the board before then as it becomes available. He also said a schedule will be developed after the first workouts start in December.
In other business, Assistant Superintendent/Director of Curriculum Darcie Fournier reported that SAD 41 has been awarded $604,000 in covid relief funds. "We have five projects we are working on," she said.
Fournier said the first involves using $188,000 to improve the air quality at district schools. "Especially in winter months when we are required to have fresh air vented in," she said, with the improvements set to be done by the end of December.
Fournier said other projects include fencing installation at Milo Elementary, the placement of cameras at entrances and exits around the district as more doors are being used to help with social distancing, bus garage upgrades and to increase the efficiency of meal delivery.
In his report, Wright said he wanted to bring forward the idea of having a two-week period of remote learning for all when classes resume in early January after the holiday break. "Would it be wise for us to consider that approach as a proactive measure?," Wright asked, saying over vacation families may end up gathering with other relatives including some from other states.
Wright said he spoke with the education association and administrators about the possibility and would talk with other staff.
"I know it would be a difficult thing for many families," the superintendent said. "I know the thinking is a short-term remote time might prevent a longer-term remote time but we can certainly get more feedback from people."
Wright said several years ago SAD 41 was part of a non-binding, comprehensive high school project application led by the Dexter-based SAD 46/AOS 94 and also involving SAD 4 of Guilford, Greenville and Jackman schools and the Tri-County Technical Center The 145 points for the application trailed the 150 points for the proposed project in the Houlton area and surrounding school districts in southern Aroostook County and the score of 160 points for a possible facility in the Fort Kent and Madawaska areas in northern Aroostook County.
"The No. 2 spot has been pulled from the Houlton area for the Dexter area," Wright said, with this allowing a start to the planning process for the local project. He said a Zoom meeting with representatives from the participating school districts is set for next Tuesday night.
Wright said the location question of any new school is always of great interest from day one, and his understanding is this is why the Houlton project fell through. He said more information will be learned the following week as SAD 41 officials can determine whether to move forward or not in the future.
Under the Integrated, Consolidated (grade) 9-16 Educational Facility Pilot Project a regional comprehensive high school or possibly two or even three schools would be funded by the state with approximately ​$200 million set aside for the program. The facility is intended to serve as a model for the rest of Maine by encouraging neighboring school districts with declining enrollments to work together to combine resources and reduce costs.
The school would offer a variety of academic programs from high school to college — through the University of Maine and Maine Community College systems — and training and certifications in various industries via a number of business partnerships. Similar education models are used in other states.
Amidst the pandemic, SAD 41 schools were unable to hold the annual Veterans Day programs for those who served and other guests. Penquis Valley Middle School Principal Tina Dumond said a veterans tribute video has been posted on the district homepage (https://sites.google.com/msad41.us/msad41/) and school Facebook pages.