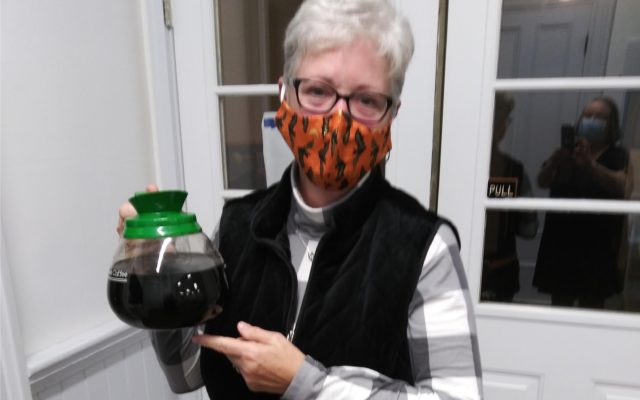 processed
Photo courtesy of GFWC/Miosac Club BACK TO MEETING -- Barb Austin at the first meeting of the GFWC/Miosac Club of the year, on Oct. 21 at the Dover-Foxcroft Congregational Church.
Dover-Foxcroft women's club meets for the first time in 2020
DOVER-FOXCROFT — President Suzanne Raymond called the first meeting of the GFWC/Miosac Club of year to order at 6 p.m. on Oct. 21. A big thank you to Barb Austin for arranging for us to meet on the third Wednesdays for the coming months at the Dover-Foxcroft Congregational Church.
We practiced social distancing and wore face masks, of course.  There were 10 members present — Anne Cress, Suzanne Raymond, Minnie McCormick, Barb Austin, Diane Leighton, Brenda Quiet, Roxy McLauflin, Rheba Michaud, Betsey Ryan and Vicki Moschella.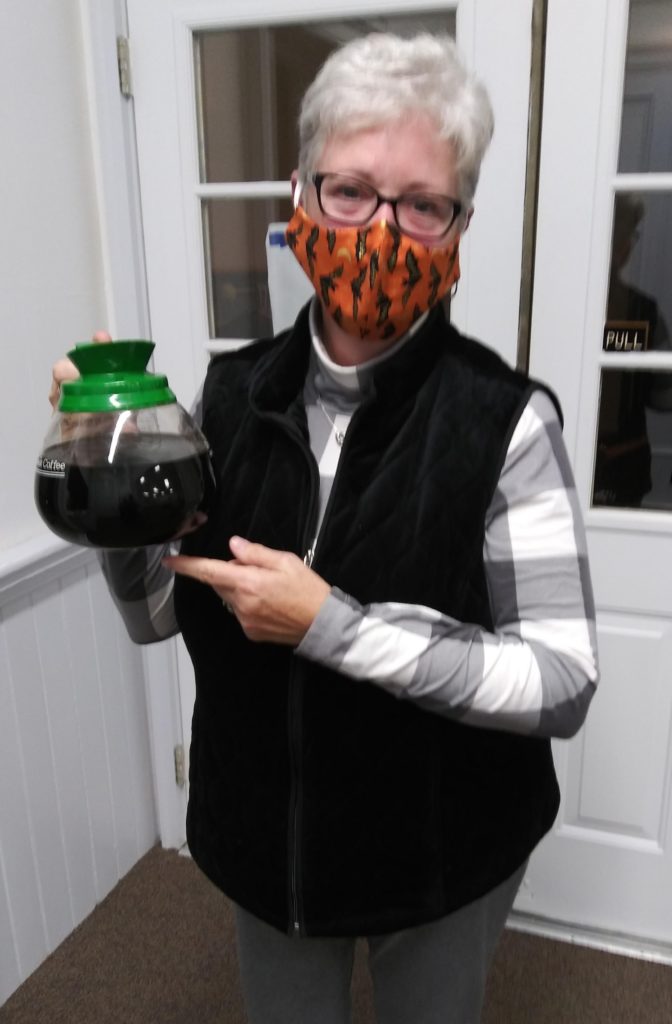 The Club Collect, Pledge of Allegiance and American's Creed were led by Brenda Quiet. Diane Leighton did roll call. Raymond asked us to answer the question, "Will we be glad when all the political ads are done?" We all answered with a resounding "yes!"
The secretary's report was read by Leighton and accepted as read. The annual report for October 2019 through March 3, 2020 was summarized by her as well.
The treasurer's report was read by Cress and also accepted as read. Budget information stands for this new year October to March 2021.
McLauflin read correspondence from six different organizations, four of which were thank yous for donations we made.
Under committee reports, McLauflin noted that our next meeting will be Wednesday, Nov. 18 at 6 p.m. at the church. Moschella noted that Cathy Goodine had a death in the family and that both Dot Finnemore and Betsey Ryan had been ill. Also, with this article, she'll begin sending monthly information to the Piscataquis Observer about our club.
In her president' report, Raymond reported on the theme for this year's GFWC Maine President's administration, Carol Jarvais, "Building a Brighter Tomorrow … Supporting children today." Clubs will choose what to do to help and/or promote children in our own communities. More on what our club will do in the future will be forthcoming.
The fall conference which will be on ZOOM will have a speaker on the "Sweet Dreams Project." Clubs will be asked to supply pajamas and books to donate to the project. We will also learn about the "Pink Feather Foundation" where children get to anonymously shop online for free clothing. Of special importance to Jarvais is "The Pine Tree Society" where children and adults on the spectrum who have intellectual and physical handicaps can go to camp in the town of Rome. Donations would be wonderful.
Unfinished business — the members will not be doing the traveling basket this year because of COVID- 19 and the handling of many items not being a good idea right now. Members will donate their change to our money jar and hope it adds up to a nice amount in place of our traveling basket profits.
New business — we are going to donate either money or food to the Dover-Foxcroft Area Food Cupboard. Money goes further as they can purchase some foods for pennies on the dollar. Some of us will do a box of food items. We can also get the $10 Thanksgiving boxes from the grocery store(s).
Members will be bringing in money donations for the Dover-Foxcroft Kiwanis Christmas Project where we usually have enough money to outfit at least three children with items their parents sign up for to get help for Christmas. Donations should be ready by our next meeting or sent to our treasurer, Anne Cress.
We will continue to make Project Linus blankets; prayer shawls for the hospital, box tops for schools, coupons for the military and soaps and shampoos for "In the Woods."
Northern Light Mayo Hospital has asked us to make fidget quilts for children.
For Pine Tree Hospice, since everything has been canceled we members are encouraged to get on Facebook and "friend" them so we can be aware of auction items going up for bid on Nov. 9. That way, we individually could participate in bidding on items if we wish to help them out.
Austin motioned that we make a donation to the Congregational Church for allowing us the use of the church recreation room for meetings. Ryan seconded. No discussion was needed and all were in favor.
The Christmas party will be held on Dec. 6 at the church. We will do an ornament exchange. Food items will be individually packed for each person using COVID-19 rules.
We adjourned at 7:15 p.m. We socialized as well as we could with our restrictions and had delicious cake and coffee.