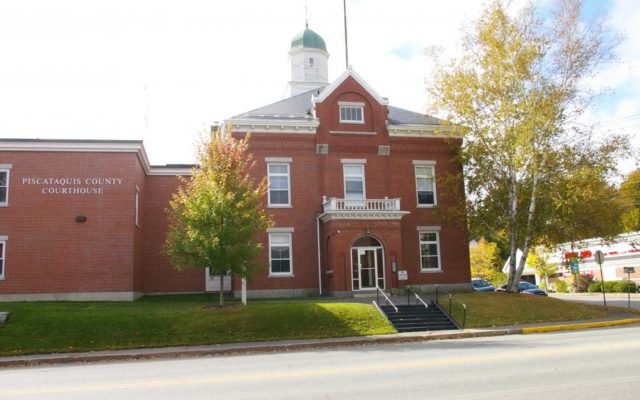 Piscataquis_County courthouse
County officials mull budget calendar alignments
DOVER-FOXCROFT — At the present time the Piscataquis County budget and Unorganized Territory (UT) budget follow different timelines with the county spending plan based on a calendar year and the UT budget running from July 1 to June 30. More information will be gathered to make a decision, but the county may shift these to follow the same schedule after hearing an audit report during an Oct. 20 meeting.
RHR Smith & Company of Buxton Managing Partner Ron Smith said County Treasurer Johanna Turner called him the week before with some concerns but he said he can alleviate these. Smith said the county has about $1.1 million in surplus, which is a very solid figure for a county the size of Piscataquis.
Smith said the UT budget has always been lean and that is true at the present time. "I would not forgo projects but I would make them an utmost priority," he said.
"That's really the concern we see out there, but it's nothing that can't be fixed," Smith said.
He mentioned there are some challenges between the separate calendar year county budget and fiscal year, such as with payroll and transferring funds between accounts.
"Now is the time to change the process and we will work with Johanna and (County Manager Michael Williams)," Smith said.
Commissioners Chair Jim White asked how problematic it would be to change the budget timelines, such as the county going to a fiscal year.
Turner said an 18-month budget may need to be developed to prepare for the change, and the idea of a 6-month transition budget was also mentioned.
Smith said it would not be too difficult, and he said the commissioners have the authority to make the adjustment rather than this being done at the state level.
White asked Smith if he could attend an upcoming meeting of the budget advisory committee, which is currently in the midst of working on the respective 2020 and 2020-21 spending plans.
Williams said the committee had planned to wrap up the evening of Thursday, Oct. 29 but members could meet an additional week to allow for Smith to speak with them.
"I don't see this happening until 2022," Smith said, as the current spending plans would be unaffected by a future change.
When asked his thoughts, Piscataquis County Emergency Management Agency Director Tom Capraro said, "I would like to say I am for changing the fiscal year because we do have to deal with three governments." Capraro said the agency works with local, state and federal entities and these operate on fiscal years.
"That's what I've been dealing with since I started here, so it would be great if you could change it," Capraro said.
White said the 2020 county and 2021-22 UT budgets will be developed as scheduled. "Over the next few weeks we will look at this and weigh the pros and cons," with any changes being implemented in the fall of 2021.
Earlier in the month a preliminary 2021 county budget totaling $5,111,915, a near $283,500 increase, was presented. After $603,597 in revenues, the budget totals $4,512,319 to be raised by taxes, which is an increase of $342,513. This amount is spread proportionally across the 19 Piscataquis County towns and plantations and the UTs.
Last year's sum was an approximate two-thirds to one-third split between municipalities and unincorporated portions of the region, respectively.
The 2020-21 UT budget presented on Oct. 6 totals $1,930,781, which is $126,111 more than the current fiscal year.
The annual public hearing is scheduled for the evening of Monday, Nov. 30, with a starting time to be determined. The county commissioners are expected to approve county and Unorganized Territory budgets during a December meeting.
In other business, Sheriff Bob Young reported, "Up in Guilford at the new office we have provided some space for a Maine Drug Enforcement Agency agent to work with our guys. So we think that is a positive."
Young said his department has seen an increase in meth use and sales, so having the agent at the home of the patrol and investigation division on at least a semi-regular basis will be a help.