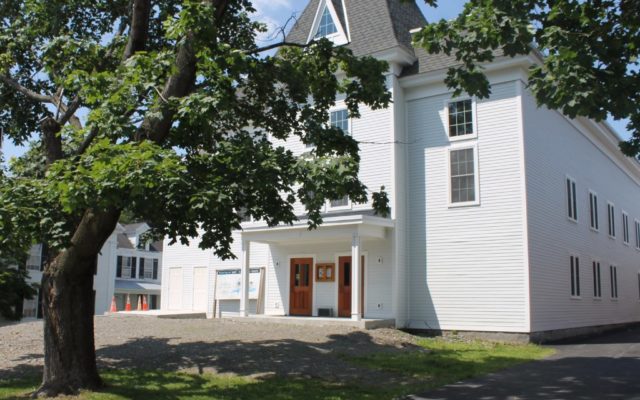 Central Hall
The Commons at Central Hall in Dover-Foxcroft
Central Hall Commons hosts pandemic resilience conversation Oct. 28
DOVER-FOXCROFT — Central Hall Commons continues to provide community outreach and be the community convener, both virtually and in real life, during these stressful times.The Hall has reopened to small group events, while practicing CDC guidelines but continues to plan and produce online events as well.
In response to the 2020 pandemic Central Hall Commons will present its fifth PTSD Conversation: Our Communities Response at 1 p.m. on Wednesday, Oct. 28. This month's presentation is by Sue Mackey Andrews:
Building personal and community resilience: getting through and beyond the COVID-19 pandemic. Contrary to what many people have thought, resilience is not something that we are born with or without. Resilience is rather cultivated through relationships and experiences, helping us to build a repertoire of responses, build confidence through experience — which includes taking risks and experiencing failure.
There are several ways in which we can speak about resilience — beyond that which we want to cultivate within all human beings. Resilience also refers to the ability of systems to be strong and able to be responsive in times of challenge.
This interactive and participatory session will focus on the long-term impact of the COVID-19 pandemic experience upon our friends, neighbors and communities. How do we build upon our relationships — so very crucial to us — at a time when we are forced to reduce our in-person interactions? How do we rebuild our precious and essential community systems at a time when our economy has taken such a beating due to COVID-19 – especially since we are essentially at the early stages of this COVID-19 pandemic — with a long road potentially ahead where we could face increasing new cases, deaths and the threat of another shutdown?
If you are a person who has experienced stressful experiences in your life (and who hasn't?) or if you work in a setting that is especially challenged during this pandemic (such as schools, first responders, social service and mental health agencies, etc.) the stress may trigger you.
Attendees are strongly encouraged to participate in this webinar through ZOOM so that they can fully participate in this interactive conversation with the facilitator and with one another.
The Zoom link in on the Central Hall Commons' Facebook PTSD Event or you can email info@centralhallcommons.org.
About the facilitator: In 2012, Mackey Andrews was a co-founder of the Maine Resilience Building Network which works to create conversations about Adverse Childhood Experiences or ACEs across multiple sectors throughout Maine. During this time, she supported a variety of locally driven, ACEs and resilience-focused initiatives throughout Maine. In this role, she provided training and technical assistance in all 16 Maine counties, to more than 19,000 individuals.
Mackey Andrews is vice chair of the Penquis District Health Coordinating Council, the DHHS State Steering Council on Public Health, the MaineChildren's Health Partnership of ME-CHIP, and an appointed supervisor with the Maine Permanent Commission on the Status of Women and Girls.
She has been the facilitator of Helping Hands with Heart since 2008,and also now facilitates the Maine Highlands Investment Partnership in our five school district region. MHIP is a partnership between Helping Hands and the Piscataquis County Economic Development Council. With philanthropic funds, the HHH/MeHIP represents a 70-plus member collaboration working to improve outcomes for children, youth and families across the lifespan in eight major component areas in our region.
Mackey Andrews graduated from UMass-Amherst with her BS in human development, with graduate work at UMass Medical in Worcester in pediatrics. She has worked nationally in 48 states and Puerto Rico, focusing on cross-systems collaboration to advance quality services and a continuum of care for children and families, particularly focused on prenatal-age 5. She has lived in Dover-Foxcroft since 1979.