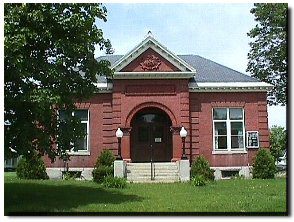 Thompson Free Library
The Thompson Free Library in Dover-Foxcroft
Thompson Free Library hosts 'Commemorating Maine Statehood'
DOVER-FOXCROFT – Thompson Free Library will host Liam Riordan, Professor of History at the University of Maine, live via Zoom at 6 p.m. on Thursday, Oct. 29 for "Commemorating Maine Statehood: What Can We Learn from the Bicentennial?" This online presentation is part of an ongoing series sponsored by a Maine Bicentennial Community Grant.
Dr. Riordan's illustrated presentation and discussion explores the statehood process in Maine that culminated in 1820 with formal separation from Massachusetts. That struggle engaged a range of challenging public issues that are still recognizable today. Commemorating statehood can help us to better understand:
— the explosive place of slavery vis-a-vis the Maine-Missouri Crisis
— the uncertain location of the international border and regional diversity
— sharp partisan conflict and the "two Maines"
— Wabanaki sovereignty
Dr. Riordan received his Ph.D. in history at the University of Pennsylvania and has been a faculty member at UMaine Orono since 1997. He is a specialist on the American Revolution with a current research emphasis on Loyalists, those who opposed the Patriot movement. He has also done extensive research and community engagement work about the Maine statehood era and its bicentennial commemoration. He helps to organize National History Day in Maine, the statewide affiliate of a national research program for grade 6-12 students.
This online event is free and open to the public. Please visit the Thompson Free Library website www.thompson.lib.me.us or email thompsonfreelibrary@gmail.com for information about how to participate.