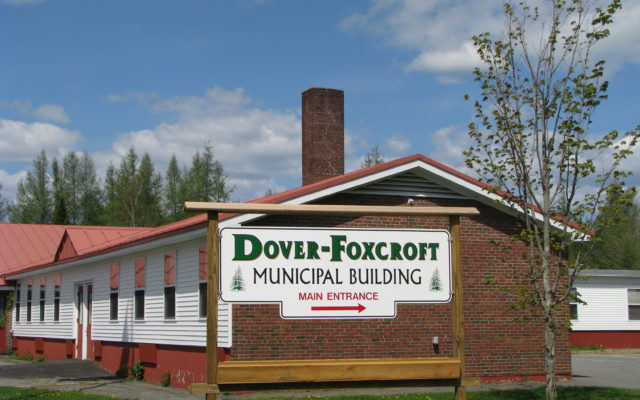 Morton Avenue
The Morton Avenue Municipal Building in Dover-Foxcroft
Dover-Foxcroft awarded $55,000 election grant
DOVER-FOXCROFT — The town of Dover-Foxcroft will receive some financial assistance with election costs as the community has been awarded a $55,000 grant from the Center for Tech and Civic Life. The funds are part of a $250 million commitment to the Center for Tech and Civic Life by Priscilla Chan and Mark Zuckerberg.
"[Town Clerk] Lisa Ronco got some good news last week about the election grant application," Town Manager Jack Clukey said during an Oct. 13 Board of Selectmen's meeting in the Morton Avenue Municipal Building Gymnasium. "We're receiving $55,000, basically to help with our ability to hold elections."
The Chicago-based Center for Tech and Civic Life is a nonprofit working to harness the promise of technology to modernize the American voting experience. The Chan-Zuckerberg Initiative, named for the Facebook co-founder and CEO and his wife, was founded in 2015 to leverage technology, community-driven solutions and collaboration to help solve some of society's toughest challenges. The initiative mission is to build a more inclusive, just and healthy future for everyone.
"We will be putting that to use over the next several weeks," Clukey said. He mentioned grant funds can be used for supplies, election security, payroll and other activities in support of elections.
The selectmen set an election notice with the registrar of voters open from 7:30 a.m. to 4:30 p.m. on Monday, Thursday and Friday and 8:30 a.m. to 5:30 p.m. on Friday. On Election Day Tuesday, Nov. 3, the polls at Morton Avenue will be open from 8 a.m. to 8 p.m.
Clukey said absentee ballots have been available since Oct. 5 and 755 have been issued as of Friday, Oct. 9.
"I think this is a record and there are still several more weeks," he said. Clukey said 550 absentee ballots may have been the previous record-high in Dover-Foxcroft and this figure was surpassed in the first week of the 2020 election lead-up.
He thanked the town office staff for all their work with voters.
When asked, Ronco said the outside drop-off box is checked several times a day to bring the ballots in as well as at the end of the work day.
Select Vice Chairperson Cindy Freeman Cyr said those voting absentee can track the progress of their ballots through the Maine Secretary of State absentee ballot request website at https://apps.web.maine.gov/cgi-bin/online/AbsenteeBallot/index.pl.
In other business, Clukey told the board, "I know everyone is aware that we received Ryan Reardon's resignation last Friday." He said the former police chief's resignation — made via a one-sentence letter — was effective as of Oct. 9. Reardon's letter did not specify his reasons for resigning.
Last month, Reardon was arrested in Bangor and charged with Class B aggravated assault and Class C domestic violence criminal threatening with a dangerous weapon after he allegedly attempted to strangle a woman with whom he was having an affair. The town placed him on paid administrative leave when he was arrested.
"I just want to commend [Sgt. Matt Grant who is serving as interim police chief] for the job he has been doing over the last few weeks. Things have gone smoothly," the town manager said.
Clukey said board members have likely all seen the new electronic sign posted in front of the police station on East Main Street. The sign was funded with COVID-19 relief grant monies.
Pandemic safety and town event messages have been posted for passers-by to see. "We will just be adding to the scroll of that sign," Clukey said. When asked, he said some Halloween-related COVID-19 safety tips can be added to the sign messages leading up to Oct. 31.
In his report, the town manager said the town maintenance crew was able to fix some of the concrete sidewalk in front of the Thompson Free Library on East Main Street. Clukey said similar work was done by the state up the road on the East Main Street bridge.
"We do a lot of paving but we don't do a lot of concrete restoration," he said. "It was starting to get to the point where if we let it go another year or two we would have been in much worse shape."