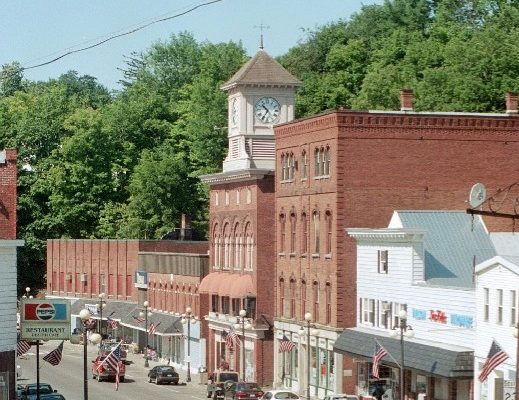 VFW will serve as Dexter poll location on Nov. 3
DEXTER — When Dexter residents head to the polls on Tuesday, Nov. 3,they will be stopping by Carter-Dulac VFW Post No. 4298 at 20 Cedar St.
Town Manager Trampas King said during the Oct. 8 Town Council meeting that the plan for the town to use the VFW Post had been finalized to provide a building with a separate entrance and exit for social distancing purposes. Polls will be open from 8 a.m. until 8 p.m.
King said the town will share poll location information on Facebook, the electronic sign at the police station and elsewhere as "the last three elections have been in three different places."
Residents have used Ridge View Community School for other elections, but this location was not viable with students attending classes on Nov. 3. During the July primary, students were on summer vacation so the school was used as a polling place.
The council formally signed the election warrant, which includes questions for seats on the town council, utility district and SAD 46 school board.
Residents will be asked to vote on two councilors for three-year terms each. Incumbent Charles Ellms and former Councilor Peter Haskell are listed on the ballot. 
Council Chair Marcia Delaware said for both SAD 46 and the Dexter Utility District trustees there are a pair of three-year seats, but only one name is listed on the ballot for each entity — providing an opportunity for write-in candidates. Incumbents Michael Burton and Anne Bennett are listed on the respective school board and utility district questions.
In addition to the presidential, congressional and local races, Dexter residents will also help determine the direction the town should go in terms of permitting marijuana-related businesses via a pair of advisory referendum questions.
Residents heading to the polls and voting absentee will be asked if they are in favor of the town of Dexter allowing a medical marijuna business and if they are in favor of the town allowing a recreational marijuana business.
The council will take the referendum question results into consideration in its decision-making process after early next month.
King said town office staff have already been busy with absentee ballots. "We are over 500 now and we are only a week into it," he said. The town manager said more than 1,800 voters took part in the 2016 presidential election, and the hope is to have an even larger turnout this year.
The town will be receiving some financial assistance on and leading up to Election Day in the form of a $5,000 grant from the Center for Tech and Civic Life to be used for election expenses. 
Town Clerk Susan Page said she learned about the organization — which according to its website works to connect Americans with the information they need to become civically engaged and ensure that elections are more professional, inclusive and secure — and its grant program. Page was able to apply quickly and without difficulty and now the town has an additional $5,000.
"We did order some single-unit voting booths," Page said — about three at $190 apiece which are ADA-compliant. She said the rest of the Center for Tech and Civic Life funds will be used to cover additional pay for election clerks and to assist with absentee ballot postage.
In other business, King had asked councilors at the August meeting to be thinking about uses for the Reddy Building at 51 High St., which once was Plummer Memorial Hospital. King said Dr. Challa Reddy is looking to do something with his property, having hoped to have given it to Northern Light Health.
King said he and councilors are scheduled to meet with Dr. Reddy on Tuesday morning, Oct. 20, to discuss the future of the building. "We won't decide to do anything with it until at least our next meeting," King said about the November council session. "We'll know a little bit more about what's going to happen."
When asked in August, King said operational costs are about $40,000 annually with property taxes at $3,000-plus per year.