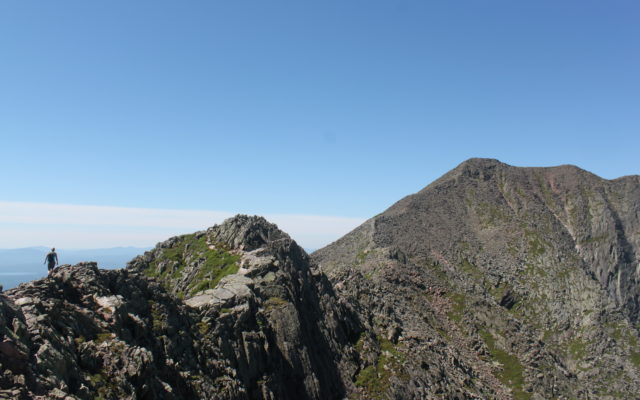 1minhike071713-3
File photo courtesy of Derek Runnells KNIFE EDGE OF KATAHDIN -- Bangor Daily News reporter Aislinn Sarnacki hikes over Knife Edge of Katahdin on July 13, 2013. The ridge becomes just a few feet wide at some points, and the mountain drops away for thousands of feet on both sides.
Two hikers airlifted off Katahdin's Knife Edge after losing trail
BAXTER STATE PARK —  A 75-year-old year old man from Pittsfield, Massachusetts, was airlifted by a Maine Army National Guard UH60L Blackhawk helicopter after becoming benighted on the Knife Edge and sustaining injuries from a fall. The man and his 25-year-old nephew started up the Dudley trail from Chimney Pond at 11:30 a.m. Tuesday, Oct. 6, and lost the trail in the fog and the dark around South Peak.
At approximately 12:30 a.m. on Wednesday, Oct. 7, Houlton Regional Communications Center was able to patch through a 911 call from the younger hiker to Baxter State Park Chief Ranger Dan Rinard. Upon assessing the condition of the party, Chief Ranger Rinard determined that they were lost but not injured, and that given the dark and foggy conditions, they should shelter in place until first light when a rescue operation could be safely mounted.
At approximately 3:10 a.m., the younger hiker contacted Rinard directly to report that the older hiker had sustained injuries from a tumbling fall of more than fifty feet. Rinard talked the younger hiker through sheltering in place, how to stay warm and to watch for any changes in the older hiker's condition. Both hikers were becoming hypothermic but remained stable. Rinard maintained intermittent contact with the younger hiker throughout the night.  
As daylight approached, Rinard deployed multiple BSP Rangers to respond from inside and outside the Park, and contacted the Maine Army National Guard (MEARNG) to request assistance. MEARNG deployed the Blackhawk from Bangor at 7:30 a.m. with pilot-in-command Lt. Col. Arnold, pilot Chief Warrant Officer 3 Raychard, crew chief Sgt. Leclair, and medic Sgt. 1st Class Plowman.
They scouted for an opportunity to hoist, but the fog held the mountain in obscurity. Chimney Pond Ranger Andy Borth reached the pair by 9:03 a.m., found the older hiker in critical condition and treated him for hypothermia and other injuries.  MEARNG was able to deliver BSP District Ranger Rob Tice and Ranger Kevin Ouellette on the tableland between the Hunt and Saddle trails at approximately 9:20 a.m. 
Finding a break in the fog, MEARNG lowered medic Sgt. 1st Class Plowman, who worked with BSP Rangers to load the older hiker into a litter by 10:30 a.m. He was hoisted and loaded into the Blackhawk shortly thereafter and flown to Millinocket Municipal Airport, where he was transferred to a Lifeflight of Maine helicopter and received further treatment for his injuries en route to Northern Light Eastern Maine Medical Center (NLEMMC). There he was in critical condition and received continued treatment for hypothermia and other injuries.
BSP Ranger Jen Sinsabaugh reached the scene shortly before MEARNG returned to the mountain and at 11:25 a.m. hoisted and transported the younger hiker to Bangor International Airport, where he was transported by ambulance to NLEMMC and treated for hypothermia and exhaustion.  
This is the sixth air-lift off Katahdin this season. Air resources are among the riskiest tools we can use to save wayward hikers, and in many situations, are unavailable. Do not rely on cell phones for rescue. Have food, water and supplies to be prepared for spending more time on the mountain than you anticipate, especially with daylight decreasing and inclement weather increasing.
"The Maine National Guard is proud to serve alongside the professionals at Baxter State Park, together using our training to assist those in need. Our thoughts are with both hikers as they receive treatment,"  said Maj. Gen. Douglas Farnham.
This is the second rescue in the Park in four days where the MEARNG's prompt and professional assistance has been vital to ensuring the best outcome possible in harrowing circumstances.