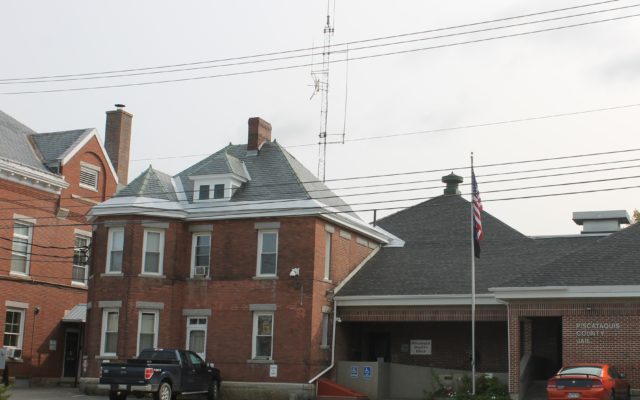 PO-countytower-38-20
Observer photo/Stuart Hedstrom BETTER COMMUNICATION -- Piscataquis County officials have sent out a request for proposals for a public safety radio system study to solve long-running communications problems for the region's fire and police departments.
County officials looking at increase in preliminary budget
DOVER-FOXCROFT — Several days before the budget committee had its initial scheduled meeting, the county commissioners conducted their first review of draft spending plans for the Piscataquis County and Unorganized Territory budgets during an Oct. 6 meeting.
The preliminary 2021 county budget, which is based on a calendar year, totals $5,111,915, a near $283,500 increase. After $603,597 in revenues, the budget totals $4,512,319 to be raised by taxes, which is an increase of $342,513. This amount is spread proportionally across the 19 Piscataquis County towns and plantations and the Unorganized Territories. 
Last year's sum was an approximate two thirds to one third split between municipalities and unincorporated portions of the region, respectively.
The 2020-21 Unorganized Territory budget presented on Tuesday morning totals $1,930,781, which is $126,111 more than the current fiscal year.
"That's our starting point for Thursday night," Commissioners Chairperson Jim White said. 
The initial budget committee meeting was set for Oct. 8 in the commissioners' chambers at the Peakes House on the county campus. The committee was supposed to decide a meeting schedule that evening.
County Manager Michael Williams said the annual public hearing is scheduled for the evening of Monday, Nov. 30, with a starting time to be determined. The county commissioners are expected to approve county and Unorganized Territory budgets during a December meeting.
In other business, the commissioners received an update on Destination Moosehead Lake plans for the future. Destination Moosehead Lake serves as the official tourism organization for this region of Piscataquis County. Through the Moosehead Visitors Center and organization website, Destination Moosehead Lake welcomes thousands of visitors annually, answers questions and points travelers to the many attractions and businesses in the region.
Destination Moosehead Lake Program Director Grace Bardsley said an interim executive director has been hired, filling a vacancy existing for several years and to serve for the next year.
"We are changing to a partnership dues membership," Bardsley said. She said dues rates will be for tourism-based members and for service-based members.
Bardsley said the Moosehead Lake region has seen a number of visitors during the coronavirus pandemic. She said several weeks prior, 250 people had come into the Moosehead Visitors Center on a single day.
Explaining that the region is blessed with the lake and wilderness, Bardsley said, "It's the place everyone wanted to be with COVID."
She said the visitors center was closed from mid-March until the start of June but through September "we've had close to 5,000 visitors already this year." In 2019 the total was 5,600 and Bardsley said the numbers are counting only those who come into the Moosehead Visitors Center, which is closed on Sundays.
Cheri Goodspeed, co-proprietor of Kamp Kamp Indian Store in Greenville, said she has been living and working in the Moosehead Lake region for more than two decades and has seen the highs and lows of the business climate. "I believe that the Moosehead Lake region is positioned to be the best it's been in the 21 years I've been here," she said.
Goodspeed said some of those traveling to the region have opted to move there permanently something she did herself. "They came as visitors first, and fell in love with the area," Goodspeed said.
She said that a "We Believe in Destination Moosehead Lake" campaign will help market the region further.
The new office for the patrol and investigation division of the Piscataquis County Sheriff's Office in downtown Guilford will have an electronic sign placed on the front lawn through a federal grant awarded to the town of Guilford.
"It will be standing where an old bank sign used to be," Chief Deputy Todd Lyford said. He said the electronic sign will be installed by AMB Signs of Dover-Foxcroft in a timeframe to be determined.
In his report, Piscataquis County Emergency Management Agency Director Tom Capraro said, "The radio study, we sent out the letters and they're supposed to be back by Oct. 30."
Last month commissioners took another step in a process to fix long-running communications problems for the county's fire and police departments by formally approving a letter seeking requests for proposals for a feasibility study on a public safety radio system. Issues include getting around the hilly terrain and upgrading or replacing antiquated equipment, exactly how the problems will be remedied will be determined by the feasibility study.
Capraro said one firm has replied and said it will not be able to submit a proposal, citing the distance from the main office in Pennsylvania. "So far I haven't heard back from anyone else," Capraro said.
Nine radio companies were identified, four based in Maine and five out of state. Once proposals have come in near the end of the month, county officials will have up to 30 days to select a firm, and the company will have about seven months to complete the job.
Objectives include meeting with Capraro, Lyford and Piscataquis County Sheriff's Office Dispatch Sgt. Gary Grant and emergency personnel from around Piscataquis County to review the communications systems and look at current and potential sites. The study would identify upgrade costs, future recurring costs and the feasibility of a simulcast system. Another area to be looked at is potentially moving the sheriff's dispatch center out of the jail and into the new department building.