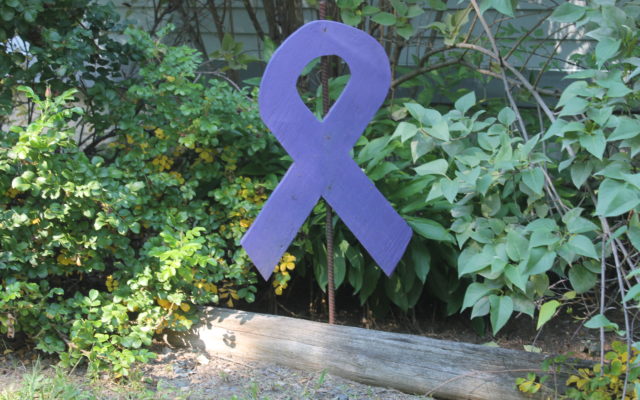 IMG_4016
A domestic violence awareness ribbon.
Virtual events to mark Domestic Violence Activism Month
Domestic Violence Activism Month will look different in 2020. Partners for Peace, an agency providing free and confidential support services for anyone affected by abuse and violence in Piscataquis and Penobscot counties, is asking the public to join them in virtual events and a few in-person happenings to mark a month of activism opportunities to advocate for every person's right to feel safe in their relationships, homes and communities.
"We knew that this month was likely to look different due to COVID-19, but given the current state of our nation, we are changing up our efforts this year and from here on," said Amanda Cost, facilitative director of Partners for Peace, in a statement. 
Events will include a children's book event on Oct. 14, a virtual panel discussion on Oct. 27 and a lawn sign awareness campaign all month long.
"These are uncertain times we are living in. Marginalized people are rising up and speaking their truths and we are listening, learning and amplifying their voices in service of the liberation of all oppressed people. Black, Indigenous, People of Color, Immigrant, Lesbian, Gay, Bisexual, Transgender and Queer survivors need us now more than ever. Come along with us as we push ourselves outside of our comfort zones into a brave space of learning, growing and evolving together," Cost said.
Partners for Peace Community Response Team Leader Casey Faulkingham explained that this year the name of the month has changed, with activism replacing awareness. 
"We believe that, as a community, we are very aware that domestic violence is an issue, we see it quite a bit in the media," she said. "We wanted to give people a way to get involved, to actually take action and become an activist for peace and justice and against domestic violence. So we wanted to give people a way to get involved instead of just spreading awareness — which absolutely has been crucial."
"It's very important to make sure we are spreading information about our services and what abuse looks like, but we also want to be working towards ending this and we know that this takes a lot more than awareness," she said.
From 6-7:30 p.m. on Tuesday, Oct. 27, Partners for Peace will hold a virtual event on Facebook Live and Zoom, "HEAR Our Voices: Diversity and Inclusion in the Anti-Violence Movement." A panel of experts will answer: As individuals, advocates and community members, how can we work together to address the needs of those who are affected by abuse and living on the margins, such as Black, Indigenous, and LGBTQ+ folks, people who are differently-abled, people living with mental health challenges, people who use substances, immigrants and refugees?
"It is different because it's virtual. We are living in a global health crisis and we want to be sure we are doing our part to limit the spread of the virus. It is also different because we are being very intentional this year with all of our events being centered around the lived experiences of survivors on the margins," Faulkingham said.
"Or in other words, survivors who are Black, Indigenous, People of Color and survivors who identify LGBQ, as well as survivors who are differently abled, come from different backgrounds and religions, survivors who are living with mental health conditions and substance use disorders," she said. "What is it that we can do as a community to make sure we are really, really centering our services and our coordinated community response around the experiences of people who are marginalized. We think if we make our services available to people on the margins they would therefore be available to all people and all survivors."
"It's not just about helping people get away from domestic violence, there's so much more to it — and especially when people are further marginalized and depressed. We are hoping folks that attend can really hear the lived experiences from survivors on the margins," Faulkingham said. "We think if we make our services available to people on the margins they would therefore be available to all people and all survivors."
Partners for Peace is working with public and school libraries in the two counties through the Knowledge Empowers Campaign, which places age-specific books and materials for Domestic Violence Activism Month in the communal educational spaces.
"We are specific every year about choosing a children's book, a young adult book and an adult book because we know that abuse and violence is something that crosses the lifespan and can affect people throughout their lives, and not just adults either," Faulkingham said.  
All books are carefully selected by staff and carry messages of kindness, respect and hope for anyone affected by abuse. This year selections teach about love, justice and truth, and lift up the voices and experiences of marginalized people and inspire others to advocate for change.
"Of course, due to COVID, some of the libraries are not open, but we have been communicating and when they do open we will get (books) to them," Faulkingham said. 
The book activity is a longtime project for the organization. 
"That's something we have been doing for a long time and it's really nice because a lot of the librarians will actually reach out and say 'thanks so much, we have got the books this year.'" Faulkingham said. "Sometimes they are looking for advice on what to display so a lot of librarians will pull past Knowledge Empowers Campaign donations, past books that we donated, and put them all out and do a nice October Domestic Violence Awareness or Activism Month display that goes along with this year's selections."
The children's book event is scheduled for noon on Wednesday, Oct. 14, via Facebook. Partners for Peace will livestream a short introduction from the children's advocate and a video of author Matt Matt de la Pena, reading his book "Love."
Throughout October, Partners for Peace is also holding a lawn sign awareness fundraiser. Lawns signs are available for $25 each through the website at www.partnersforpeaceme.org/donate. Donate $100 or more during the month to be entered to win a purple — the color of domestic violence awareness — purse valued at $350 from the Allstate Foundation, which is dedicated to ending domestic violence through the financial empowerment of survivors.
The winner will be drawn on Facebook Live at 10 a.m. on Saturday, Oct. 31 (attendance is not necessary to win). Donations can also be made by mailing a check to P.O. Box 653, Bangor, ME 04402. 
Faulkingham said Partners for Peace is partnering with Finding Our Voices to promote awareness about the impact of domestic violence. Finding Our Voices has banners posted in Dexter, Newport and Dover-Foxcroft with more coming to Millinocket and Lincoln.
Finding Our Voices founder Patrisha McLean is a writer and photographer specializing in giving a voice to social injustice. She launched Finding Our Voices on Valentine's Day 2019 as an exhibit in her hometown library of portraits and audio of fellow survivors of intimate partner abuse. More than half the women featured lived in her community.
Finding Our Voices marshals the voices of survivors, creativity of community members and support of the business community to break the silence of intimate partner abuse. 
Faulkingham said McLean will be speaking with Penquis staff.  
"Since Penquis is such a huge organization with hundreds of staff people we are going to be bringing Patrisha to Penquis virtually, to share her story and the stories of the project so they can be hearing directly from survivors as well," Faulkingham said. "Partners for Peace will be a part of it, to be there as advocates and people who can share services and resources for people affected." 
For more information visit www.partnersforpeaceme.org or follow the organization on Facebook, Instagram and Twitter. To speak with an advocate,  please call the 24-hour helpline at 1-800-863-9909.