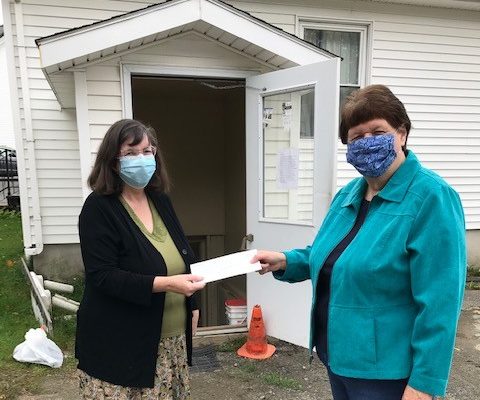 IMG_0906 FEATURED
Photo courtesy of Piscataquis County Democratic Committee PISCATAQUIS DEMOCRATS CONTRIBUTION -- Theresa Mudgett of the Piscataquis County Democratic Committee presents a check to Victoria Eastman, board secretary of the Milo Area Ecumenical Food Cupboard. A portion of the committee's Fall Fundraiser was given to five local nonprofits.
County Democrats hold Fall Fundraiser
DOVER-FOXCROFT — Piscataquis County Democrats held their annual Fall Fundraiser the evening of Sept. 26. In most years the event would have taken place at the East Sangerville Grange where supporters would gather for a meal and to hear from candidates. This year's event, titled "Tune-In or Drive-In," was held at the Piscataquis County Ice Arena Drive-In where the program was screened on Zoom allowing for participation from anywhere. The program included music from Dave Mallett and family performing "Celebration" and an original poem performed by John Curran accompanied by his son Jason.
Additionally, the audience heard from local candidates including Patrick Myers (Piscataquis County commissioner, District 2), Dr. Richard Evans (House District 120), Margarita Contreni (House District 119) and David Ziemer (Senate District 4) as well as U.S. Senate candidate Sara Gideon and Second District Congressman Jared Golden. Other highlights of the evening included brief remarks from four young Piscataquis County Democrats who shared why they support the Democratic platform, inspiring remarks from activist Betsy Sweet and a heartfelt closing from Gov. Janet Mills who held out hope for future gatherings at the East Sangerville Grange. The program was emceed by Dyan McCarthy-Clark and involved many dedicated support staff behind the scenes.
The PCDC gave their annual awards featuring recipients of the Don Hall Award, Carole and Eric Boothroyd and Sue Mackey Andrews, recipient of the Stephanie Locke Award. These dedicated volunteers shared remarks with all in attendance emphasizing the importance of voting in the election on or before Nov. 3.
A portion of the proceeds from the fundraiser were donated to five area nonprofits.
A brief video clip of the event can be viewed here: https://www.wevideo.com/view/1850806859.