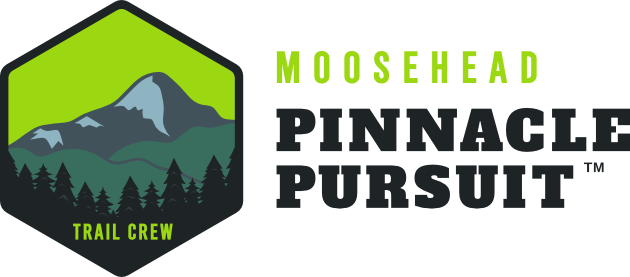 mpp-tc-icon-text-stacked-left-color
Moosehead Pinnacle Pursuit hiking challenge adds a new badge 
The Moosehead Lake Pinnacle Pursuit is a hiking challenge in Moosehead Lake in which hikers who complete all six hikes can become a registered member of the Moosehead Pinnacle Pursuit.
It began as a program of Destination Moosehead Lake in 2016, and currently has 210 registered members. The hikes consist of Borestone, Number Four Mountain, Kineo, Big Moose, White Cap,and Eagle Rock. There are five levels available to achieve — Ultra, Winter,  Winter Ultra and Trail Crew. Trail Crew is new in 2020.
To learn more go to www.MooseheadPinnaclePursuit.com. The Moosehead Lake Pinnacle Pursuit is made possible thanks to Moosehead Trails and Destination Moosehead Lake with funding assistance from the Maine Community Foundation. Maps are available at the Destination Moosehead Lake Visitor's Center and can be mailed to you by contacting them directly at DestinationMooseheadLake@gmail.com or 207-695-2702 or by downloading from the website.
Volunteer as a trail crew member on four trail stewardship days with Moosehead Trails hiking group to earn the "Crew" badge. Trail maintenance is essential to keep the trails safe and accessible for all. For information on scheduled trail maintenance days and details regarding when and where to meet and what to bring visit Moosehead Trails on Facebook.
Destination Moosehead Lake is the official tourism organization for Maine's famous Moosehead Lake region. Destination Moosehead Lake welcomes thousands of visitors to the region annually, answering questions and pointing visitors to the many attractions the region has to offer and the businesses that make the Moosehead Lake region so special. The towns that are covered in our region are as follows: Rockwood, Greenville, Kokadjo, Lily Bay, Beaver Cove, Shirley, Monson and Abbot.