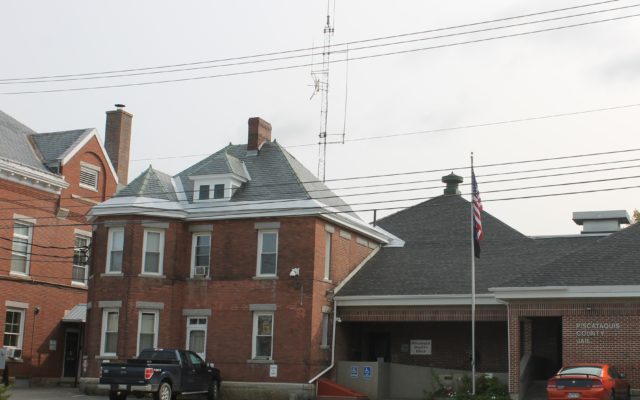 PO-countytower-38-20
Observer photo/Stuart Hedstrom BETTER COMMUNICATION -- Piscataquis County officials have sent out a request for proposals for a public safety radio system study to solve long-running communications problems for the region's fire and police departments.
County seeking public safety radio system study proposals 
DOVER-FOXCROFT — The next step was taken in a process to fix long-running communications problems for the county's fire and police departments as the county commissioners formally approved a letter seeking requests for proposals for a public safety radio system study during a Sept. 15 meeting. Issues include getting around the hilly terrain and upgrading or replacing antiquated equipment, exactly how the problems will be remedied will be determined by the feasibility study.
Piscataquis County Emergency Management Agency (EMA) Director Tom Capraro said, "We held a meeting, a couple of meetings with the fire chiefs and police in the county," for them to provide feedback on the multiple-page letter. Capraro said other sessions involved Piscataquis County Sheriff's Office Chief Deputy Todd Lyford and Dispatch Sgt. Gary Grant to go over the document.
"The highlights are we want these proposals to be in by Oct. 30 and we want the job to be completed by June 30 of 2021," Capraro said. "We have 30 days to decide who we are going to pick if they all meet our expectations." He said the work would start in mid- to late November, giving the selected firm about seven months.
The EMA director said objectives listed include meeting with himself, Lyford and Grant and emergency personnel from around Piscataquis County to review the communications systems and look at current and potential sites. The study would identify upgrade costs, future recurring costs and the feasibility of a simulcast system. Another area to be looked at is potentially moving the sheriff's dispatch center out of the jail and up to the new department building in downtown Guilford.
"Everyone can hear it so if something bad happens everybody can be aware of it," Capraro said, saying this is not always the case with calls at the present time.
He said nine radio companies have been identified, with four based in Maine and five being located out of state. "I'm ready to get those out within the next day or so," Capraro said.
"Let's do it all and do it right," Dover-Foxcroft Fire Chief Joe Guyotte said. "Let's not do it piecemeal again."
During an August meeting, Capraro said his predecessor asked that he work on a communications feasibility study. For about $23,000 the Massachusetts-based Macro conducted a study estimating about $780,000 in 2008 dollars was needed to fully upgrade county communications capabilities. "The money wasn't there to spend," Capraro said, estimating last month a 2020 study could be in the $40,000-50,000 range.
Lyford said feasibility study funds are not included in the current sheriff's budget, so how expenses are covered — such as solely by the county or divided between various departments — is to be determined. When asked by Commissioner Jim Annis, Lyford said any new system would be analog with digital being far too expensive to be a realistic option.
The commissioners formally approved the letter and Chair Jim White said, "We will put it out for six weeks and see what we get."
In other business, county officials met with representatives involved in the project to revitalize the ski facility on Big Moose (Big Squaw) Mountain outside of Greenville.
"There is no question of the importance of the ski mountain to not only the Moosehead region but the whole county and state too," Moosehead Lake Region Economic Development Corporation President Steve Levesque said.
Project consultant Perry Williams said work has been on-going for the last two years and the property is under contract to be sold. "We have been searching for the right type of funding to bring this back to life," he said.
The slopes have been open the last few winters, but Williams said most of the infrastructure will need to be replaced.
He said a tax-free municipal bond would allow for a property purchase to go through this fall. "It comes with 1,700 acres and that includes about everything on the left side of the access road," Williams said, saying another dozen acres nearby on Moosehead Lake would be included as a potential future marina site.
"Our plan is to make it a four seasons, year-round viable attraction," Williams said. He said the chair lift would be replaced, the new model could cut the time to reach the top in half from 13 to six minutes. The base lodge would be torn down and replaced with a 60-room hotel with brew pub and conference room. Snow-making capabilities would also be upgraded.
Williams said a zipline from the summit to base would be operational during warmer months as would the chairlift at night for "astro tourism" at the top for stargazing.
"A lot of our plan is designed around four seasons, bringing people up all year," he said, mentioning there would be condominiums built around the mountain.
"We are going to need a lot of workforce housing," Williams said. "We are talking about 300 year-round jobs plut 100-150 construction jobs. It's a big project, an exciting project with a lot of economic activity."
George Campbell of Treadwell Franklin Infrastructure, who served as Greenville town manager during the 1970s, said the project investment totals about $68 million, excluding the housing component.
"We are here because No. 1 the project is alive and well despite what people will tell you," Campbell said. "The second is to pass on some information to you."
He said the Moose Mountain project is a special purpose entity (SPO) and would need a resolution from the governing body, the commissioners given its location in the Unorganized Territory. Campbell said the resolution would specify the benefit to the community.
Campbell said the Finance Authority of Maine would issue bonds on behalf of Provident Funding and other underwriters. "That will pay for the $68 million we need to build this area and create the base," he said. "You are not taking any responsibility for the debt at all."
"For us this project has every piece to be successful," Eastern Maine Development Corporation President and CEO Lee Umphrey said. He said local support is important and, after spending a recent day in Greenville, there is some uncertainty from residents given past starts and restarts for the mountain, but the support is there from the community.
"Eastern Maine Development Corporation is fully behind this and we will do everything we can," Umphrey said.
"I can't underscore how important this is to the economic vitality of the region," Levesque said, saying the Prum Creek resort and housing development projects did not come to fruition. He said the goals of the Big Moose development are "to not only grow the economy but keep people in town and the region."
"I'm really excited about this, the region is about to boom as is," Annis said. "I think this is a great project and I commend you for taking this on."
"I think we would like to work with you folks on that resolution," Levesque said. 
The commissioners will review a proposed document in support and will send it to legal counsel, and could take a vote at a future meeting.
"We are going to change the name of the mountain itself," Williams said. He said the community will be engaged in this process.
Williams also said a pending lawsuit between the state and current owner would be closed upon completion of the sale. "The goal would be to open for skiing a year from now, Christmas 2021," he added, with the building construction to be done beyond that timeframe.
In his report, Capraro said the U.S. Small Business Administration has economic injury disaster loans available for operations in Piscataquis, Penobscot, Somerset, Aroostook and Washington counties as a result of the summer drought. 
"If you had any damages or are receiving losses from July 7 on, you have the opportunity to apply to May 4, 2021," Capraro said. 
The loans can be for up to $2 million with interest rates of 3 percent for small businesses and 2.75 percent for nonprofits, with terms up to 30 years. More information is at www.sba.gov.
Capraro said he has not heard of any dry wells in the region, but he would guess that there are a few so far.