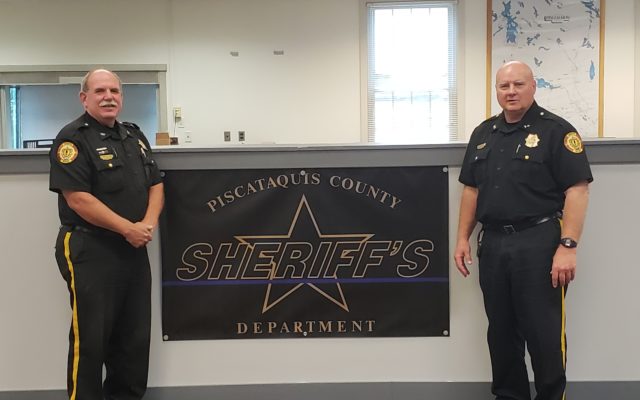 20200901_102354
Bangor Daily News photo/Ernie Clark NEW OFFICE -- Lt. Jamie Kane works in his office at the Piscataquis County's Sheriff's Office new headquarters for its patrol and investigative divisions at the former KeyBank building in downtown Guilford.
Credit union's surprise gift renders county vote moot
The patrol and investigative divisions of the Piscataquis County Sheriff's Office had long ago outgrown their small workspace, but this week they are working in their new spacious headquarters at the former KeyBank building in Guilford.
Some organizational work remains before an Oct. 1 formal grand opening, but the computers are up and running and decades of jamming co-workers into a tiny area that often felt more like a closet than an office to discuss their cases has been addressed by the 3,200-square-foot addition. And it was made possible by a local business.
Sheriff Bob Young and his staff had hoped for this kind of change after the Hudson Avenue building was targeted as a potential home — a county referendum to buy the property for $145,000 was on the July ballot.
But not long before the vote was to be taken, the Maine Highlands Federal Credit Union donated the money needed to purchase the building for the sheriff's office.
"It was so out of the blue," Young said. "If I were to make a list of things that might happen, that never, ever would have been on the list. I just couldn't have imagined it."
Young first learned of the donation during a phone conversation with Rhonda Taylor, chief executive officer of the regional credit union based in Dexter with Piscataquis County branches in Brownville, Dover-Foxcroft, Guilford and Greenville Junction.
"When Rhonda called and told me what they wanted to do, I'm listening and thinking, 'Am I really understanding this right?' Then I said to her, 'Let me make sure I've got this right, you're going to give us the money?'
"That changed everything. We didn't have to worry about a referendum passing anymore or the budget going up because of it," Young said.
The donation was the largest made by the credit union since it was established in 1966.
"In this time of turmoil, we wanted to show our support for law enforcement," said Taylor, who cited the sheriff department's response and support when the Guilford branch of the Maine Highlands FCU was robbed at gunpoint in 2007.
The sheriff's department's primary office space for generations was constructed in 1886 in an area of the old county jail complex in Dover-Foxcroft that originally was used as a residence for the sheriff and his family.
When the current county jail opened in 1987, the sheriff's apartment became home to the patrol and investigative divisions.
But the 267 feet of office space just wasn't enough to conduct business.
"It used to be when we had to interview somebody you had to kick everybody out of the office so you could talk to someone in private," said Young, who joined the sheriff's department in 1984.
"We'd do search warrants on cases sometimes with MDEA [Maine Drug Enforcement Agency] or other agencies and I've seen times when you'd try to get 15 people crammed into this little room to try to talk about a case and an upcoming search. It was not a good setup."
An effort to rectify the situation was turned down in 2015 when Piscataquis County voters narrowly defeated a referendum question seeking permission to spend up to $610,000 to build a new sheriff's office building in Dover Foxcroft.
"I think people felt it was just too much money for what we were asking," Young said.
The sheriff's department for the last three years has leased 1,100 square feet of office space for its patrol and investigative divisions at the former Guilford Primary School, but last November that building was purchased by Friends of Community Fitness.
The sheriff's department had a lease to remain at the former school through mid-2020, so when county officials learned of the availability of the KeyBank space  — the Guilford branch closed in 2019 — negotiations began, leading to July's referendum question.
"When this building came available it seemed like a perfect fit and the price was pretty good. The commissioners were able to negotiate it down, so we were happy thinking that was a great solution," Young said. "Then when the credit union came along, it was amazing."
The donation by the Maine Highlands Federal Credit Union, formally announced a week before the July 14 vote, made the referendum question moot though 65 percent of voters subsequently voiced their approval at the ballot box.
"It still showed support and we certainly appreciate that," Chief Deputy Todd Lyford said.
Sheriff's office staffers have spent much of their free time this summer helping to convert the building from a bank to their new professional home.
"We've still got work to do but everything is functional," Young said. "I think the sense for all of us is that it's nice to have a place of our own."
The new Guilford site provides each of the six employees in the patrol and investigative divisions an individual work area, and the bank's vault will be used as an evidence locker.
"Before guys were working in Guilford but evidence was stored in Dover so they had to take evidence to Dover when they got it and then if they needed it for case preparation they'd have to go back and get it," Young said.
There are also two interview rooms, a kitchen, a large training area and ample room for storage.

"Now we have stuff stored everywhere around the county complex," Young said.
Young and his administrative staff will remain based in Dover-Foxcroft along with the jail administrator and staff and the dispatchers, although plans are in the works to move the dispatchers to Guilford in the next couple of years.
Young acknowledged a geographic advantage to having the patrol deputies based in their new offices, as a look out of the building's front window shows the intersection of most of Piscataquis County's primary roads — Routes 6, 15, 16 and 150.
"For us this is a good location because 70 percent of our calls are from this general area — Guilford, Sangervile, Parkman and Abbot," Young said. "There's plenty of parking here for us, and as far as access it's a pretty handy place to be."