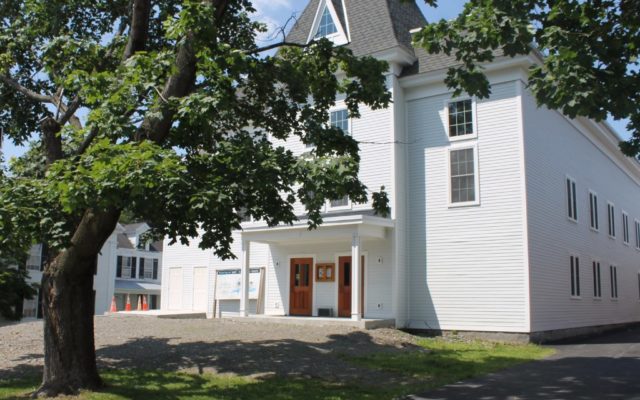 Central Hall
The Commons at Central Hall in Dover-Foxcroft
Moral injury to be topic for Central Hall Commons PTSD Conversation Series 
Moral injury is the distress one feels when a person has acted against their moral principles, beliefs and values. Often this occurs in the line of duty as when a soldier kills fellow human beings, or when a healthcare worker compromises his ethics to make difficult decisions regarding triage or medical resource use, or when law enforcement officers witness incomprehensible acts of violence towards citizens by other officers without being able to report without serious personal consequences.
Unfortunately, during the chaos of war and a pandemic, decisions are made sometimes with deliberate thought and, at other times, with impulse that seems appropriate in the moment, but, in the end, goes against convention, training, and the sense of right and wrong.  These decisions leave workers with PTSD symptoms of guilt, intrusive thoughts and images, depression, hopeless feelings, anger, drug and alcohol abuse, shame and a sense of betrayal by their leaders.  They may exhibit sleep disturbances, compulsive behaviors, self-enforced isolation, violence, and attention and concentration problems that lead to mistakes. Moral injury can damage one's sense of religiosity and spirituality leaving one without a sense of universal connection. It can lead to suicide. Healthcare workers, especially during this pandemic, carry an additional heavy burden with them of spreading the virus to family members.
Those facing moral injury and distress can develop some helpful self-care strategies to bring them through crises on a long-term and daily basis.  Seek out a colleague or other partner who understands and is experiencing the same distress and lean on each other for advice and empathy.  Improve positive inner self-talk by saying to yourself, "I did the best I could under difficult circumstances," as well as changing self-expectations both during and after the crisis.  Say, "This is the best that I can do today."  Be patient with yourself.  Several times a day, take a deep breath to remind yourself of your purpose and intention in work and other activities trying to stay in the "now." Personal work can help to build resilience.
On Wednesday, Sept. 23 at 1 p.m. Hannah Longley, LCSW, will present a program entitled "Moral Injury" as part of the Central Hall Commons PTSD Conversation Series. This virtual presentation will appear on Facebook Live events at facebook.com/CentralHallCommons.org and on Zoom. For the Zoom link, go to CentralHallCommons.org to access the event.
Longley is experienced in crisis services in the field and as a manager. She has worked with community providers and first responders. At the present time, she is working to implement the Crisis Intervention Team (CIT) in the state of Maine. She is a member of the International Critical Incident Stress Foundation and a nationally approved instructor for Critical Incident Stress Management for Individuals and Groups. She is a certified Mental Health First Aid Instructor. Longley is employed by NAMI Maine.