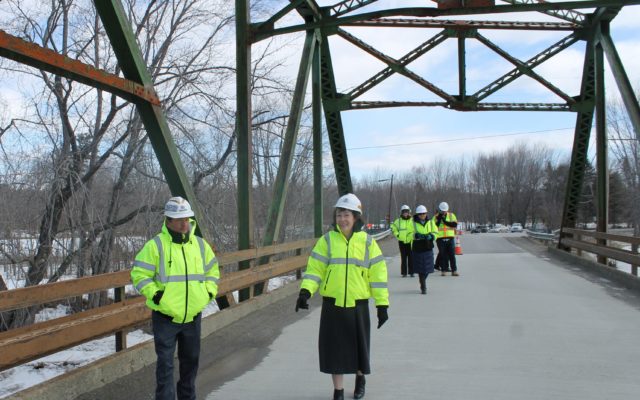 PO-bridgetourcollins-16-18
Observer file photo/Stuart Hedstrom U.S. SEN. COLLINS TOURS PLEASANT RIVER BRIDGE -- U.S. Sen. Susan Collins, R-Maine, chairman of the Transportation Appropriations Subcommittee, toured the Pleasant River Bridge on outer Pleasant Street in Milo in April 2018 with Maine Department of Transportation Commissioner David Bernhardt.
U.S. Sen. Collins announces $45M to rehabilitate and replace seven bridges 
WASHINGTON, D.C. — U.S. Sen. Susan Collins, R-Maine, chairman of the Transportation Appropriations Subcommittee, announced that Maine will receive a total of $45 million through the federal BUILD grant program to fund two transportation projects replacing or rehabilitating six bridges in rural Maine — including Milo — and one connecting Waterville and Winslow. 
U.S. Department of Transportation Secretary Elaine Chao called Collins to notify her that these projects, for which the senator strongly advocated, would receive federal funding.
"Improving Maine's infrastructure is one of my top priorities as Chairman of the Transportation Appropriations Subcommittee. I am delighted to announce this $45 million investment to replace and rehabilitate deteriorated bridges that will benefit residents in rural Maine," said Collins.  "If these bridges were allowed to continue to deteriorate, they would become subject to eventual closure, resulting in substantial detours and economic harm.  These projects will strengthen our transportation network, helping Mainers reach their homes and jobs more quickly and supporting our economy.  These structures represent vital connections necessary to support and sustain Maine's local economies."
The two Maine transportation projects that will receive funding are as follows:
Bridging the Economy of Rural Maine Project. MaineDOT will receive $20 million to replace five at-risk bridges in poor condition and rehabilitate another compromised bridge. The bridges are located in Litchfield/West Gardiner, Stonington, Greenbush, Southport, Milo and Bridgewater. All of the bridges were built more than 80 years ago, with the oldest constructed in 1923. The substantial impact of forced closures due to substandard bridge conditions would be devastating to our rural communities.
Ticonic Bridge Project. MaineDOT will receive $25 million to replace the 111-year-old Ticonic Bridge connecting Waterville and Winslow with a modern bridge featuring wider lanes, shoulders, sidewalks and bike lanes.  The bridge, which spans the Kennebec River, currently accommodates more than 16,000 vehicles daily.  The project will eliminate the possibility of an eight-mile detour and related congestion should the current bridge fail, and will create long-lasting positive impacts on the communities and industries in the area.
As chairman of the Transportation Appropriations Subcommittee, Collins has championed robust funding for the BUILD program and an emphasis on replacing deteriorating bridges in rural America. Since 2009, when Collins became a member of the Appropriations Committee, she has secured more than $721 million in competitive grants for the State of Maine. In November 2019 Collins announced $44.6 million to replace a bridge in Woolwich and build the Town of Lubec's "Safe Harbor" project. In September 2019 Collins hosted Secretary Chao in Yarmouth, where they announced more than $61 million to replace eight Maine bridges.
This year, the Department of Transportation received 656 eligible BUILD applications requesting more than $9.18 billion in funding.