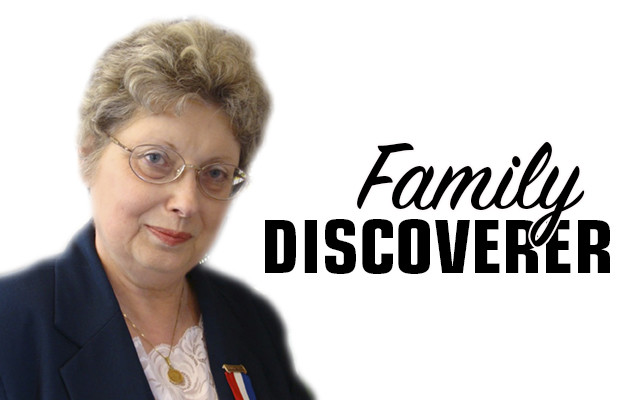 Nancy Battick.jpg
Nancy Battick (of Dover-Foxcroft, president of the Daughters of Union Veterans.) (BDN Photo by Diana Bowley)
Puritan names
At a genealogical conference years ago I overheard a lady at the next table complain about the odd name given to her ancestor. She said her ancestor was named "Preserves." She figured the mother was so busy pickling and canning that she didn't have time to pick out a decent name for him. This, she said, happened in the 1600s in Massachusetts. I noticed a couple of people at her table looked stunned.  
What the lady had was a Puritan ancestor.
Most of us who have New England ancestors from the 1600s have Puritans in our tree, not to be confused with the Pilgrims. They were both different forms of Protestants. These Protestants came to what is now America to practice their own form of religion without interference.  
They chose given names for their children much different than previous Englishmen and women had done. Their children's names reflected their parents' faith in God and their desire for their children to be reminded of how a good Protestant Christian  should behave and what was needed to remain in good standing with God. For example, the revered Elder William Brewster of the Mayflower named two of his sons Wrestling and Love. He most assuredly meant wrestling with evil and love of God. Daughters were often named Patience, Prudence, Mercy, Grace, Faith, Hope and Charity instead of the more traditional Mary, Catherine, or Anne common among Englishmen. Other popular Puritan names were Constant (male) or Constance (female).
The lady at the conference had an ancestor almost certainly named Preserved and it would be pronounced Pre-serv-ed, emphasis on the middle syllable. His full name probably was Preserved in the Lord meaning his strength to resist evil and to prosper came from his ongoing belief in God.  
Preserved was not an unusual name among Puritans. For example, in 1679 Preserved Fish (once you stop chuckling continue with this sentence) was born in Rhode Island, son of Thomas Fish and his wife. He named his sons John and Sherman.
Perhaps the most interesting Puritan name is that of Reverend Praise God Barebone, who gave one son the name If Christ Had Not Died Thou Wouldst Have Been Damned Barebone. The boy was known as Damned Barebone to friends and family members.  
As for my lady at the conference, I really would have loved to inform her about her heritage.  And that women in the 1600s preserved food, not by canning as we know it today, but by smoking, drying and salting. However, I've waited many years to tell this story and hopefully she's not one of my readers.
You may find some of these names laughable, but I assure you the early Protestants had to fight for their existence and the names were chosen to give their children strength to stay true to their faith. 
If you run into this kind of name in your tree, you have a Protestant ancestor who hoped to preserve the faith through the naming of his or her children.
Nancy Battick is a Dover-Foxcroft native who has researched genealogy for over 30 years. She is past president of the Maine Genealogical Society, author of several genealogical articles and co-transcribed the Vital Records of Dover-Foxcroft. Nancy holds an MA in History from UMaine and lives in Dover-Foxcroft with her husband, Jack, another avid genealogist. You can contact Nancy at nbattick@roadrunner.com.