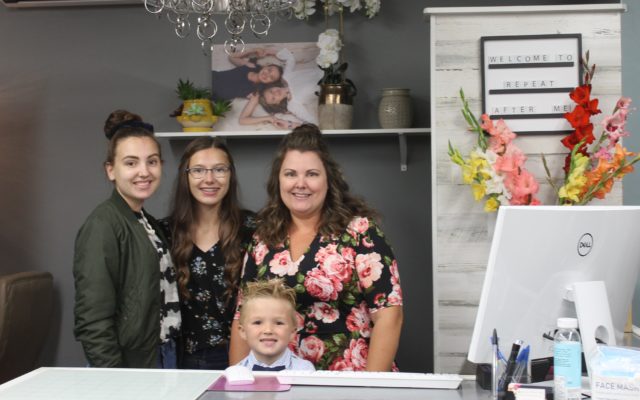 PO-repeat-0901-20
Observer photo/Stuart Hedstrom REPEAT AFTER ME -- Repeat After Me founder/owner Holly Kishbaugh is pictured with her children, from left, Chloe, Lacey and Gabe at the family consignment store's Dover-Foxcroft location in the Union Square Mall. Repeat After Me offers next to new items such as clothing, jewelry and furniture at affordable prices.
Family consignment boutique Repeat After Me serves and gives back to the community
DOVER-FOXCROFT — For more than a year Repeat After Me, a high end family consignment shop, has provided next to new items at affordable prices. Clothing, jewelry and now furniture are among the items offered at the Union Square Mall location.
Repeat After Me founder/owner Holly Kishbaugh opened on Aug. 15, 2019 in the old bank building on East Main Street. Earlier this year she moved next door to the Union Square Mall.
Kishbaugh explained she has always wanted to operate a store such as Repeat After Me. "A friend of mine back in Pennsylvania had a clothing store and for me the timing and families, it just didn't work out," she said standing behind the counter.
Working in dispatch for the Maine State Police, Kishbaugh was on duty in early April 2019 when Detective Ben Campbell was struck and killed by a vehicle tire while stopped to assist a distabled vehicle on I-95 in Hampden. "Sending him on that call, that was kind of the first day that career was ending," she said. "I came home to my husband and said 'I need to go on a different path.' I don't think you ever fully recover from that."
Kishbaugh said the two of them discussed the idea of her opening an establishment but did not think the timing was right. She said they went out for coffee and on the drive home noticed a for rent sign downtown they did not see the first time going by. 
"I said if I get anything it has to be in Dover, we work in Dover, we live in Dover, our kids go to school in Dover. This is where my heart is,'' Kishbaugh said. She said they looked at the building and decided to call the next day, and before getting back into her car noticed another rental sign at the bank building. 
"It was not there when we came down 20 minutes ago," Kishbaugh said. She said she called and spoke with building owner John Spack, had a lease written that night and she turned in her resignation with the state police the following day.
Kishbaugh said she has always worked for the public, including dispatch for the Dover-Foxcroft Police Department and Piscataquis County Sheriff's Office, and she likes helping the community. 
"People are always trying to stretch a dollar anywhere, not just in Dover," she said as Repeat After Me provides assistance through affordability. 
"We are a year into it and we have over 400 consigners," Kishbaugh said, with some coming from as far away as Hermon and Millinocket and those interested can stop by without an appointment. "Three weeks ago we opened up the furniture side so now we have the clothing and we are slowly transitioning into home decor and furniture  and hope to expand that."
"We will be expanding into Greenville next spring," she said.
"We do everything from infants to men's, we cover everybody but of course we can only put out what comes in but I don't put a limit on what comes in," Kishbaugh said, with seasonal clothing filling most of the racks. "I will sell anything if it comes in. So we do toys, we do some electronics, a huge amount of jewelry and over in the furniture store are doing everything from measuring cups to cookware to full furniture, bedroom sets, living room sets. So anything you would possibly need for yourself or for your home we are going to carry at some point."   
Kishbaugh mentioned she tries to keep most items in the clothing store below $10. She wants to help families in need, and can be personally messaged on Facebook for more information.
"I won't ever turn anyone away who doesn't have the money," Kishbaugh said, saying she  is working to partner with the American Red Cross to assist fire victims but can still offer help to them in the meantime.
"We are going to be doing stuff for Christmas, not just clothing but new gifts," she said. Kishbaugh said "Operation Backpack" provided 60-plus back to school bags filled with hand sanitizer, pens, pencils, binders, notebooks, pencil boxes, tissues, glue and more.
"My whole goal is I just need enough money to pay my bills and give back," she said. "We have been so blessed, we had people drop off bags of school supplies and drop off cash saying 'spend it where you think it needs to be spent, buy what you think you need.'"
Kishbaugh said many of her consignors opt for store credit, a big help for when their children outgrow their clothes or the credit can go toward furniture store items. "We have always offered returns for store credit," she added,
"I am open to whatever comes in the store, we are going to sell," Kishbaugh said. "I may not need it, you may not need it but somebody else needs it." 
Repeat After Me has donated some items to the Hope House in Bangor, the city's homeless shelter — such as suits/suit jackets which often are custom tailored — as well as to thrift shops operated by area churches.
"About 2,000 pieces of clothes sell a week here, that just proves that there is a need," Kishbaugh said. "We put out about 200 new items a day, so we try to have that revolving stock. Even if you come in every day I want you to find new stuff."
She said various sales are held and law enforcement and military discounts are offered.
"We're one of the few stores still with an open dressing room," Kishbaugh said, as behind the doors are hands-free sanitizer dispensers.
Repeat After Me is located at 64 East Main Street, Suite E (in the Union Square Mall) in Dover-Foxcroft. Hours are 9 a.m. to 4 p.m. Tuesday to Friday and 9 a.m. to 3 p.m. Saturdays. For more information, please see the business Facebook page or call 207-279-1607.