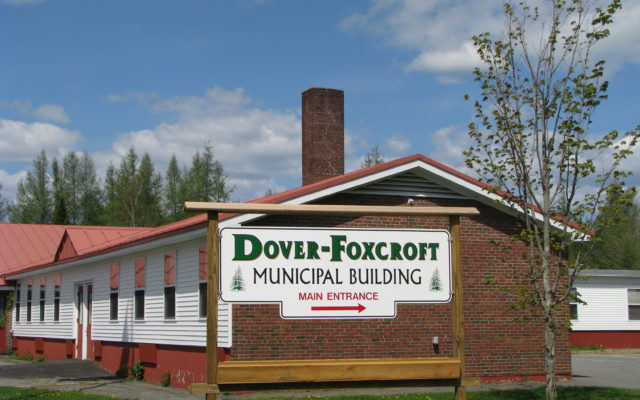 Morton Avenue
The Morton Avenue Municipal Building in Dover-Foxcroft
Dover-Foxcroft utilizing grant to help mitigate COVID-19 spread  
DOVER-FOXCROFT — Earlier this summer the town of Dover-Foxcroft was awarded an approximate $255,000 grant through the Keep Maine Healthy COVID-19 Awareness Campaign to help cover unexpected costs for the community and other Piscataquis County towns resulting from the COVID-19 pandemic.
Federal funds are distributed by the state on a reimbursement basis made available for communities to take steps to mitigate the spread of COVID-19 during this year's tourist season. Potential steps include buying signage, personal protective equipment, barriers and more to be carried out through late October, and must include a business education component where the town can conduct outreach to businesses and the public. The Dover-Foxcroft application sought $255,000 to be split between the town and eligible partners within Piscataquis County.
"The Keep Maine Healthy grant, the word is really getting out," Town Manager Jack Clukey said during an Aug. 17 selectmen's meeting conducted over Zoom. "I think (Piscataquis Chamber of Commerce Executive Director Denise Buzzelli) has really taken the lead in getting the word out."
Piscataquis County organizations and municipalities have been invited to apply for a portion of the grant funding — monies are split evenly between Dover-Foxcroft and other recipients. "We're really seeing some good proposals come in," Clukey said.
"Part of that is the sign at the police station, we're going to see the non-digital portion as soon as this week," he said. 
A portion of the Dover-Foxcroft Keep Maine Healthy COVID-19 Awareness Campaign funds will be used to install an electronic sign in front of the police station on East Main Street to share information with the community and to feature messages such as encouraging everyone to wear masks and social distance and thanking them for their efforts. The sign should be fully operational next month.
Dover-Foxcroft is one of nearly 100 municipalities to receive a portion of almost $9 million in Keep Maine Healthy COVID-19 Awareness Campaign grant funds. 
Since the pandemic began in Maine, the selectmen have been meeting remotely but the board is planning to have its first in-person meetings since late winter starting next month. Typically the selectmen meet the second and fourth Monday evenings of the month September through June.
"We have a sheet that outlines the procedures to do social distancing and allows for 50 people," Select Vice Chair Cindy Freeman Cyr said.
Under the plan the sessions would be held in the gymnasium at the Morton Avenue Municipal Building should town officials expect a crowd of more than the 15 that could be accompanied in the community room at the other end of the building.
"I think going forward we would expect to meet in person unless there were circumstances that prevented us from doing that," Clukey said.
Freeman Cyr wondered about a board member feeling uncomfortable meeting in public. Clukey said they would be able to take part remotely should health reasons arise.
Selectmen also approved an employee political policy after having not had anything like this, whereas many municipalities do have such policies.
Clukey said the town attorney drafted a policy and "the (administrative) committee met and discussed this and felt this was quite thorough and hit the mark."
"We had a good discussion with (Attorney Jon Pottle) and felt it was put together quite well," Freeman Cyr said.
When asked, Clukey explained that new policies are presented to employees for them to review and ask questions and then sign-off on.
Resident Sam Katz asked what prompted an employee political policy to be brought forward. 
"I think the reality is we do not address it all and towns do," Clukey responded. "We're heading into election season and now is the time to do it."
"The final report on the transportation study is up on the website," Clukey said in his report about the document linked to the homepage at https://dover-foxcroft.org/.
He said the final urban area transportation study incorporates comments and questions from the June meeting on the subject.
Selectperson Gail D'Agostino asked about the status of the Chase & Kimball building on the corner of East Main and South streets.
"That's DOT-owned and they will look to remove the structure some time this fall," Clukey said, with the building acquired to help alleviate some traffic problems at the intersection. "I don't believe they would be doing any changes to the corner this fall," he said, with these perhaps being made next summer.
"Things are in place to get going mid-September," board member Scott Taylor said in making a report on a recreation committee meeting with Foxcroft Youth Sports Director Tim Smith. Taylor said health and safety protocols would be in place to help provide youngsters with the opportunity to play.
Clukey said the recreation committee and Smith "discussed what the competitive nature would be this year compared to previous years. At the very least with youth sports there would be teams forming and skill development and squad scrimmages." He added that league play is still to be determined.
"We didn't talk about anything different in terms of town fields," but the town manager said the expectation is safety guidelines would be followed for players, coaches and spectators.
"We will have some kind of free ice to skate on this winter, weather permitting," Taylor said, with the ice sheet to again be built at the Piscataquis County Fairgrounds.