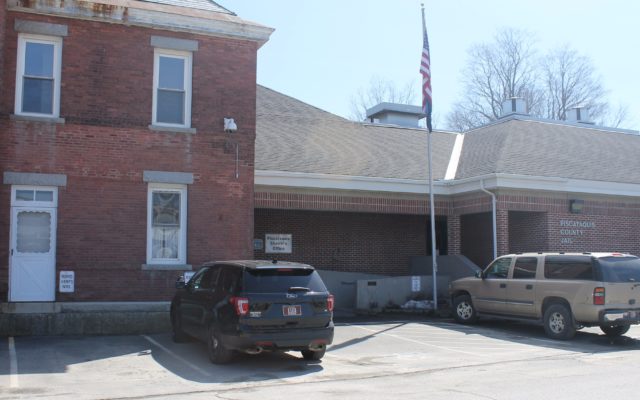 Feasibility study would find solutions to county emergency communications issues 
DOVER-FOXCROFT — Representatives of the county's fire and police departments are in agreement that long-term solutions to communications issues in the region need to be addressed, such as getting around the hilly terrain and upgrading or replacing antiquated equipment. Exactly how the problems will be remedied will be determined by a feasibility study.
After meeting with area firefighters during the Aug. 4 meeting, the Piscataquis County Commissioners passed a motion asking Piscataquis County Emergency Management Agency Director Tom Capraro to seek out companies that could conduct an emergency communications study. The firms could submit study bids to be reviewed and potentially have one awarded next month.
Dover-Foxcroft Fire Chief Joe Guyotte said last month at the regular meetings of the county fire chiefs association they met with Capraro "to discuss our troubles we're having with communications, it's on-going." 
"We're all having problems," Guyotte continued. "I can sit in a restaurant in Bangor and get my own tone but up in Guilford they can't get their own tone. We depend on these pages."
Guyotte said the consensus at the meeting was to spend money wisely, such as after first hiring a consultant to make recommendations. "It's a countywide problem and I think it comes back to you people to figure out what's wrong," he said. "Now is the time to look at the whole picture."
"One big problem is it's been a patchwork of communications the last 40 years in this county," Commissioners Chair Jim White said. He said individual departments may have expended money on temporary fixes but "a consultant is absolutely the way to go."
Piscataquis County Sheriff's Office Dispatch Sgt. Gary Grant said money was recently spent specifically to update the consoles in the county communications center and "that's helped greatly with the law side." He said when the screen is switched and a transmission goes off a tower with multiple-decades-old equipment then the reliability of the call being clear and/or going through is reduced. He said a sheriff's department radio system upgrade made several years ago has helped but communications can still be addressed.
"Some of these towers are 20-30 years old," Guyotte said. "It's like a 30-year-old automobile, if we lose one there's no parts."
"It's definitely something we need," Capraro said. He said about a dozen years ago his predecessor asked that he work on a communications feasibility study. 
For about $23,000 the Massachusetts-based Macro conducted a study estimating about $780,000 in 2008 dollars was needed to fully upgrade county communications capabilities. "The money wasn't there to spend," Capraro said, estimating a 2020 study could be in the $40,000-50,000 range.
"What really bothers me is the safety of those guys," the EMA director said. "It's the person trapped in a house fire and a deputy getting shot and they can't get through."
"I think all the towns realize the problem, they want this fixed," Brownville/Milo Fire Chief Kevin Black said. He said the Brownville selectmen have OKed town funds for improvements on a tower to handle the northern portion of the community.
"I really truly believe the expertise does not lay local here and we have to spend the money, whatever it is," Guilford Fire Chief Jeff Libby said.
"I will call (the Maine EMA) and get names of companies," Capraro said. "Then we've got to put it out there, basically to bid." He said he hopes this time could be brought back to a September commissioners meeting.
How the feasibility costs would be covered is to be determined. 
"I would like to see it broken down so everyone has a share in doing the feasibility study," White said. When asked he was told there are nine fire departments in Piscataquis County and every one of the region's communities — 18 towns and a dozen Unorganized Territories with a year-round population — pays for fire coverage in one way or another, so costs could perhaps be divided up.
Guyotte disagreed, mentioning how his department has covered some recent upgrades and saying the county could cover the study costs.
In other business, the commissioners approved a $58,000 bid by Dirigo Timberlands of Madison to work on the Intervale Brook bridge in Frenchtown Township. One project bid was received by the county.
"They can either do it this fall, with the exception of the moose hunt, or they can do it in the spring after Memorial Day but before the Fourth of July to avoid the holidays for the campground up there," County Manager Michael Williams said. He said the bridge would be closed for four to five days, with two weeks' notice given.
"It's one way in, one way out and that way people can be prepared," he said.