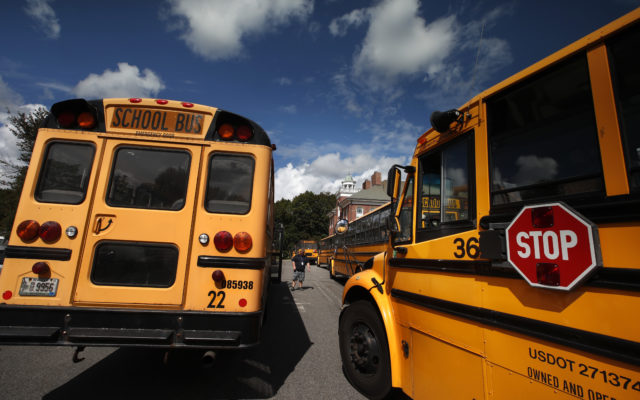 Bus Driver Shortage
THURSDAY, SEPT. 14, 2017 PHOTO.
All Maine schools get the green light to reopen full time
School districts in all of Maine's 16 counties have the green light to reopen full time for all students, based on new information from the state. But state education official expect most districts to combine in-person with remote learning when they reopen this fall.
The Mills administration on Friday released a color-coded system to tell school districts whether they're in a county where it's safe for them to reopen. All of Maine's 16 counties are currently classified as green, though the state plans to revisit the classification every two weeks.
The entire state received the green classification as the risk of COVID-19 in Maine remains low compared to the rest of the country, according to the Maine Department of Education. Maine has generally seen the numbers of new cases drop in recent weeks, and the state's positivity rate — the percentage of coronavirus tests that come back positive — has gradually been dropping even as more people receive coronavirus tests.
The tiered system is based on local coronavirus trends, including case counts and hospitalizations. Schools in green counties can reopen full time. The other two colors, yellow and red, would tell schools respectively that they should pursue a hybrid model that combines online and in-person classes or keep instruction fully online in the fall. 
While the state is telling school districts that it's safe to reopen, reopening decisions remain with school districts, and not all are likely to reopen full time. The Bangor School Department, for example, has announced that it will not bring all students back full time even if Penobscot County maintains a green label. 
And even in school districts that fully reopen their school buildings, school won't look as it did before the pandemic. 
The Department of Education will require districts that reopen schools to screen staff and students before school, and they will have to maintain physical distance both on buses to and from school and in classrooms with desks spaced six feet apart. Students and staff will also have to use masks and other personal protective equipment, practice hand hygiene and remain at home if they feel sick. 
The Department of Education said in June that school districts should have three plans in place for the fall semester: a full return to in-person schooling, a combination of in-person and online learning, and a fully online semester.