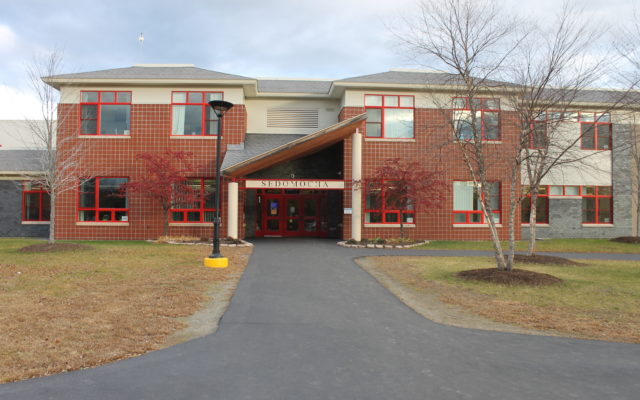 IMG_4585
The SeDoMoCha School in Dover-Foxcroft
Area school officials planning reopening scenarios  
With the Maine Department of Education (MDOE) scheduled to release its first round of color designations pertaining to the individual levels of risk for the state's school districts on Friday, July 31, officials with the region's education units have been busy making plans for how students return to classes in the fall.
In a July 22 letter posted on the district website RSU 68 Superintendent Stacy Shorey wrote that she wanted to reach out with some additional information, "We were told last week that each school district will receive a color designation of red, yellow or green based on a few pieces of data which includes the number of COVID-19 cases and hospitalizations in your county. We will receive that designation on July 31 by the (MDOE) and then every two weeks the designation will be updated.  We will not be making any decisions about what our programming will look like in the fall until we have that color designation."
Explaining that MDOE asked RSU 68 officials to create plans for each of the three color designations, Shorey explained "A green designation means that we will have as many students in the building that we can safely accommodate. A yellow designation means that we will be in a hybrid model so that 50% of the building is occupied at one time. A red designation means that all learning will be remote."
The letter at https://sedomocha.org/2020/07/22/sedomocha-is-planning-for-three-possible-reopening-scenarios/ incudes a chart overviewing what will happen at the SeDoMoCha School based on the designation. 
"We have shared each of these plans with our staff, a parent think tank group and finally the RSU 68 school board," Shorey wrote. " The school board has given us initial informal approval to move forward with our planning."
She said to keep classes at 15 or 16 students, additional learning environments will need to be created for grades 1, 2, 4 and 5, and these positions are being advertised. Shorey said a virtual open house is set for Wednesday, Sept. 2 before classes begin the following day.
"We have been working on safety measures at SeDoMoCha," Shorey said. "Personal Protective Equipment (PPE) has been ordered and MDOE is going to provide us with some as well. Students will need to wear masks/gaiters/face shields unless we have a medical note saying that the student can't wear any of these choices. We plan to provide two face coverings per student; however, parents are free to provide masks/gaiters/face shields for their child to wear. We have also worked on making sure social distancing will happen in the classrooms. Elementary students will be in desks, middle school students will have tables and we also have some plexiglass dividers for teachers to use with students when working in small groups. The custodians have been working so hard to make sure the building is cleaned and all of the safety features are ready to go."
The superintendent said 268 families took part in a parent survey with 84% indicating they would be willing to send their children to school. 
"We will provide remote learning for students that have to quarantine or for those that have documented needs or requirements," Shorey said. "65% of the families that responded also offered to transport their children. This will be especially important if we are a green designation because we can only have 24 students on a bus."
"I would like to say thank you to a few groups," she wrote. "Our administrative team, including our administrative assistants, has worked tirelessly to think about scheduling for the building, students on the buses, ordering and checking on supplies and brainstorming spaces. Our staff who have been so flexible in thinking about how to deliver instruction to their students. They have positive attitudes and want to safely be back to school. The school board has been very supportive as we create plans and work through all of the changes that keep coming.  And to the families and community, who voted on the budget and support us as we try to implement MDOE and CDC guidelines, please know how much it is appreciated. I feel very lucky to work in such a supportive, caring community.
"Watch the website and the SeDoMoCha app to find out our color designation on July 31."
A post on the SAD 4 website said district officials are also working with current CDC and DOE guidance to plan for three phases of learning, in-person, hybrid and remote depending on the determined level.
Parents/guardians will have a choice of the three options, and are asked to make the family's decision online to help the district plan. Those unable to complete the online form can request a paper copy or fill it out over the phone at 207-876-4301 for PCES and 207-876-4625 for PCSS.
In-person learning is available for students if there is low risk. Students will spend the day with their teachers and classmates in the school building, coming in four or five days a week. Safety precautions will be in place, including keeping at least three feet in distance, frequent hand washing and masks required throughout the day with breaks for lunch and recess when six feet of distance is in place.
With a moderate risk, hybrid learning will happen in SAD 4. Two cohorts of students would come to school two days a week with a modified learning schedule, and the other three days of learning would happen at home.
Remote learning will be available to students anytime with the school providing access to a curriculum and support as needed. Parents are responsible for setting up a learning schedule and helping students access appropriate technology. Students must engage daily in order for attendance to count. Remote learning will also be enacted for all by the school if there is a high risk as determined by the MDOE.
A transcript of a July 23 phone call by Greenville Consolidated School Principal Lee Pearsall to parents/guardians posted on ghslakers.org said, "We're so excited to welcome our Greenville Consolidated School students in the fall. There has been much talk regarding the reopening of schools around our country, in Maine, and locally in Piscataquis County and I am sure you are very curious to know your child's options.
"With current CDC and DOE guidance, we are planning for three phases of learning depending on our category of risk as determined by Maine CDC and the (DOE). These three levels are in-person learning, remote learning and hybrid learning which is a mix of in person and remote learning.
​
"We recognize that families differ in their thoughts of what is best for their individual children in this time in our lives. We need your feedback moving forward in our planning and have an online questionnaire on our website."
Those unable to go online can 207-695-2666 to request a paper form or take part in a telephone interview. School officials will hold information meetings on the reopening of school after reviewing responses.
​SAD 46 has not announced finalized plans for the fall but the AOS 94 homepage has an SAD 46 internet access survey for parents/guardians. The district goal is for every district student to have access to a reliable device and internet to ensure a continuity of learning for the 2020-21 school year.
At 6 p.m. on Monday, Aug. 3 the SAD 41 school board is scheduled to have a workshop via Zoom on fall planning to discuss various options.