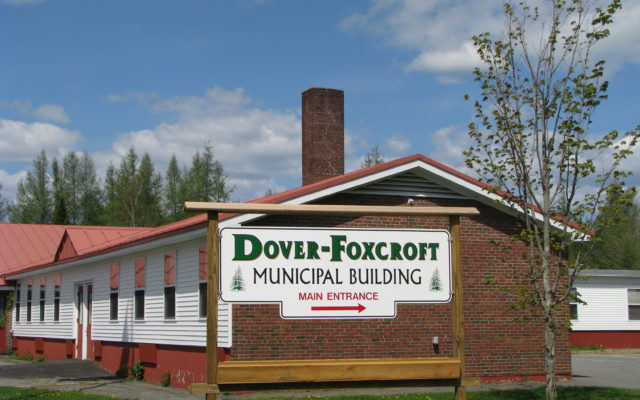 Morton Avenue
The Morton Avenue Municipal Building in Dover-Foxcroft
Grant will help Dover-Foxcroft mitigate COVID-19 spread
DOVER-FOXCROFT — Unexpected costs for Dover-Foxcroft and other Piscataquis County communities resulting from the COVID-19 pandemic will be covered in part through an approximate $255,000 grant awarded to the town through the Keep Maine Healthy COVID-19 Awareness Campaign.
During a selectmen's meeting on July 20 over Zoom, the board passed a motion to have the protection committee preside over municipal COVID-19-related issues rather than forming a new sub-committee.
Last month town officials became aware of the Keep Maine Healthy COVID-19 Awareness Campaign, with federal funds distributed by the state on a reimbursement basis made available for communities to take steps to mitigate the spread of COVID-19 during this year's tourist season. Potential steps include buying signage, personal protective equipment, barriers and more to be carried out through late October, and must include a business education component where the town can conduct outreach to businesses and the public. The Dover-Foxcroft application sought $255,000 to be split between the town and eligible partners within Piscataquis County.
"We would like to replace the sign at the police station with an electronic sign we could put messages on," Town Manager Jack Clukey said about the first use of grant funds. "Encouraging people to wear masks and distancing, and to thank them for that."
He said the planning board was in favor of the preliminary sign change concept on the East Main Street property. Clukey said he would plan to attend the next planning board meeting and sign the permit application. When asked, he said the approximate cost is around $25,000.
"All of our specifications were taken into consideration," Clukey said. 
Select Vice Chair Cindy Freeman Cyr asked if an electronic sign would be permitted on a parcel in this part of town.
Clukey said the location on a state highway corridor — Route 15 — should allow for an electronic sign to be at the police station but he would double check.
Police Chief Ryan Reardon mentioned between 7,000 and 8,000 vehicles go by the location daily. He said the sign would be programmed to shut off for certain hours and would not be over animated, comparing the display to that of Foxcroft Academy's.
Dover-Foxcroft is one of nearly 100 municipalities to receive a portion of almost $9 million in Keep Maine Healthy COVID-19 Awareness Campaign grant funds. 
"Towns and cities across Maine are on the frontlines of responding to COVID-19 and are well positioned to protect their residents and visitors alike," said Gov. Janet Mills in a statement. "Maine continues to have relatively low case counts, which is a product of our collective efforts, but as we reopen the vast majority of our economy, as more people interact, and as more visitors arrive from out-of-state, the likelihood of the virus spreading also increases. These awards are a deliberate effort to help mitigate that danger by helping municipalities implement measures that will protect the health of both residents and visitors alike."
"We look forward to this partnership with cities and towns," said Department of Health and Human Services Commissioner Jeanne Lambrew. "Continued commitment to physical distancing, face coverings and hand hygiene will keep residents and visitors safe this summer and fall."
The Mills Administration worked closely with the Maine Municipal Association and the Mayor's Coalition on the creation of the municipal grants program.
"The Maine Municipal Association is pleased to know that over 90 cities and towns will receive nearly $9 million in grants for their COVID-19 related costs to protect their citizens' and visitors' health and safety," said Stephen W. Gove, executive director of the association. "Under Gov. Mills' Keep Maine Healthy program, funding to municipalities in all regions recognizes the vital front line role they play in partnering with the state on coronavirus public health support, protection and education.  This financial support is particularly important and welcomed during our summer tourist season." 
In other business, the selectmen set the 2020-21 mill rate at $21.40, a decrease of $0.10 or 0.5% from the previous fiscal year.
The combination of increased valuation and homestead exemption reimbursement brough the mill rate down slightly. The town valuation is $304,412,800, a little less than $2.5 million from the 2019-20 figure.
During the public comment portion of the evening, Clukey was asked about the status of the former Athens Pizza building by the intersection of East Main and South streets. A little more than a year ago a moose was photographed coming out through a broken window during the early morning hours by Piscataquis County Sheriff's Office Corrections Officer Poole after the animal had crashed through the glass to enter the former pizzeria. 
Poole's image and the story quickly drew national attention, but in the 13 months since the window space has remained covered with large plywood.
"I have tried numerous times to reach a live person and not a voicemail," Clukey said, with the downtown building being bank-owned. "I think the status is they're not ready to communicate."
"I'm not ready to give up, so far I have just not gotten a response," the town manager said.
"Speaking of downtown, the DOT did acquire the former Dead River building and they are looking for structure removal in the fall," he said.
Clukey said the acquisition will help widen the intersection to enable large vehicles to pass through. He said the property will be more than is needed for a lane, so some of the parcel could be used by the town such as green space.
"Certainly that will be an improvement in terms of traffic," Clukey said.
In his report the town manager said earlier in the day Reardon learned that Route 7 paving has been moved back from earlier in the month to July 27-31. "Until we hear otherwise then we expect that closure of Route 7 to start next week," Clukey said.
Reardon said stakeholders would be meeting later in the week to discuss any issues related to the road closure. "This is a 5-day window where it's going to be very difficult to travel to and from, everybody likes to travel in a straight line," the chief said.
"I think we're in good shape, it just has to happen sometime," he said.
Clukey also said the week before there was "very high voter turnout for the primary election compared to other primary elections."
A total of 1,076, 38%, of active Dover-Foxcroft voters participated. Of these, 549 were by absentee ballot representing 51 percent of the total votes and 19 percent of active voters.