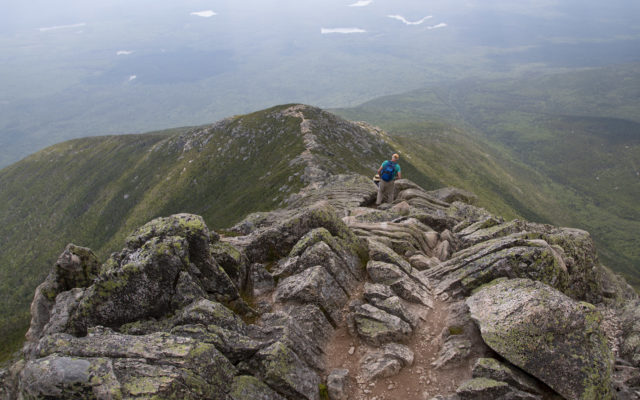 Exhausted hiker air-lifted off Katahdin Hunt Trail
BAXTER STATE PARK — A fifty-three year old Massachusetts woman was rescued by a Maine Army National Guard (MEARNG) Black Hawk helicopter Monday morning after suffering from medical issues that forced her to shelter in place Sunday night on the Hunt Trail. Baxter State Park Rangers responded to the call Sunday night and sheltered in place with the woman and her husband before the MEARNG could fly Monday morning.
The woman, who had been hiking with her husband, was hoisted from 150 feet off the ground into the helicopter to minimize potential falling debris from surrounding trees. 
The MEARNG sent a UH-60L with four crew members and two supporting personnel, with the Maine Army Aviation Support facility acting in support. The aircraft delivered the patient safely to Millinocket Municipal Airport where she was transported to Millinocket Regional Hospital by ambulance and treated for her injuries. 
Baxter State Park enforcement Rangers Russell Porter, Russell Closs III and Campground Rangers Andy Vietze and Kevin Oulette responded to the 911 call and sheltered in place with the couple. 
"We are proud to work alongside our state partners at Baxter, together using our training to deliver the hiker safely for medical treatment. The Maine National Guard stands 'Always Ready, Always There' to help our neighbors in their time of need." said Maj. Gen. Douglas Farnham, adjutant general, Maine National Guard. 
"We are pleased to work with the Maine Army National Guard and their professional staff," said Park Director Eben Sypitkowski. "Without their qualified assistance, this may have been a litter carry involving 25 to 50 people for more than 15 hours to safely deliver this hiker to the roadside." 
A Katahdin hike is one of the most strenuous day hikes in New England. This was one of dozens of rescues that have occurred since the Park opened 20 days ago. Baxter Park reminds hikers that safety is their personal responsibility and to be well-prepared physically and mentally for this rugged, strenuous climb. 
Baxter State Park is a large public trust containing 209,644 acres including Maine's tallest mountain, Katahdin, given to the people of the State of Maine by former Maine Gov. Percival Baxter. The Park is not part of the Maine State Park system, and receives no general fund allocations. Instead, the Park is funded in part through trust funds left by the donor and managed consistent with his wishes by a three-person authority consisting of the Commissioner of Inland Fisheries and Wildlife, the Director of the Maine Forest Service and the Attorney General.