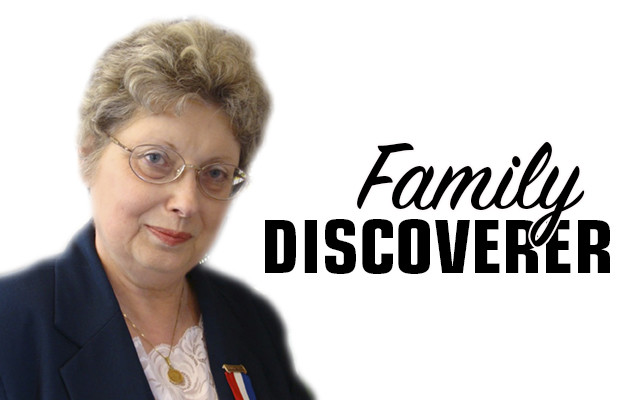 Nancy Battick.jpg
Nancy Battick (of Dover-Foxcroft, president of the Daughters of Union Veterans.) (BDN Photo by Diana Bowley)
All in a name
As I wrote in my last column, researching during the pandemic was challenging with the internet the most available source. This led to some frustrations, as you will see. 
While tracking distant cousins I found that Edwin McGinley married Arvilla Leonard in 1911. Online I found her listed as Arvilla Millett, Hunt, McGinley and Garland as well as Leonard. Was this all the same woman? In trying to determine her maiden name and how many marriages she had, I found myself in the equivalent of a corn maze – just when I felt progress was being made I ran into another wall or found myself going in circles with no view of the exit. 
Here's a summary of what I found. 
Arvilla Leonard, born 1862, was the daughter of Milan Leonard and Margaret Littlefield. Around 1886 Arvilla married Herbert Millett of Dixmont. They had a son, George Franklin, born in 1888. They divorced at some point, because Arvilla married widower Levi Hunt, aged 62, in February 1896. First husband Millet died in 1899. 
On her marriage license to Levi, Arvilla stated this was her third marriage. I backtracked trying to find a missing second marriage after Millett and before Hunt. No luck. Either the clerk was mistaken or Arvilla, though it's unlikely a woman would forget a marriage. In any event Levi and Arvilla had a daughter, Elizabeth, in May 1896, three months after the nuptials, and another, Laura, in 1905. Levi died in 1910. In 1911, Arvilla married my distant cousin, Edwin McGinley. It was her third marriage and his first, and Edwin was not destined for much marital bliss, dying in July 1913. 
In November 1913 Arvilla married John Chandler Garland. On this marriage license she stated it was her fourth marriage. But the marriage record lists her name as "Villa Nutter" and her maiden name Villa Leonard. So who was Nutter? In the Maine records there is no record of Arvilla marrying a Nutter. I did find an Orevilla Nutter who died much earlier and in a different town. Somehow the clerk made a mistake, though Arvilla never corrected it. 
Still married to John Garland, Arvilla died in 1932 and he died in 1965, never having remarried. To add to the complications in all this, I found that Arvilla and Levi's daughter, Elizabeth Hunt, married another cousin of mine in a different branch of the family. 
This all goes to prove that official records can be contradictory, clerks can be mistaken in their record keeping, individuals can fudge or lie about facts, and that there are some excellent records online. Also, this illustrates that untangling the spider's web of facts about an ancestor can be challenging at best or migraine-producing at worst. It also shows that you can stumble into that spider's web quite easily. 
There's one more coincidence involving Arvilla. She is buried in Old Town near where I once lived. But I intend to leave the much-married Arvilla Leonard Millett Hunt McGinley Garland in peace and mark this case closed. 
Nancy Battick is a Dover-Foxcroft native who has researched genealogy for over 30 years. She is past president of the Maine Genealogical Society, author of several genealogical articles and co-transcribed the Vital Records of Dover-Foxcroft. Nancy holds an MA in History from UMaine and lives in Dover-Foxcroft with her husband, Jack, another avid genealogist. You can contact Nancy at nbattick@roadrunner.com.