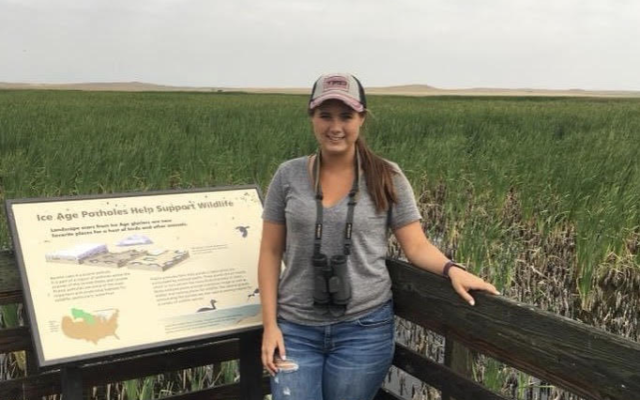 PO-pcswcdaquatic-30-20
Photo courtesy of PCSWCD PROJECT MANAGER -- The Piscataquis County Soil & Water Conservation District hires Emily Dickison as the new stream restoration project manager.
PCSWCD joins as partner on the Maine Aquatic Connectivity Restoration Project
The Maine Aquatic Connectivity Restoration Project is a five-year, $6 million effort that provides significant financial and technical assistance to private landowners to upgrade road-stream crossings. The project improves road safety and stability while increasing opportunities for fish and other aquatic life to thrive. Made possible through the Regional Conservation Partnership Program (RCPP) of the Natural Resources Conservation Services (NRCS) in partnership with The Nature Conservancy (TNC), the project is available from 2018-22.
The project is supported by a collaboration of 26 tribal, state, federal, nonprofit and private landowners, and covers 25,255 square miles of project area, including the last endangered Atlantic salmon-listed watersheds in the U.S. and critical Eastern brook trout habitat. The overall goal is to restore aquatic organism passage to at least 50 miles of stream, brook and river habitat. 
This summer, the Piscataquis County Soil and Water Conservation District (PCSWCD) is joining the RCPP partnership. Through a sub-award from TNC, the PCSWCD has hired a full-time stream restoration project manager, Emily Dickison, and is supporting the District's executive director to increase capacity for stream and river connectivity in watersheds within Piscataquis County and beyond. With Dickison's diverse background in conservation and enthusiasm for the Piscataquis region, she brings field experience surveying forested lands, threatened and endangered natural communities and species, along with her background in data collection and reporting.
Dickinson holds a B.A. in science in wildlife biology from Unity College and served as a research assistant on the Black Bear study with the Maine Collaborative Black Bear Research Unit. She also has experience working with the Maine Natural Areas Program (MNAP), Baxter State Park Scientific Forest Management Area (SFMA) and USDA Forest Service.
"We are very excited to have Emily on our team. Her depth of experience in the field, GIS mapping and education will be an asset to PCSWCD and our County," said Sarah Robinson, PCSWCD executive director. Robinson describes the hire as a success story. "Emily began with the District in 2015 as our junior representative serving on the Community Forestry Committee. For the last five years she's been very dedicated to our organization and what we're trying to accomplish for the future. She is the perfect fit for this position."
For more information about Dickison visit the staff and board member page at piscataquisswcd.org/staff-and-board-members/. 
Dickison will assist with the implementation of stream restoration and aquatic organism passage projects through the Maine Aquatic Connectivity Restoration Project and work closely with project partners and private landowners on Aquatic Organism Passage (AOP) projects such as culvert upgrades. This material is based upon work supported by the Natural Resources Conservation Service, U.S. Department of Agriculture, under number 68-1218-17-003.
PCSWCD is a non-profit organization founded in 1944 that provides local conservation leadership, promotes best management practices to protect the soil, water, forests and farms in this region by providing education and technical assistance to promote the conservation of natural resources that we depend on. For more information, contact the PCSWCD at 207-564-231 ext. 3 or info@piscataquisswcd.org. Located in the USDA Service Center, 42 Engdahl Drive in Dover-Foxcroft. Visit piscataquisswcd.org. PCSWCD and USDA is an equal opportunity provider and employer.