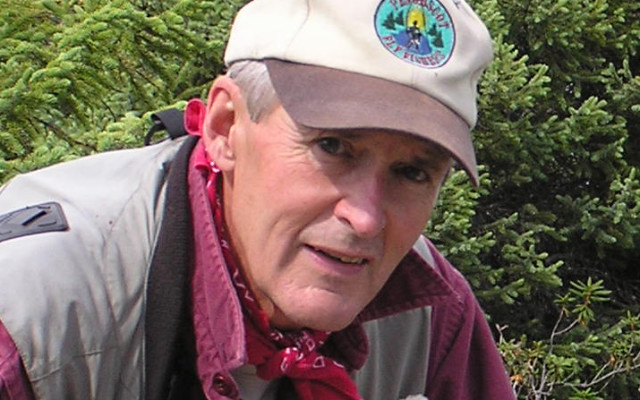 23112101_H18775345
V. Paul Reynolds
Funky fly rods can put a damper on your day
Fly fishing for trout – any trout, big or small — is my thing. You would think that after more than 50 years of indulging my passion that 1) my gear box would runneth over with top shelf, big name fly rods, and 2) My casting ability would be up there with the top ten.
Not so. In fact, my cribbage game far surpasses my roll casts or long line double hauls. And my go-to fly rod is a 1960s era, shopworn 5 wt L.L. Bean Double L. Most of my other rods got to my gear box as a result of competition cribbage games at Grand Lake Stream (GLS) during the annual May gathering of the fabled Olive Woolybugger Gang.
The Gang's High Pooh-bah, Bob Leeman, who owns almost as many fly rods as he does L.L. Bean shirts, generously donates, to the GLS cribbage kitty, a fly rod each ear from his vast array of fly fishing sticks. Recently, while preparing for a North Woods trout fishing trip with my eldest son, one of my many untried fly rod prizes, neatly boxed, looked down at me from the garage shelf. "Open me," it seemed to say, "and at least check me out before you head for the trout waters." I obliged.
In my driveway, the dainty 3-4 weight rod cast surprisingly well. Surprisingly because the rod was, I knew, not in a class with, say, an Orvis or a Sage. Not being one to put on airs when it comes to hunting and fishing equipment, performance is what moves the needle for me. The little economy rod, $50 at Walmart, had a promising feel, bargain price notwithstanding. It was light and shot 4 weight line through the ferrules with authority.
The rod, in a soft box instead of a tube, got tucked away in my truck bed for the trip north along with my old standby Double L. Upon arriving mid-afternoon at Secret Pond, Scotty and I were enthralled immediately by what we saw. The hatch was on and the pond was boiling with feeding trout!
From the soft box came the Crystal River 3-4 weight virgin rod and its matching reel with tapered floating line and the leader already installed. The sectional 5-piece rod assembled smoothly and an # 18 Parachute Adams rounded out the lash up.
Scotty tied on a Dark Hendrickson with a Nancy's Prayer dropper. As soon as our flies touched the surface between the rise forms, we were both into trout, big time!
We each boated a couple of respectable feisty brookies. "This is a nifty little rod, Scotty, I really like it," I said.
"Dad, fish off your bow at 2 o'clock," Scotty said. It was a bit of a reach. I false casted trying to load up the rod good for the long cast. The smooth line shot out beautifully…..
"What the hell?" I exclaimed. Half of the rod section separated itself from the rod butt and also shot out beautifully along the fly line and wound up floating almost out of reach. The fly made it to the rise, but the fish decided that something wasn't quite right and demurred.
"Geez, Dad. You must have not seated the sections when you assembled the rod in all of the fish excitement," Scotty said.
"No way! I have been doing this a few years, ya know."
That afternoon the problem rod did play some fish but no matter how firmly I reseated the rod sections it would shoot a rod section down the fly line when you least expected – once with a fish on.
When the trout are hitting you don't ask your canoe mate to leave the action to fetch a backup rod. You simply soldier on and avoid long, energy-laden casts.
As you might  surmise that particular fly rod never saw any further action on the trout water. No doubt that rod can be improved by "roughing up" the section ends where they seat into each other. But once I lose confidence in a fly rod or the action on a deer rifle, I tend to not grant equipment a second chance.
As for the rod maker, Crystal River, it is too bad, For the remarkably low price they have a fine casting lightweight fly rod – if it would just stay together on long casts.
Back to the drawing board, Crystal River.
___________
The author is editor of the "Northwoods Sporting Journal." He is also a Maine guide and host of a weekly radio program — "Maine Outdoors" — heard Sundays at 7 p.m. on "The Voice of Maine News – Talk Network." He has authored three books; online purchase information is available at www.maineoutdoorpublications.com. or at www.sportingjournal.com.