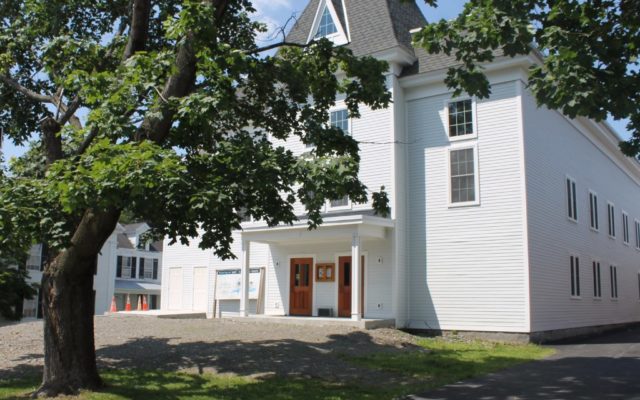 Central Hall
The Commons at Central Hall in Dover-Foxcroft
Central Hall Commons starts Mindful Monday
DOVER-FOXCROFT — We are living in a time of great stress: people and the Earth are sick, angry, afraid, dispirited and dying. We are being asked to isolate and separate ourselves from each other, just as we need each other more than ever and as our futures are more and more dependent on each other.
During this time, Central Hall Commons (CHC) is re-imagining how they can bring people together to build community and restore health and vitality. In an effort to relieve stress and bring healing, CHC is undertaking a weekly virtual offering to the community called "Mindful Monday"  which will include a short written "thought for the week" about living mindfully in this time  accompanied by a live 15-minute guided mindfulness session called "Spirit Pause," which will also be available on demand as a YouTube video on their website or Facebook page. 
Spirit Pause is an opportunity for people to spend 15 minutes a week becoming deeply mindful of their moment-to-moment experience. In this way people can all move more easily through these difficult days, and may develop a feeling, and true knowing in their inner being that we are all in this together and that we all share an invisible bond as human beings.  
Jody Morse, Central Hall Commons program director says "Spirit Pause is not religious, although some will find it like prayer. It is not a cult. The leaders are not gurus. It is an open offering to join with others for just a few minutes during your week to take time totally for yourself, to allow yourself to be truly human, to feel, and to let go of stress, obligation and worry, by just being."  
Who is Spirit Pause for?
Spirit Pause is for anyone: workers needing to work even when they are scared of getting sick; employers or business owners who are struggling with economic crisis and are navigating the challenges of reopening their business vs risking the health of their employees or the public;  people who need a small break from routine or constant bombardment of bad news to improve focus and reduce stress;  mothers and fathers who are trying to protect their families from an invisible but deadly illness,  and who must work from home while trying to cope with children who are restless, scared or just tired of being cooped up, doctors, nurses, other caregivers who are experiencing fear and unimaginable stress, people who are hungry, tired, anxious lonely, bored;  children who are missing their friends and worried about their families. Anyone.
How does Spirit Pause work?
Spirit Pause will offer a mindfulness session for 15 minutes every Monday morning from 8:30-8:45 a.m. on Facebook/centralhallcommons live. This session will be recorded and will be available for on demand listening later if the time is inconvenient.  
Each mindfulness session will be different and guided by an experienced meditator. Some may feel more useful than others. The facilitators recommend entering the space a few minutes early, and taking a comfortable seated position. Developing a brief "entry" ritual such as two or three deep breaths with eyes closed signals the body's intention. Later, the body will recall this if one needs to take a "spirit break" in the middle of another moment in the day.  
Morse says, "We hope you will find yourself drawn to come often, to center yourself and to help you to live through this difficult time knowing that we are truly all in this together. This is our gift to you."