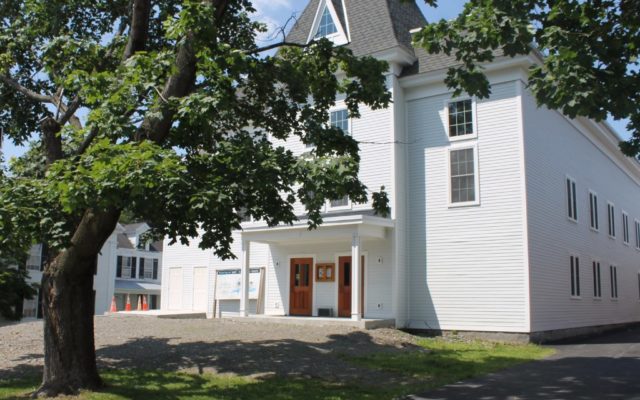 Central Hall
The Commons at Central Hall in Dover-Foxcroft
Central Hall virtual PTSD conversations features equine therapy for veterans
DOVER-FOXCROFT — The Commons at Central Hall is collaborating with community partner organizations to present a series called "PTSD Conversations: Our Communities Response." This series of four virtual presentations over the next four months will appear on Facebook Live and Zoom.  The first of the series called "A Journey Towards Healing" focuses on equine therapy for veterans and will occur at 1 p.m. on Wednesday, June 24.
This upcoming program is divided into three parts. Kirk Grant, Bangor Veterans Center representative, will speak about "Identifying PTSD." Then, Kim Slininger, MA, Bangor's DAV chaplain, from Spirit Warrior will share her personal experience called "Living with PTSD" followed by Judy Cross Strehlke of Winds of Change Ranch in Dover-Foxcroft offering "Equine Experiential Health and Well-Being."
To understand how equine therapy might help veterans heal and recover from PTSD symptoms, we can look at some of the studies and thoughts of those involved in the therapy programs. Barbara MacLean, LCAT, MT, BC described the relationship between horses and PTSD in the Journal of Rehabilitation Research and Development in 2011. In PTSD, there is a lack of trust, connection with people and isolation. Although pets, such as dogs, who trust unconditionally, may be useful for isolation and trust amelioration, a horse as a preyed upon animal, exhibits some of the same characteristics as someone with PTSD. Both are hypervigilant. You have to earn a horse's trust by regulating your emotions and moving carefully and respectfully around the animal so as to avoid harm.  A veteran working with a horse learns its body language, the main communication of a horse, and, in turn, he regains his own body awareness.
In the journal Military Medical Research, January 2018, results were published about the study "Effects of Therapeutic Horseback Riding on Post-Traumatic Stress Disorder in Military Veterans." Researcher Rebecca Johnson and her team found positive increases in coping skills and emotional regulation measured by standardized testing following a 6-week equine therapy program.
The connection between the horse and the rider fosters safety, empathy, patience, and loving feelings that are so important to those recovering from PTSD. Bret Moore, PsyD and veteran, discovered this in his investigations of equine therapy.
In 2017, Beth Lanning, PhD at Baylor University, found from her study of participants' comments that the relationship with the horse and the barn environment improved the veterans' life quality and functioning.
How do veterans feel about equine therapy? Veterans participating in Barbara MacLean's equine therapy program made some important comments about their progress toward recovery. "I learned the difference between being assertive and being aggressive," said one. Another veteran commented, "I've learned patience, which I never had, and I've learned trust, which I never had." "I feel good about myself and what I've been able to do," stated another.  Lastly, "I can feel the ground under my feet.  I haven't felt that in a long time.  I feel present in the moment."
If you would like to learn more about our communities' response to PTSD through equine therapy, on Wednesday, June 24 at 1 p.m. go to Live Events on www.facebook.com/CentralHallCommons or, beforehand, go to www.CentralHallCommons.org to find out how to access Zoom.  For more information, call Jody at 207-717-6782.