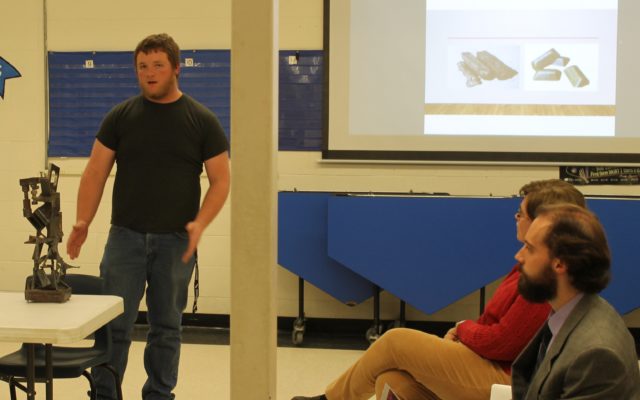 PO-SAD4chadwick-21-19
Observer file photo/Stuart HedstromPIG IRON SCULPTURE -- Then PCHS senior Ethan Chadwick shows a pig iron sculpture he made as part of a project on China's Great Leap Forward for the Camden Conference during a May 2019 school board meeting. Now a student at Northern Maine Community College, Chadwick has been awarded a Leon A. Gorman Endowed Scholarship.
Chadwick awarded Leon A. Gorman Endowed Scholarship
SOUTH PORTLAND — Nine Maine community college students were awarded scholarships in honor of Leon A. Gorman for the upcoming 2020-21 academic year.
Among the honorees is Ethan Chadwick of Abbot, who is studying precision machining technology at Northern Maine Community College in Presque Isle. Chadwick is a 2019 graduate of Piscataquis Community High School.
This is the fifth year the Leon A. Gorman Scholarship has been given. For the past three years the scholarship has been awarded to one student from each of the seven community colleges. This year the scholarship was expanded to support three students at Southern Maine Community College, the largest college within the Maine Community College System. Each of the nine Leon A. Gorman Scholars will receive an award equal to a full year of tuition at a Maine community college.
The Leon A. Gorman Endowed Scholarship was established in 2014 by the children of Leon and Lisa Gorman in honor of Mr. Gorman's 80th birthday. The scholarship supports Maine community college students who demonstrate strong academic achievement, financial need, and a commitment to community service, a hallmark of the scholarship's namesake.
"This scholarship was so meaningful to my father who understood the importance of the community colleges and their hardworking students. He would have been proud to be associated with these smart, motivated and dedicated recipients who devote so much of their time and energy to their education, families and communities," said Jennifer Wilson on behalf of her family.
Gorman was passionate about the state of Maine. His investments in Maine's community colleges exemplified that passion. He understood that Maine's community colleges not only positively impact the lives of many aspiring individuals and their families, but also have a positive economic impact. Quite simply, he believed that well-educated community college graduates forge a bright future for the State of Maine.
"I want to offer a hearty congratulations to this year's Gorman Scholars, who have demonstrated hard work, service to others and achievement, especially during such a challenging time. We are very proud of these students, and grateful that the enduring legacy of Mr. Gorman honors these impressive students who have worked so hard," said Maine Community College System President David Daigler.
Gorman was the longtime president and CEO of L.L.Bean. He was deeply committed to the people and places of Maine and recognized the power and potential of Maine's community colleges to transform people's lives. He and his wife Lisa worked quietly behind the scenes supporting the colleges and the couple was central to the 2009 establishment and success of The Foundation for Maine's Community Colleges for which Mrs. Gorman continues to serve as vice chair.